It's not unfair to say that Citroen has historically under-performed in the family car class. Nobody would claim that going up against the likes of the mighty Ford Focus, Vauxhall Astra and VW Golf is an easy task. But even when Citroen has had a great handling car such as the ZX or a rally car-winning programme as perfect marketing back up, its family hatchbacks have always under-whelmed against rivals.
So what makes this C4 any different? Well for starters, it's available in this fully-electric e-C4 form, well ahead of electric versions of its Peugeot 308 and Vauxhall Astra Stellantis stablemates. There's no plug-in hybrid version of the C4, simply a straight choice between petrol, diesel and electric in the same car. In fact, this e-C4 already accounts for around a quarter of all C4 sales.
Citroen has chosen to go a different way on how the C4 and e-C4 drives too, going for comfort over the pin-sharp handling and a firm ride that European rivals tend to favour. So will that difference pay off?
CITROEN E-C4 – DESIGN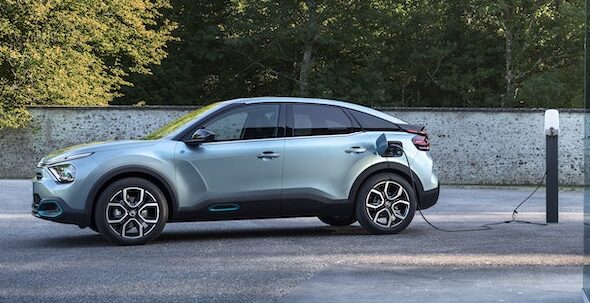 We're big fans of Citroen's recent designs and this e-C4 is no different. Yes, it's a slightly larger car than a standard hatchback, so it's actually closer to the smaller crossovers on the market like Kia's XCeed, but it's no worse for that. The V-shaped LED lights give it a really distinctive look as does the high waist and split rear screen at the back (more on which later). We also like the ribbed themed sections on the rear lights, a design that is echoed inside too.
There are two core messages to take away from this e-C4's design though. The first is that it could never be mistaken for anything else on the market, so nobody could ever dismiss it as being anonymous, while the second is that it suggests that Citroen's designers have got their confidence back. The e-C4 is different enough to appeal to enthusiasts while also not scaring off those drivers who are new to Citroen.
CITROEN E-C4 – POWER AND RANGE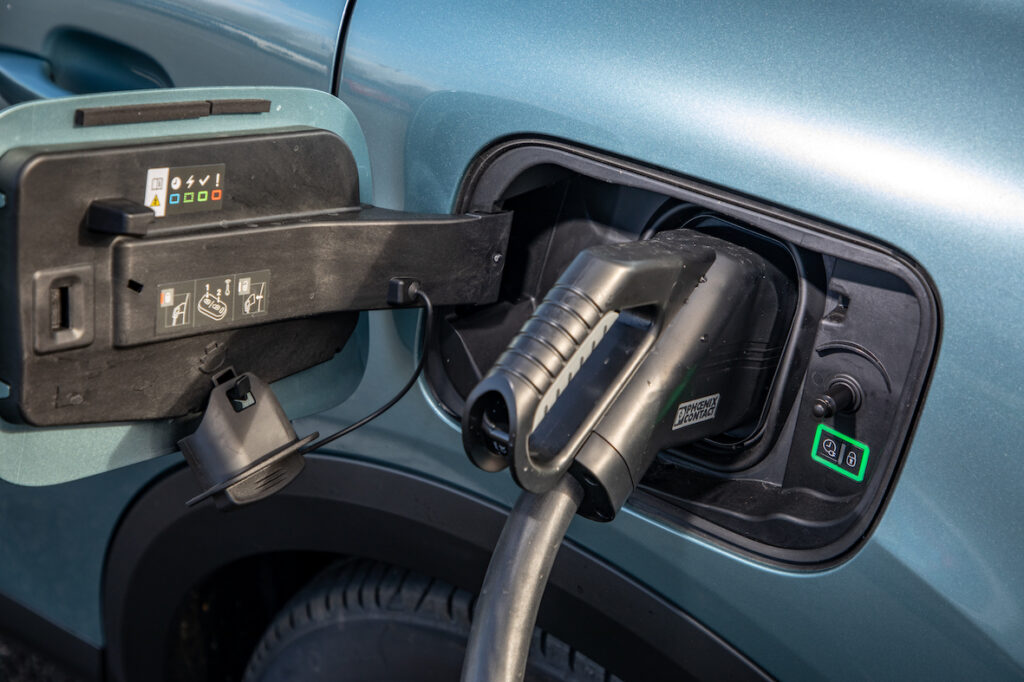 This e-C4 packs the same 50kW battery pack as much of the rest of the electric-powered Stellantis brands. So this is the same unit as the Vauxhall Corsa-e and Mokka-e as well as the Peugeot e2008 and a host of others.
A host of technical improvements for 2022 has meant that the e-C4's range is now 219 miles, plus a modified heat pump has now been fitted making it more efficient and less susceptible to cold weather than before. With a 7.4kW on-board charger, Citroen claims a 7hr 30 min charge time at a home wallbox with a 0 to 80 per cent charge at a 100kW charger taking just 30 minutes.
The e-C4's claimed efficiency is 4.03mls/kWh although our car – a pre-22 model without the latest improvements – both under-performed this figure in colder temperatures (something we've seen with the other Stellantis cars with this battery pack) when it was closer to 3.4mls/kWh and then over-performed in warmer climes at 4.1mls/kWh even when using air conditioning. Despite that claimed 219 miles, the real world range especially if using motorways, is closer to 160-170 miles.
With the equivalent of 136bhp, Citroen claims a 9.0 second 0 to 60mph time and a 93mph top speed, although as ever with fully-electric cars and also the nature of the e-C4, few owners are ever likely to explore those statistics to the full.
CITROEN E-C4 – ON THE ROAD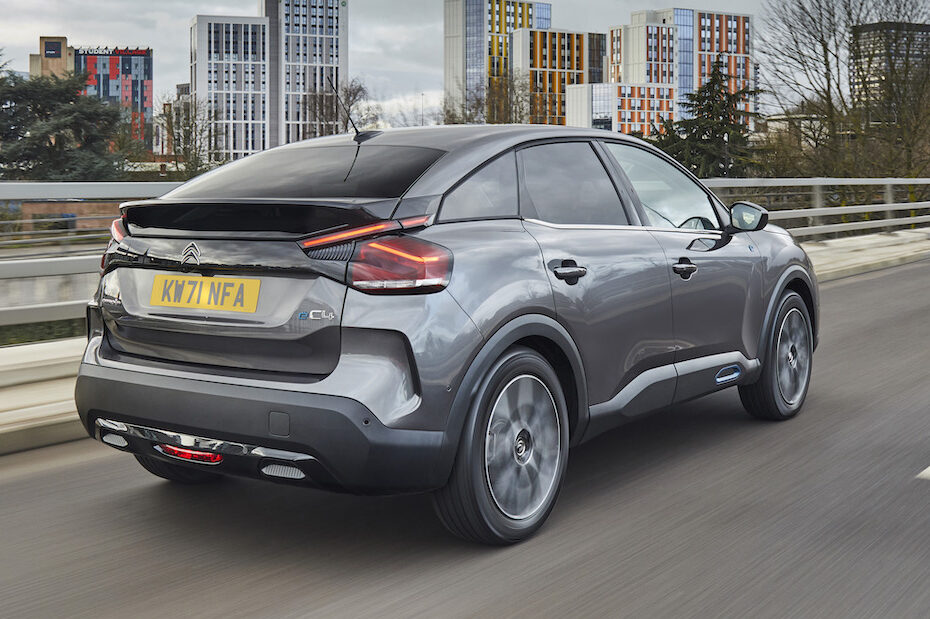 As we said earlier, Citroen has taken a brave stance with the e-C4. Previously, it could have been expected to follow the crowd in trying to produce a sharp-handling driver's car to echo the Golf and Focus.
Instead, it has taken a different route, aiming for comfort rather than outright handling. The downsides of that are that if you're a keen driver, then you're probably better off looking elsewhere. This isn't a car for driving enthusiasts or those who want to press on at every opportunity.
But then again, neither is the e-C4's closest rival, Volkswagen's ID3. And most EV drivers are unlikely to want to drive it that way either, which is why this set-up seems such a smart decision by Citroen. Although the suspension can still crash into potholes on occasion, for the majority of the time, the ride quality is good and far more comfortable – particularly when cruising – than most of its direct competition. Small road imperfections that would be felt by rivals are just shrugged off and dismissed by the e-C4. Could the steering do with more feedback? Unquestionably yes, but the reality is that for 95 per cent of the time, the e-C4 is a very easy and comfortable car to drive.
Two things on the e-C4 are worth highlighting. The first is the reversing camera with the automatically adjusting guidelines that come up on the central dash screen. It's not unusual admittedly, but it's not that common at this level and we never found it anything but useful – especially when backing into space to charge (the e-C4's charge point is on the rear nearside wing).
That camera is just as well too as that split rear windscreen that we mentioned earlier is a bit of form over function. There's no rear wiper so the top half becomes obscured in the rain, though it does clear a little when driving at speed due to air flow. The lower half however is near vertical and this gets dirty very quickly. While both have heating elements, rearward visibility is definitely an issue.
CITROEN E-C4 – INTERIOR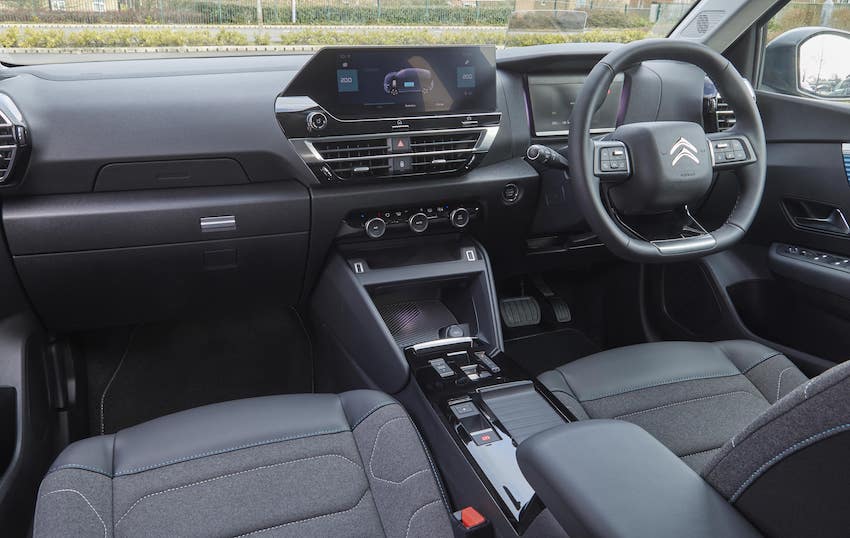 The inside of the e-C4 continues the themes of the exterior, with lots of the design elements following through. It's functional with plenty of storage space (aside from the tiny glovebox) and there are USB A and USB C charge points – although only the latter connects your phone through Apple Carplay.
While most of the infotainment functions are on the touchscreen, we like the fact there's also a home button and the main heating and fan settings are on traditional knobs. There are also handy anti-slip mats in the cubbies at the bash of the dash too. The digital dash is clear and easy to read on the move (there's also a head-up display) and also has a degree of personalisation so that you can adapt between different screens. In reality of course, you usually stick with the one you prefer.
Comfort levels are also good although the seat can feel a little soft for longer journeys and there is height adjustment for taller drivers and good head and legroom for adults in the back seats. There's a 380 litre boot that can expand to 1250 litres with the rear seats lowered – underlining the usefulness of a hatchback body.
CITROEN E-C4 – SUMMARY
There are two ways of viewing this Citroen e-C4. It would be very easy to argue that it's a hatchback in the family car sector that feels, once again, like an also-ran against more capable – and better handling – rivals. Yes, there's the eye-catching styling, but not much more.
For us though, that's rather missing the point. As disheartening as it might be to driving enthusiasts, for many, the Citroen's comfort levels will be of far more importance on a day-to-day basis than pin-sharp, involving handling. Also, that early electrification lead that it has on rivals has clearly paid dividends – as that 25 per cent of all C4 sales attests.
There simply aren't many non-crossover/ SUV all-electric options out there and this e-C4 has capitalised on that. And, with more plug-in hybrids and fully electric models on their way from Citroen, it feels like the French firm might have found a new niche that, thankfully, doesn't follow the crowd.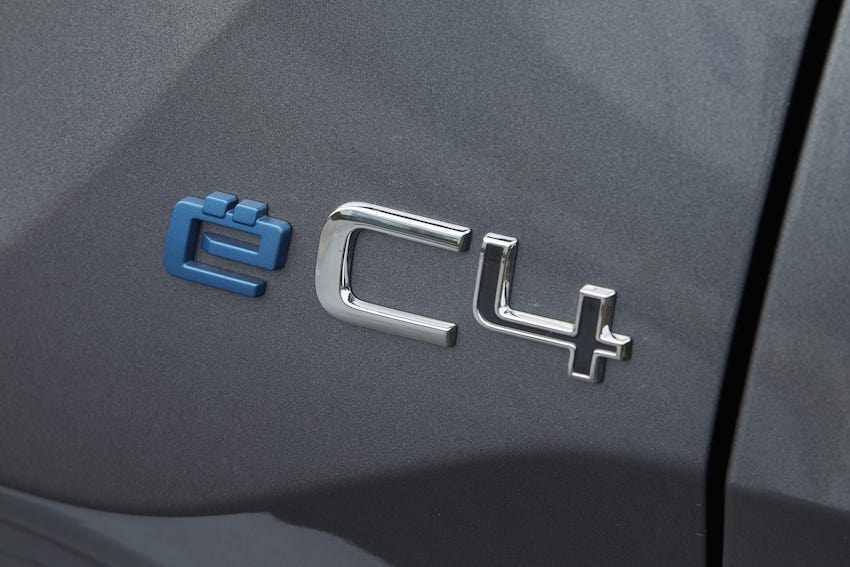 FACT BOX
Model: Citroen e-C4
Price: from £30,895
Power: Battery – 50kWh
Range: 219 miles
Average efficiency: 4.03mls/kWh
Average charge time on a domestic wallbox: 7.5hrs
CO2 emissions: 0g/km
Rating: 8/10