Renault Zoe 2013-2019
Battery size: 22kWh-40kWh
Range: 93-186 miles
RENAULT ZOE 2013-2019 HISTORY
June 2013 – Renault Zoe introduced in Expression, Dynamique and Dynamique Intens trims with a 130 mile official range.
July 2015 – More efficient motor fitted with increase in official claimed range to 149 miles for Expression Nav and Dynamique Nav models, not the Dynamique Nav Rapid Charge.
November 2015 – 'i' versions introduced with battery pack included in list price.
December 2016 – ZE40 version with 40kWh battery introduced with range increase to 186 miles, but not on entry-level Expression versions, Signature Nav trim level introduced as top of the range.
Feb 2018 – Upgraded R110 with new motor introduced with extra performance. Android Auto also introduced to range.
ABOUT THE RENAULT ZOE 2013-2019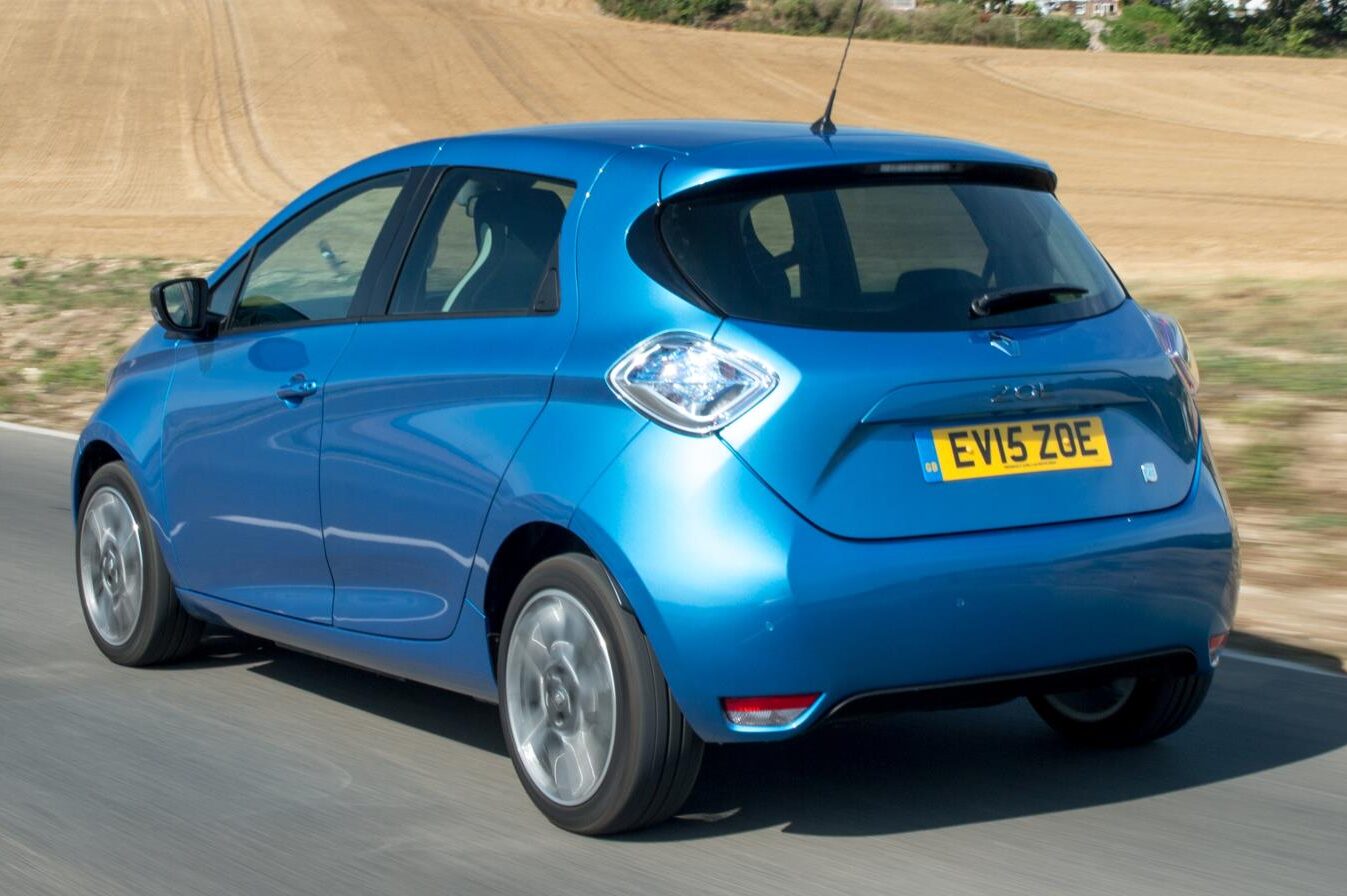 There's no question that the Renault Zoe has been not just one of the biggest success stories not just for Renault, but also for electric cars generally. Along with the Nissan Leaf, the Zoe was one of the earliest mainstream fully electric cars into showrooms and has also proved to be one of the most popular – regularly near or at the top of European sales charts.
Smart looks, a decent range and good driving manners make it a popular choice, but also mean that after the initial three year drop from new, the ZE40 versions hold their value well. However, future owners should bear in mind that the majority of Zoe models come with an additional cost for battery rental starting from £49 a month depending on your annual mileage. This has been dropped for the current 2019 onwards, second-generation model.
RENAULT ZOE 2013-2019 – VERSIONS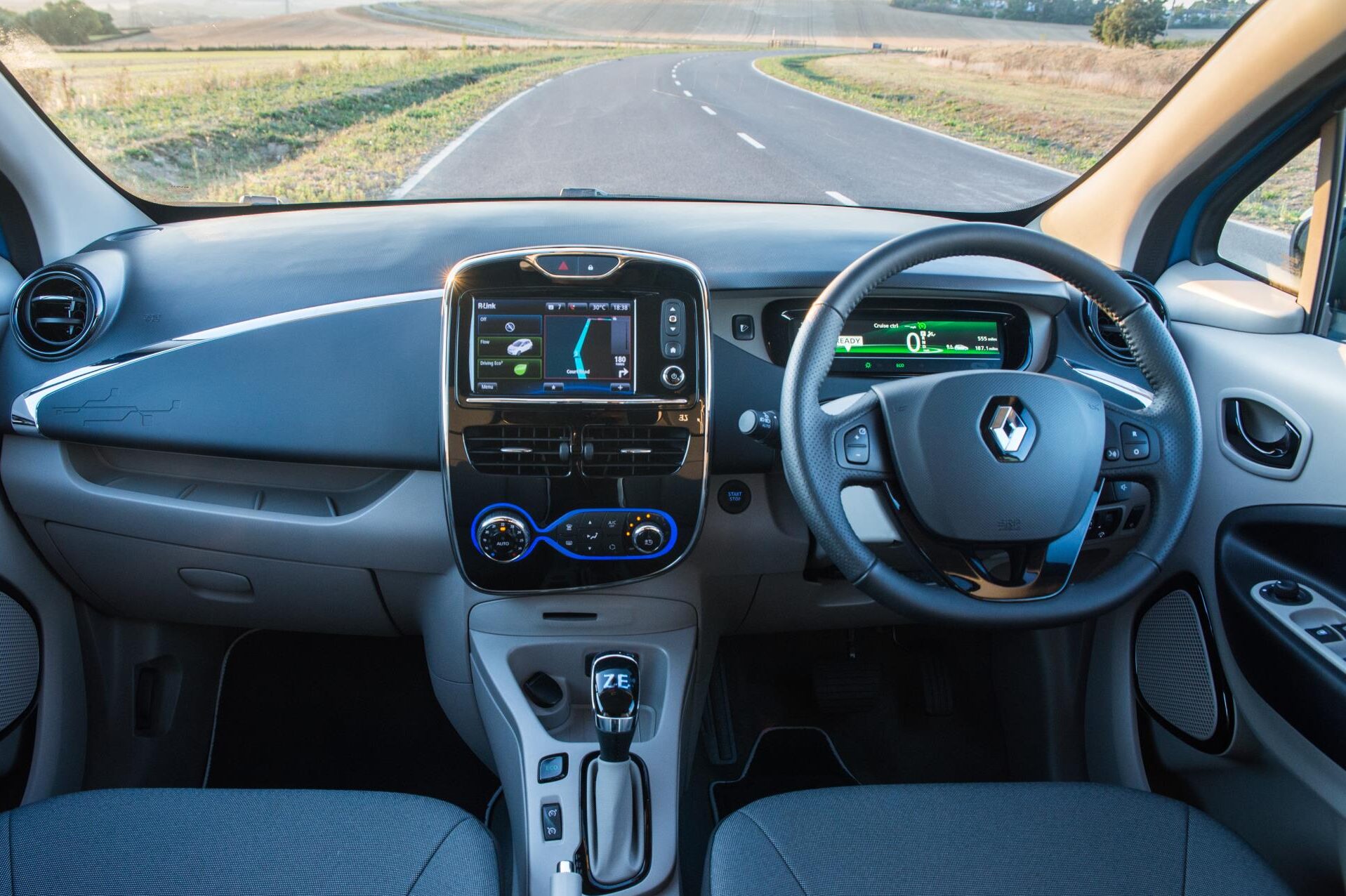 The good news is that the Renault Zoe was, and still is, a popular car, so finding a used one isn't hard to do. Even better, with so much choice on the market, you'll have plenty of options. Also, some of that choice has been already taken away from you. All Renault Zoes have an automatic gearbox and all have five-doors, so all you're really choosing is the equipment level you're after and, obviously, your budget.
Ah yes, your budget. That's the bad news. There are noticeable price jumps to get into a Zoe and they're exactly where you'd expect them to be. The post-2015 and ZE40 models with the steps up in their respective ranges tend to command a premium. Also, the 'i' versions with the battery cost included are not only quite rare but also are much more expensive (when new, the 'i' cost an extra £4500 with a five-year warranty for the battery).
If you choose a non 'i' model, make sure you budget for that monthly battery lease cost. The leasing costs vary according to your annual mileage. It is possible to buy-out the battery lease for an existing older Zoe by asking the dealer that's selling the car (if it's a Renault franchise) or by speaking to Renault Finance direct, but don't expect it to be cheap.
You shouldn't necessarily see those monthly lease costs as a negative though as it means Renault will maintain the battery and replace or repair it if it loses 75 per cent of its original charge capacity.
All Zoes have a good level of standard equipment with sat nav in a touchscreen infotainment system, climate control, cruise control, Bluetooth and keyless entry as standard. The popular Dynamique Nav adds four electric windows, auto lights and wipers, a leather covered steering wheel and a DAB radio (although the reception for this has come in for plenty of criticism). The Signature Nav adds a reversing camera, heated front seats and a Bose stereo.
RENAULT ZOE 2013-2019 – RANGE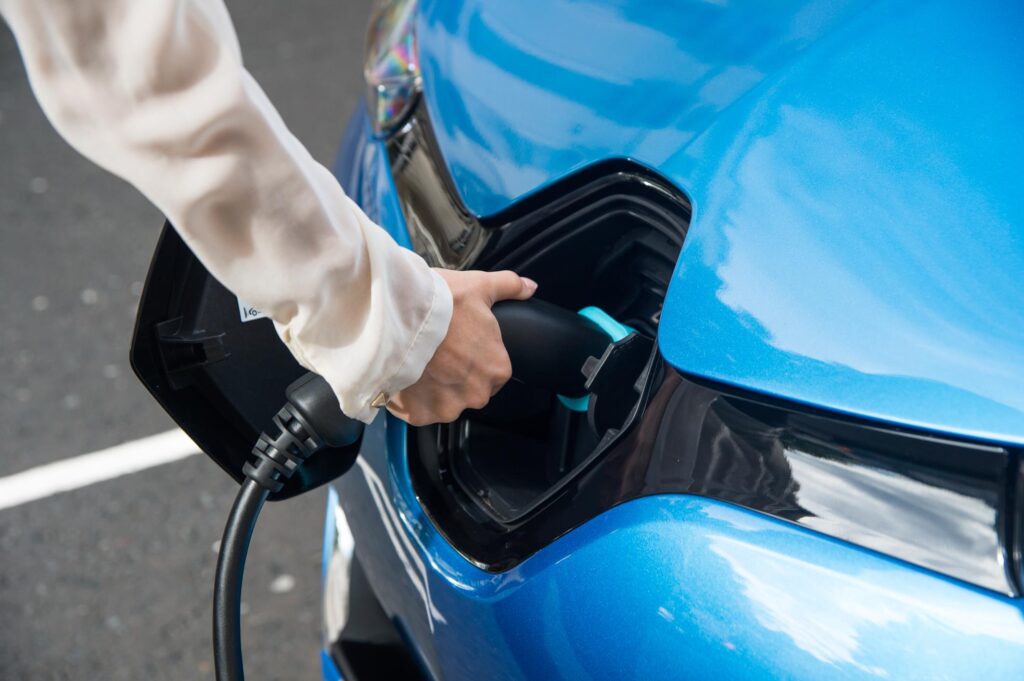 Although the early 22kWh cars built before 2015 claimed an official range of 130 miles, the real-world reality was closer to 93 miles at best and, in cold weather, as low as 65 miles. So it's no surprise that if you're looking at a 22kWh car we'd recommend the post 2015 models with the more efficient electric motor.
If your budget allows, then the ZE40 is possibly a more practical option capable of around 150 miles on a single charge.
The Q90 Rapid Charge models are slower and only really worth going for if you're planning on frequently using the car for longer journeys and regularly using public rapid chargers. They will charge at a maximum of 43kW but will knock a decent amount of time off if you rely on rapid chargers frequently (65 mins for an 80 per cent charge against 100 minutes for the standard R110 version).
RENAULT ZOE 2013-2019 – THINGS TO LOOK OUT FOR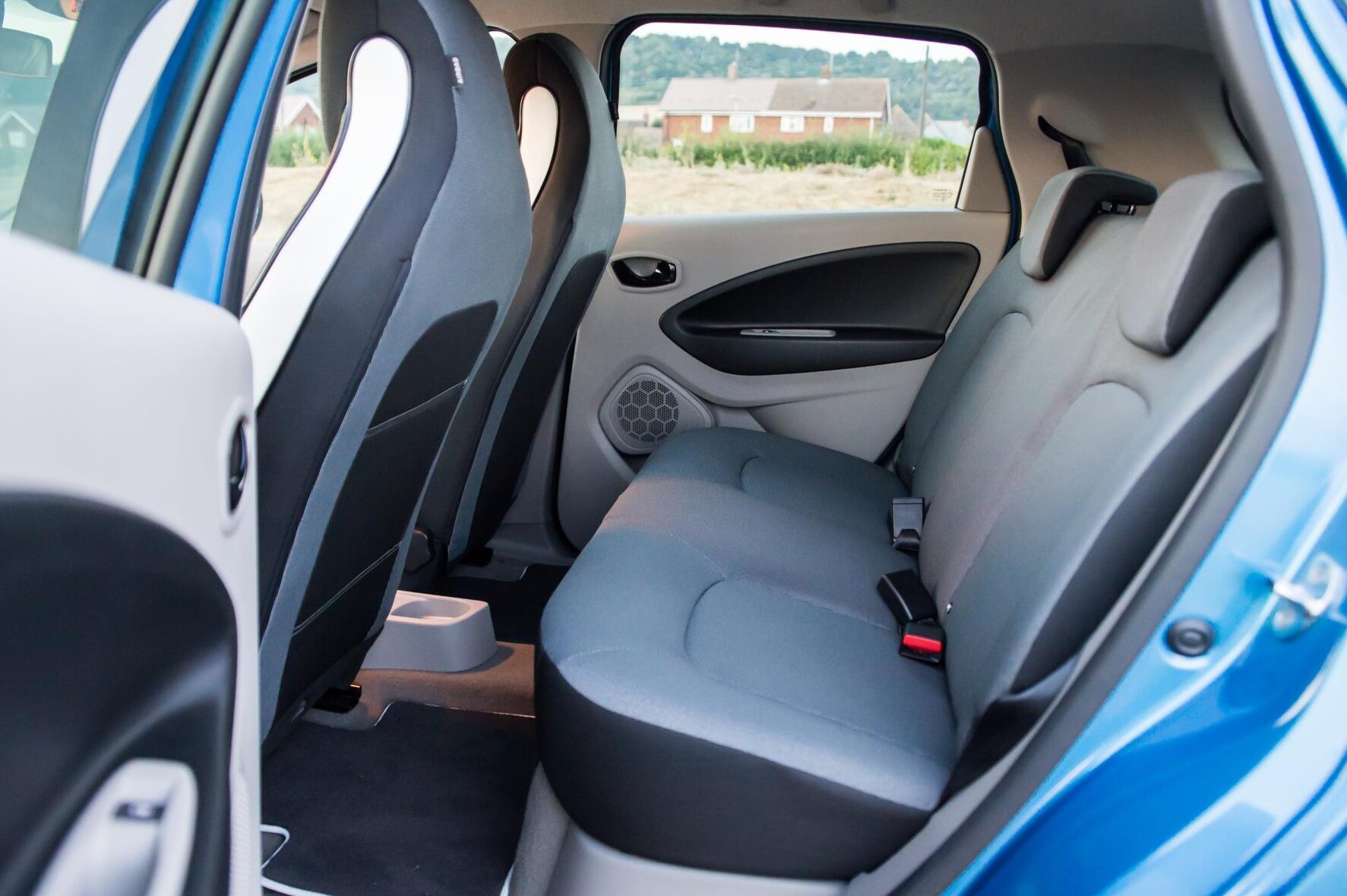 Firstly, don't think that you're missing out on a spare tyre, there never was one, only a can of filler. Renault says there was a risk of damaging the under-floor battery pack when jacking it up. The rear seat also only folds down as single section rather than being split as with most cars and even then doesn't fold especially flat. The tailgate hinges and lock can suffer from rattling, but this is well known.
Sticking with the interior, some models have light-coloured trim on the doors and dashboard which can mark easily with daily use, so examine it thoroughly. Also, Renault didn't supply charging cables for a three-pin domestic socket when the Zoe was new, so if the owner has one, ask if they're willing to include it in the deal.
Before you look at any Zoe, you should check its details with Renault as it has been subject to three recalls. The first in March 2016 for all cars built up until that point was for its brake hoses which could wear down due to rubbing with the front wheel arch liners. The second and third recalls were in September 2017 and June 2018 for the same fault of the gearbox not remaining in the Park position when the car is stationary allowing the car to roll away. You can check on www.gov.uk/check-vehicle-recall using the car's age or number plate for more details and see if your car is affected.
RENAULT ZOE 2013-2019 – SERVICING
Servicing on the Renault Zoe is every 12 months or 18,000 miles and the minor and major services alternate each year, costing around £100 and £180 respectively.
RENAULT ZOE 2013-2019 – WHAT SHOULD I PAY?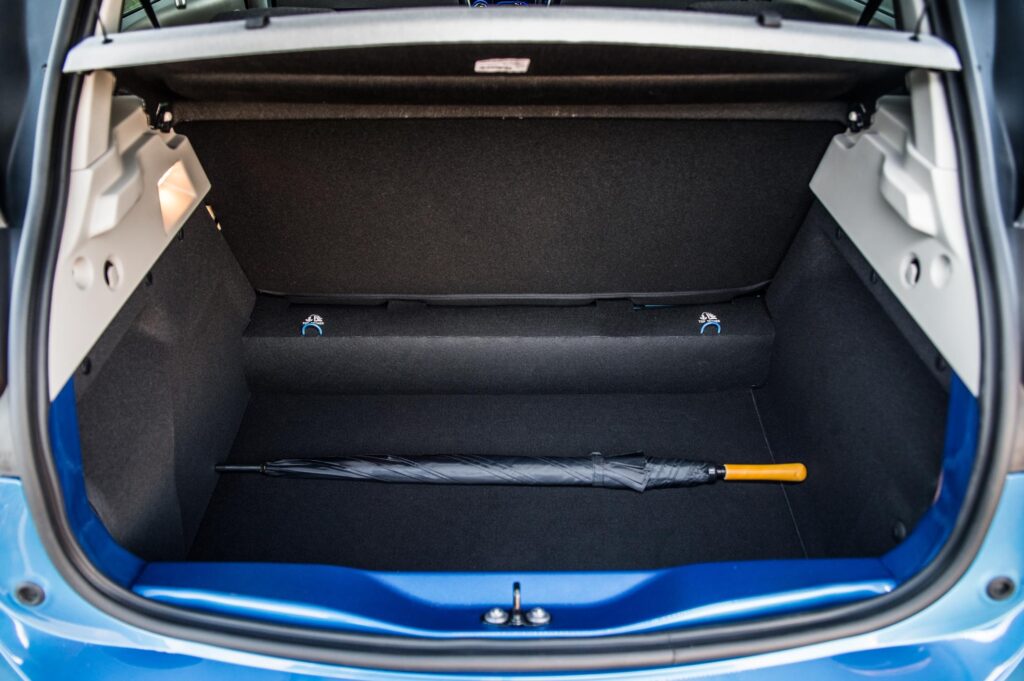 We found these:
£7000 – 2015 Dynamique Intens, 22kWh, 40,000mls
£10,700 – 2016 Dynamique Intens, 22kWh, 22,000mls
£14,990 – 2018 Dynamique Nav ZE40, 5900mls