If you're not familiar with Genesis, then you soon will be. It's a luxury brand from the same umbrella company as Hyundai and Kia and while it's had a slow start focussing on ICE cars, it's now moving into electrification in all its forms, with the likes of this GV60 hatchback.
The sister car to the Kia EV6 and Hyundai Ioniq 5, this GV60 comes with a choice of three trim levels – Premium, Sport and Sport Plus (the latter boasting four-wheel drive) – alongside a 77.4kWh battery. Rather like Nissan's failed attempt to launch its Infinity brand in the UK, Genesis is focussing on customer service and shop-style showrooms with staff rather than pushy salesmen who are only after commission.
While there's a shop at Westfield in London, the focus is on bringing the cars to the customers or for customers to attend numerous test drive events throughout the UK.
Will it work? For some it will depend on your location in the UK, but at the same time you have to give credit for a brand that's willing to do things differently and put up with the short-term pain for long-term gain. And, crucially, at first sight, there's certainly nothing wrong with the product.
GENESIS GV60 – DESIGN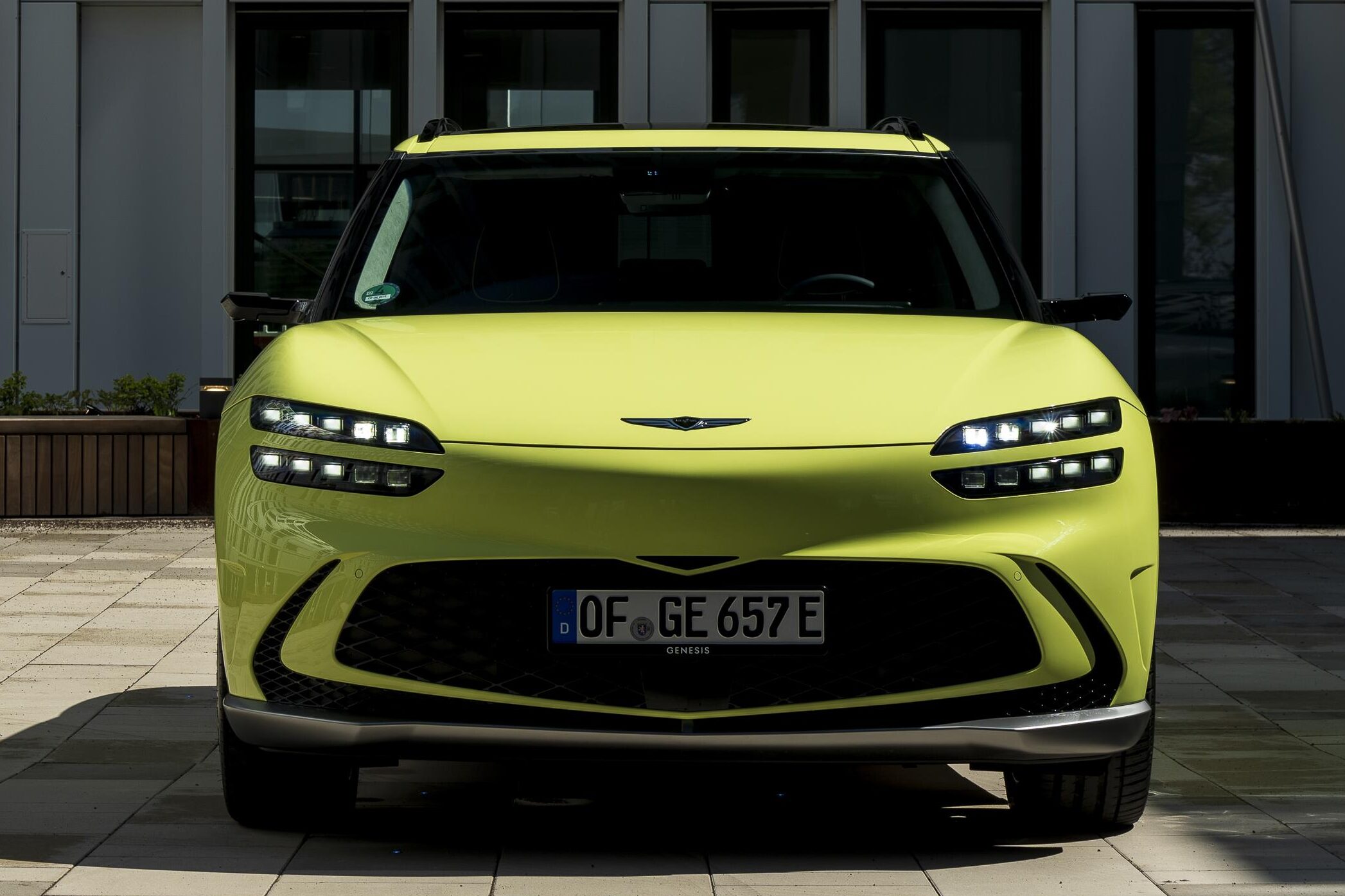 Firstly, don't let these on-screen pictures deceive you. Like its EV6 and Ioniq 5 sisters, the Genesis GV60 is not a small car. In sheer height alone, it's probably closer to a crossover rather than the hatchback that you first imagine. Our Sport Plus test car was on enormous 21-inch wheels which didn't look out of place and tells you all about the car's overall dimensions.
Whichever angle you take however, this GV60 is a smart-looking car. Yes, it may have all the sharp edges of a ten-minute-old sherbet lemon, but the overall design is a good one. It's also helped by the digital cameras replacing the mirrors (more on these later) and the split rear screen, although we're not generally fans of these and there's no rear windscreen wiper.
The pop-out door handles and gentling curving waist-line going up towards the tailgate, make it a car that also suits brighter colours. Our test car came in the retina-challenging Sao Paolo lime green which, while not to all tastes, we actually came to love during our time with the car.
GENESIS GV60 – POWER AND RANGE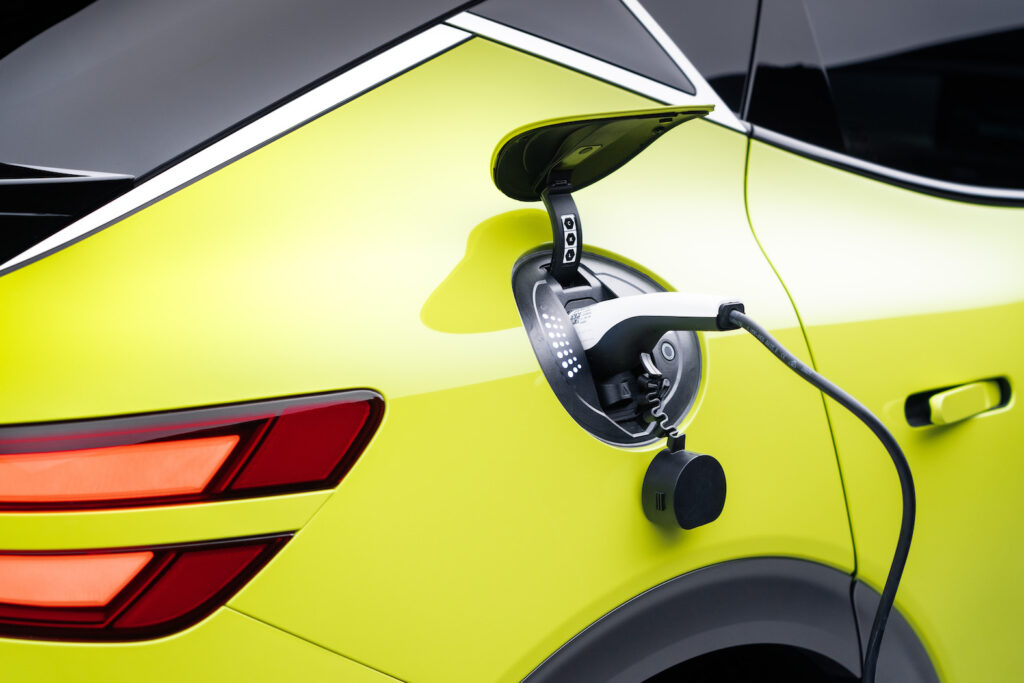 With the same 77.4kWh battery as the Kia and Hyundai, the ranges are similar too – although it does depend on which model you choose. Go for the entry-level Premium and the range is 321 miles, but pick the Sport Plus and that drops to 289 miles. Genesis quotes a 3.25ml/kWh efficiency rating which we came close to matching without much effort during our test driving.
There is a caveat to that however. With the Sport Plus model boasting four-wheel drive and some eye-watering performance (how does 0 – 60mph in just 4.0 seconds sound?), over-indulgence of your right foot to take advantage of that pace will soon see that efficiency drop.
At a 350kW charger (if you can find one), Genesis claims an 80 per cent charge is possible in just 18 minutes, while a more realistic full charge from 10 per cent on a home wallbox takes seven hours and 20 minutes.
GENESIS GV60 – ON THE ROAD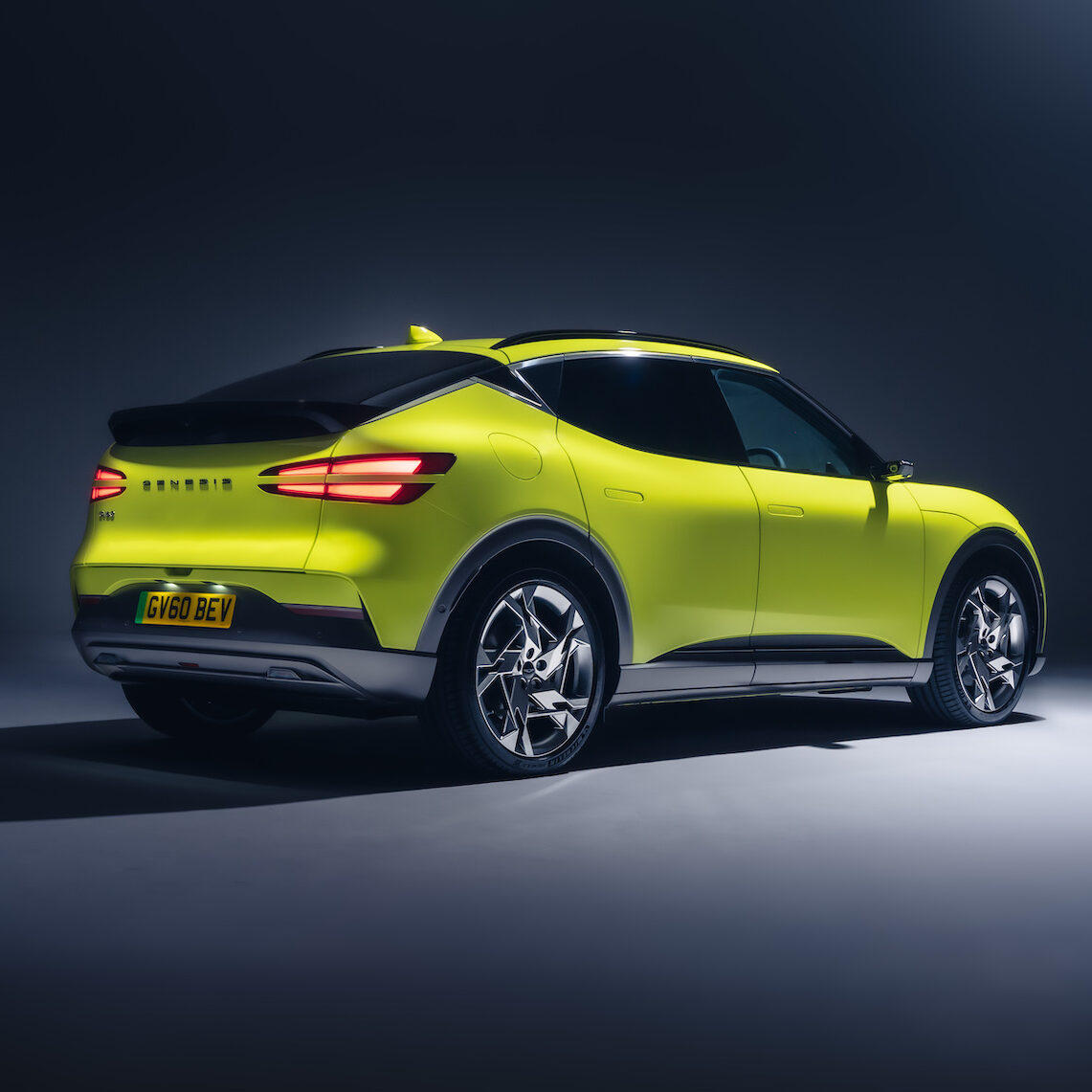 Having already driven the EV6 and Ioniq 5, we had high expectations of the GV60 and thankfully it didn't disappoint. Once you're accustomed to those dimensions we mentioned earlier, you soon find that the Genesis is easy to manoeuvre and drive without too much additional effort. So while it's not a Focus-sized hatchback, it's not some unwieldy off-roader either.
One thing that is immediately obvious with the Sport Plus however is the ride. Those 21-inch alloy wheels might look superb but they're substantial for this size of car and the ride at urban speeds suffers as a result. It's not bone-jarring but it's certainly firmer than you might expect. Thankfully, it improves on faster roads.
What there also is however, is an overwhelming sense of serenity. That might seem like an odd thing to say, but the combination of the GV60's interior (more on which in a moment), the lack of road and wind noise and, that ride aside, overall refinement levels makes the Genesis a supremely relaxing place to be.
More unusual perhaps, is that it can also be a pretty sporting place to be too. As those earlier performance figures suggest, the GV60 can be supercar-fast when required. A steering wheel-mounted boost button together with breathtaking acceleration levels is a heady combination. Add in sharp, direct steering, plentiful amounts of grip and reasonable amount of feedback and it's a surprisingly good package.
A boost button on the steering wheel feels a bit gimmicky and gives you 10 seconds of maximum power but in reality you're unlikely to use it often in everyday driving. For us, the rim of the steering wheel felt quite thick when cruising and while the small touch-panel on the steering wheel is great for swiping between radio stations, we did find that we regularly activated it without realising.
The paddles behind the steering wheel can control the regenerative braking which has effectively five different levels ranging from 0 which is a coasting mode up to 3 for heavier regen. There is also a Max i-Pedal mode which is closer to one-pedal driving. We found a good, everyday setting to be level 2.
GENESIS GV60 – INTERIOR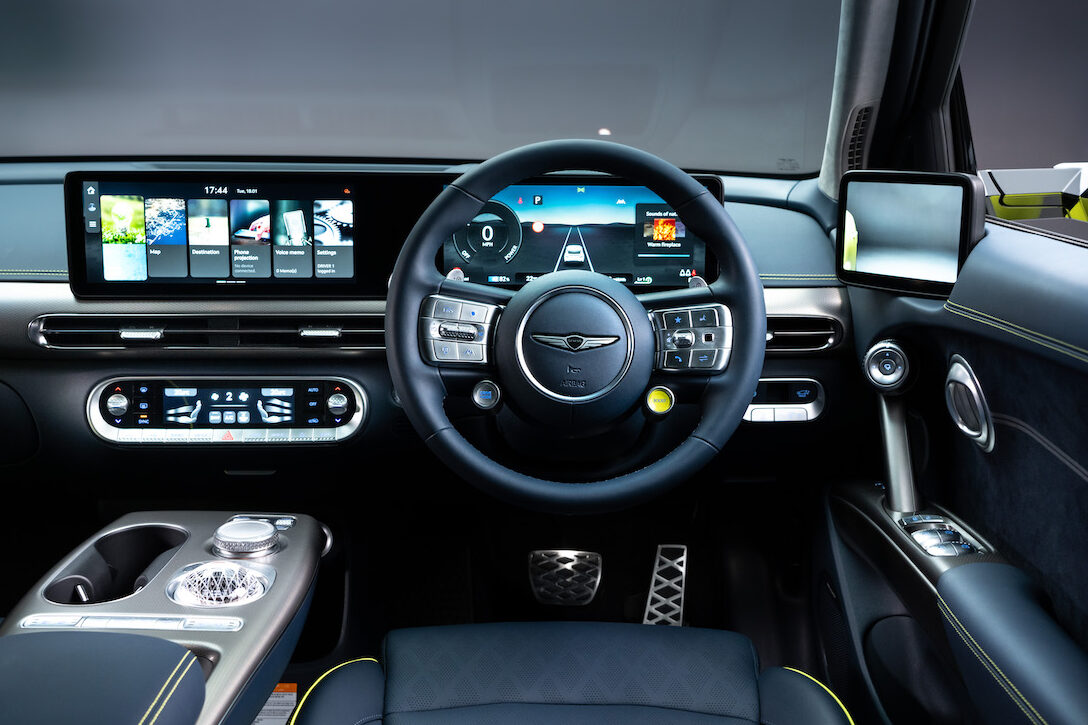 If there's one area that the Genesis really stands out, it's here with its interior. The two wide screens are familiar from the Kia and Hyundai, but it's the build quality and the materials that really set it apart. Everything from the stitching of the leather to the overall feel of the cabin underline that this is a premium car with a premium feel. Again, the gear selector swivelling round when you start the car feels a little gimmicky though.
The optional digital cameras in lieu of traditional door mirrors have been seen elsewhere and can take some getting used to as the screen image feels in almost uncomfortably high definition. They also stick out quite far from the side of the car, though thankfully fold in when parked.
Comfort and space are all good though, there's a drawer-style glove box and the infotainment system is pretty intuitive and easy to use on the move. There's a good amount of rear seat space as well, though the 432-litre boot feels a little sparse.
GENESIS GV60 – SUMMARY
Starting out as a new brand is no easy task and nobody would ever under-estimate the task ahead of Genesis. However, all of the surveys have shown that buyers of EVs are much more open to new brands than those of traditional petrol and diesel vehicles – as the likes of Polestar have shown.
Yes, with the brilliant pair of the Hyundai Ioniq 5 and Kia EV6 as a starting point, the GV60 has a great starting point, but with the interior and the materials used, it feels like Genesis has set it apart from those two enough to justify that premium badge and setting. And, as the first step on the road to electrification, it's very impressive indeed. This GV60 isn't perfect, but it's not far off.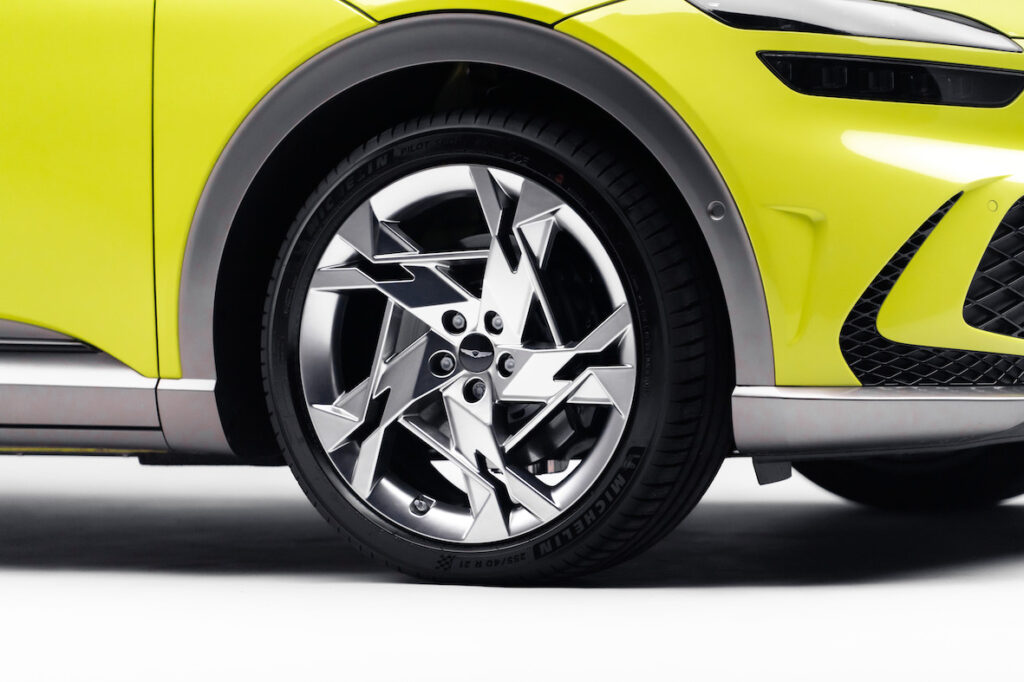 FACT BOX
Model: Genesis GV60
Price: from £47,005
Power: Electric – 77.4kWh
Range: 289-321 miles
Average efficiency: 3.25mls/kWh
Average charge time on a domestic wallbox: 7hrs and 20 mins
CO2 emissions: 0g/km
Rating: 9/10