MG is on a roll – and it's all down to electric power. The recently launched MG4 might have been getting all the limelight recently, but in actual fact the MG5 has done a lot of the ground work.
As the UK's first and only EV estate car in the UK when it arrived in 2020, this year the MG5 is the fifth best selling EV in the UK in 2022 as well as the UK's second best selling estate car. This despite the fact that MG hasn't taken any orders since April 2022, with the knowledge that this facelifted version was on its way.
So, as the UK's fastest growing brand that's even out-selling Skoda, this new MG5 with its new look inside and out, arrives at a perfect time to take advantage of increasing EV acceptance both among retail and fleet buyers.
MG5 ESTATE – DESIGN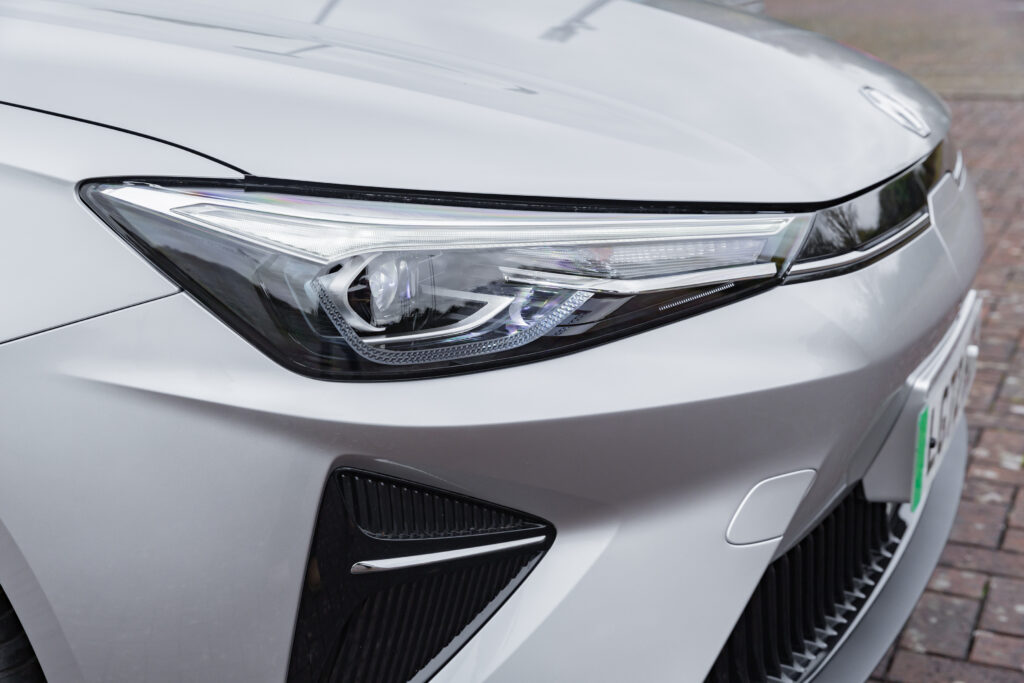 With a new look front and rear, with new LED lights at either end, privacy glass and new alloy wheel designs – including smart 17in wheels on the Trophy, the MG5 has certainly been bought up to date.
The overall look is sharper and sleeker than before, along with roof rails and while the charge port jutting into the black front grille isn't the neatest of solutions, overall it's a largely inoffensive design. For many we imagine, it will fall into the 'good enough' category, but when rivals such as Hyundai and Kia are producing some stunning designs, it won't be long before design becomes a factor.
MG5 ESTATE – POWER AND RANGE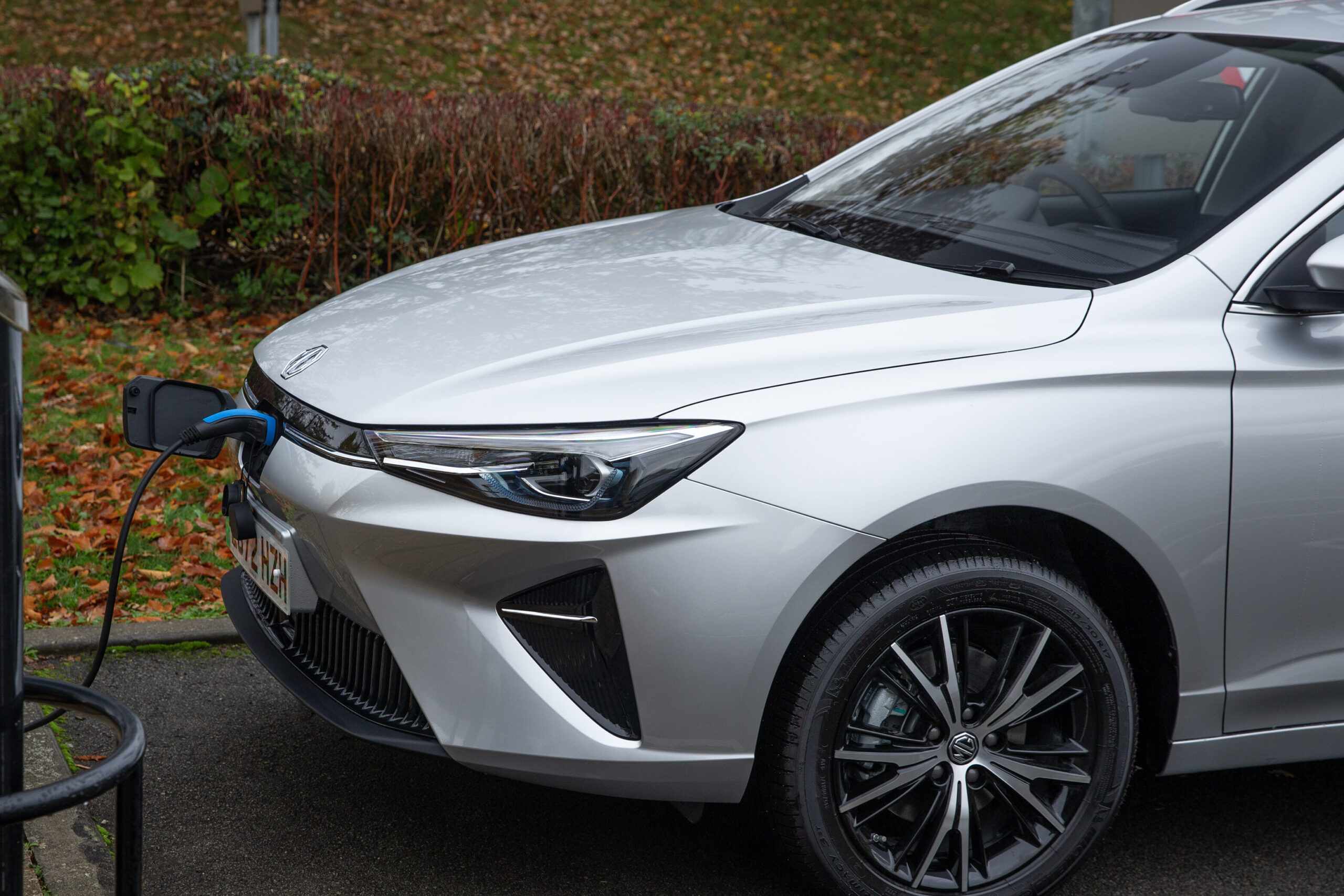 With an unchanged 61kWh battery, the MG5's 250-mile predicted range remains the same as before for the SE while the Trophy has a slightly reduced 235 mile range.
With a charging capability of up to 87kW, MG claims a charge times of 10 to 80 per cent in just 35 minutes at a 150kW rapid charger, with 10 to 100 per cent at a 7kW home charger taking 10 hours.
MG claims an efficiency rating of between 3.8 and 4.1mls/kWh while we managed a decent 3.6mls/kWh during our test drive. With a 0 to 60mph time of 7.7 seconds and a 115mph top speed, we think that's a pretty good balance for what it not a small estate car.
Also new for this refresh is the ability for a Vehicle to Load power transfer, enabling the car to power external equipment – although quite how frequently that's relevant on a day to day basis is another matter.
MG5 ESTATE – ON THE ROAD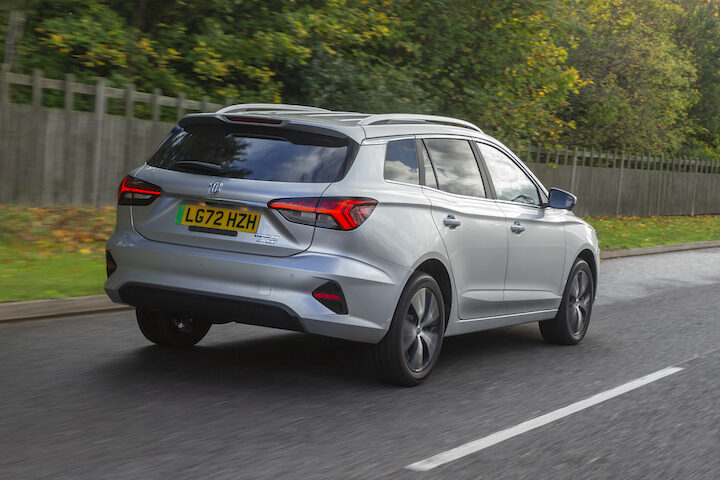 Go back and read the design section and that tells you pretty much that you'll need to know about the MG5's driving manners. It won't set your heart racing with excitement, but at the same time, there's not too much to complain about.
There's a slightly fidgety low speed ride and the steering is pretty lifeless and uncommunicative about what the wheels are doing in front of you, but it serves a purpose – automotive white goods at their best. There are three drive modes – Eco, Normal and Sport – and three regenerative braking modes as well (which MG refers to as KERS – in a nod to the Formula One technology).
While the driving modes do have an added effect on the strength of the regenerative braking (Eco mode and level 3 being the maximum for example), the three main settings are the ones to focus on with the second level being the easiest to live with for everyday driving.
Having said that however, a little more range would be welcome – the third level isn't quite the of one-pedal driving strength level of some rivals, while the first setting isn't a coasting mode and still offers a little regenerative braking, so could be weaker still.
Despite height adjustment on the steering wheel and driver's seat, we wouldn't mind the driver's seat going a little lower as well. As it is, even in its lowest setting, the seat still feels a little high compared to the dashboard and steering wheel.
MG5 ESTATE – INTERIOR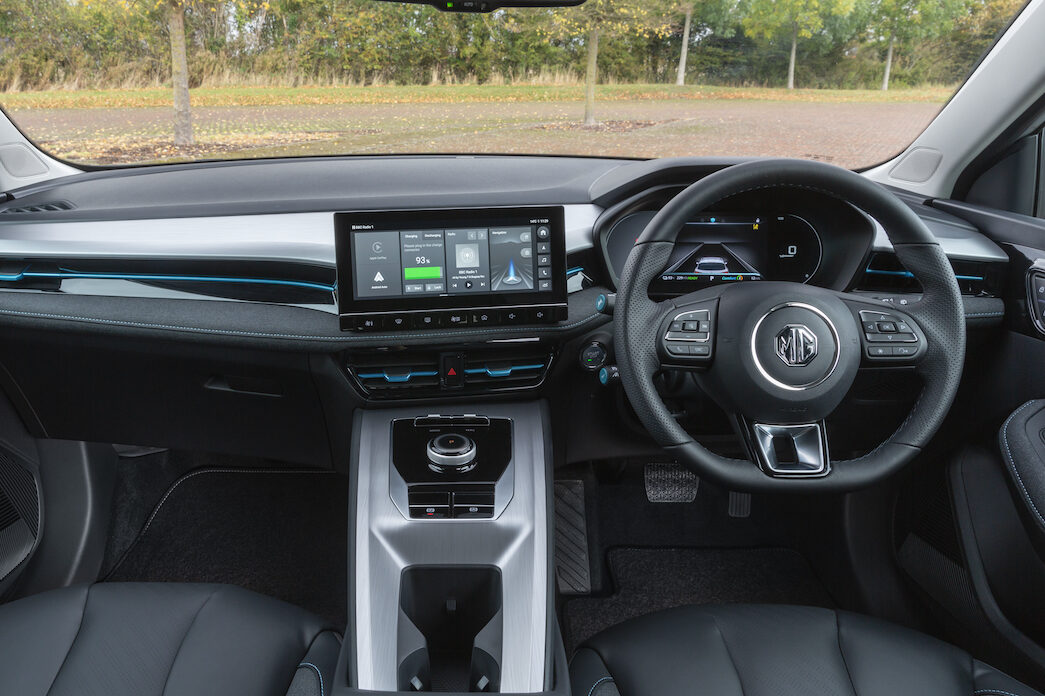 First things first, compared to its predecessor, the interior of this new version of the MG5 is night and day. It's far more modern than before and the new wide 10.25in touchscreen is a massive step forward – there's a rotary gear selector and a new digital driver's display too.
There's also a reasonable amount of space with enough head and legroom for adults in the back (though foot space is a little tight if those front seats are in their lowest position – see our earlier comments). There are also USB A and USB C ports in the back to match the pair in the front, a rear parking camera (360-degree camera in the Trophy) and sat nav and Apple Carplay and Android Auto are standard.
The new infotainment system works well and is largely intuitive, with some helpful single-touch buttons alongside the touchscreen controls. Generally speaking, there's a good mix of fabrics and a definite step forward from previous generation MG cars, although there remains a couple of obvious spots where the plastics aren't quite up to standards – such as the top of the doors and the steering wheel faux-leather material itself. These are perhaps more obvious than they should be, if only because these are places that are so frequently touched.
Boot space is reasonable though with 578 litres with the seats up and 1367 litres with them lowered.
MG5 ESTATE – SUMMARY
The MG5, especially in this new guise, is a very likeable car. There's a lot going for it and it's not hard to see why, so far, it's been such a popular car with fleets – an area that has accounted for 50 per cent of MG5 sales so far.
As well as being exceptionally good value, it's a good family estate car that might not set the world alight, but has an EV powertrain, a good range and decent efficiency in a package that's very tempting indeed from the point of view of a business. And ironically, those same arguments are just as true from a retail perspective as well.
There's not a lot of competition at £30,995 for the SE and £33,495 for the Trophy in this family car sector and even less if you're not after a crossover. Until the likes of the fully-electric Vauxhall Astra and Peugeot 308 estates arrive on the market, this MG5 has this (admittedly niche) class all to its own. All of which brings you back to the underlying fact that this refreshed MG5 could be one of the most sensible and practical family EVs on the market today.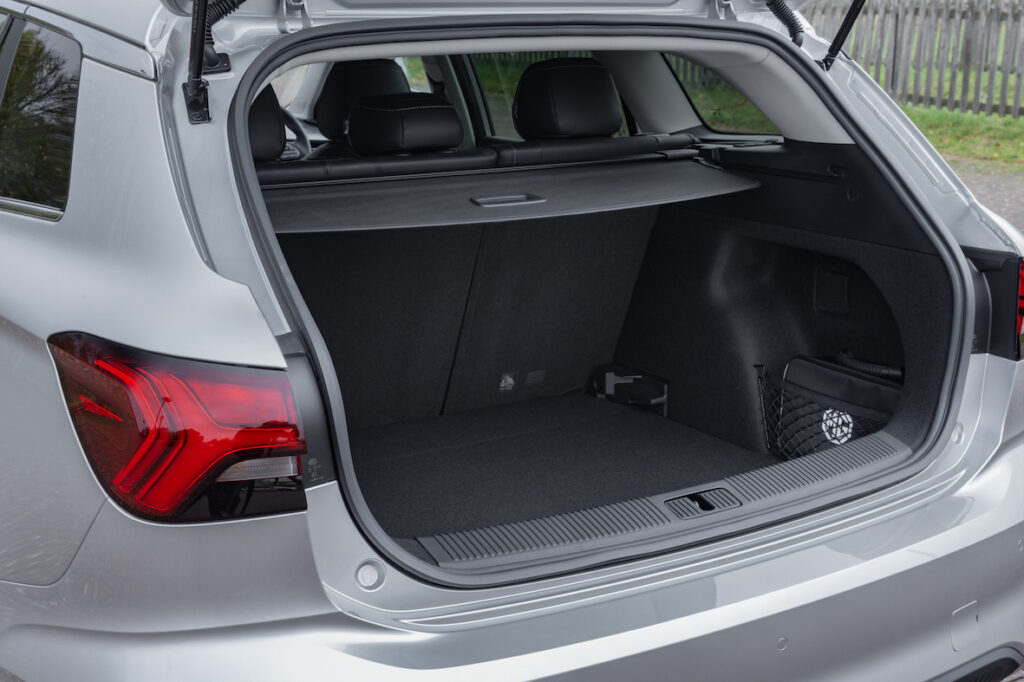 FACT BOX
Model: MG5 Estate
Price: from £30,995
Power: Battery – 61kWh
Range: 235-250 miles
Average efficiency: 3.8-4.1mls/kWh
Average charge time on a domestic wallbox: est. 10.5hrs
CO2 emissions: 0g/km
Rating: 8/10