FACT BOX
Model: Vauxhall Astra Ultimate PHEV
Price: from £40,400
Power: Petrol – 1.6-litre, turbo; Electric – 12.4kWh
Range/ official mpg: 42 miles / 256mpg
CO2 emissions: 24g/km
REPORT 5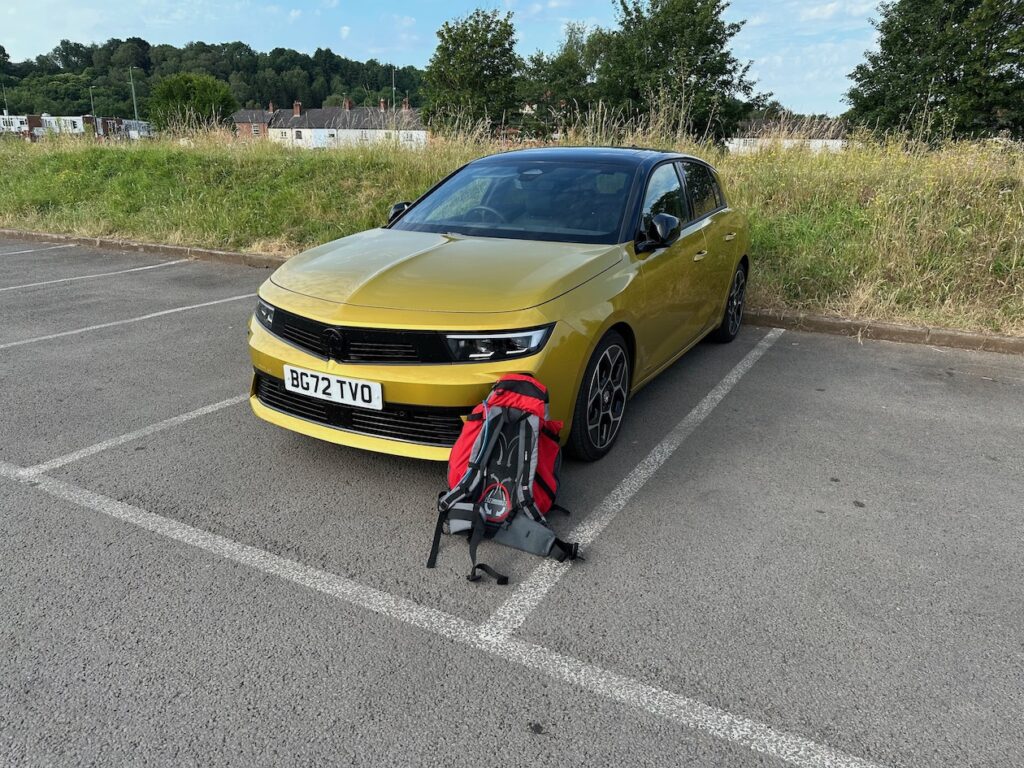 177 miles. An easy enough distance to cover over a handful of hours in a car, but it takes rather longer by foot. That's the distance of Offa's Dyke, the ancient route that roughly follows the border between Wales and England and that I've chosen to walk in stages.
The good news is that the 12 stages in question comprise of daily walks of about 15-18 miles, so I don't need to do it all in one hit. The bad news is that I don't live anywhere near Wales, so those days comprise of an early rise to drive my Vauxhall Astra PHEV to my start point, do the walk, return to the car via bus or taxi and then drive home again. It makes for some long days.
As well as being a good test of my leg muscles and hiking boots, it's also a good test for the Astra too. Being a largely rural walk, charging points are few and far between and I wouldn't want to hog one for all the time of my walk. So, while I leave home with a full charge, after those initial 30 miles, I'm running in 'self-charging' hybrid mode to borrow that hateful term of a rival manufacturer…
It's dented my overall mpg, but having reset the second trip to experiment on the return journey, the Astra is still returning in the region of 50-55mpg without any charge which I don't think is all that bad. It's even more impressive as while the motorway miles are eaten up with ease, as my walk progresses into mid Wales, I'm tackling plenty of twistier roads too.
While previous generations of Vauxhall Astra haven't exactly covered themselves with glory in terms of driving dynamics, this certainly isn't one of them. No, a Plug-In Hybrid isn't your first thought when it comes to driver enjoyment, but actually there's minimal body roll through corners, the steering is sharp and direct and turns in with a precision that the likes of a crossover could only ever dream of, and there's plenty of grip too.
Furthermore, while driving enthusiastically is inevitably going to harm my overall fuel economy, I've taken to driving almost all of the time in B mode for maximum regenerative braking, so it's not the disaster you might imagine. Plus, the Astra seems very good at constantly harvesting and using that EV power as much as possible – easily visible by the speedo showing in blue digits when running on electricity.
So, while my 'Offa's outings' might not be the most flattering or natural journeys for the Astra PHEV, it continues to be perfectly capable. As for the driver, on the other hand – has anyone got any blister tape to hand?
REPORT 4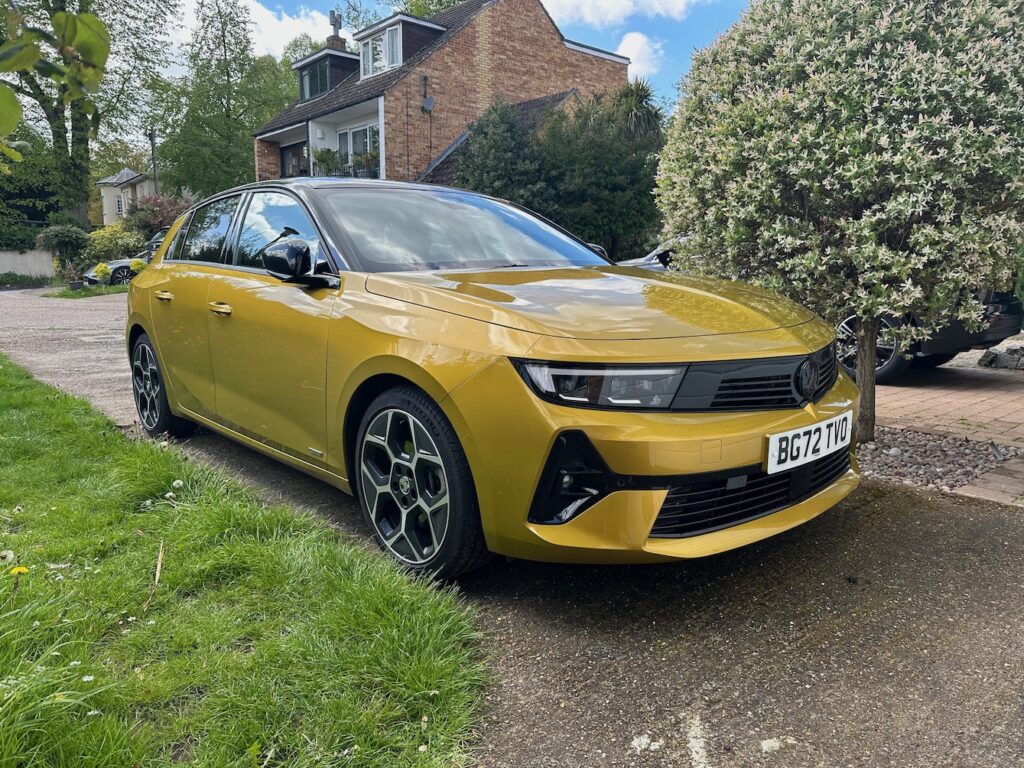 In my last report I touched on the Electric Yellow paintwork of my Vauxhall Astra PHEV long-termer. A £700 option, I questioned whether it was worth it – as well as the value of sometimes slipping into a crowd rather than standing apart from it.
And since then, Fiat's CEO, Olivier Francois, has joined the discussion. While obviously Francois often calls me personally to discuss the hue of the Fleet World long-termers, on this occasion it was a public statement saying that Fiat was no longer going to produce cars in grey paintwork.
Ignoring for a moment that Fiat and Vauxhall are sister firms under the Stellantis umbrella, whether you agree or disagree with that statement, it's an interesting move for UK drivers when grey is such a popular colour for new cars – accounting for one in four new cars sold according to the SMMT. It's unlikely to be a deciding factor for any potential buyers, but as supply eases and new car sales will get more competitive, dealers could probably do without any excuses for some not to buy a car.
Then there's whether you actually [start itals] want [end itals] to stand out in a crowd. The good side is that it's easy to find the Astra in a busy car park when you have those brand fade moments about where you parked.
The bad side however was demonstrated when I got involved in a road rage incident in London in a similarly brightly-coloured car. On an occasion where all I wanted to do was slip away into the busy London traffic unnoticed, I was all too aware that that wasn't possible.
That colour scheme extends to the black grille of the Astra too. With a blacked-out Vauxhall badge, I often find that many observers don't realise it's a Vauxhall – or indeed even an Astra. Don't get me wrong, I think this latest Astra is arguably the best-looking ever to wear the badge, but at the moment I feel that Vauxhall needs all the brand recognition it can get and having a badge that's effectively hidden, doesn't help that.
REPORT 3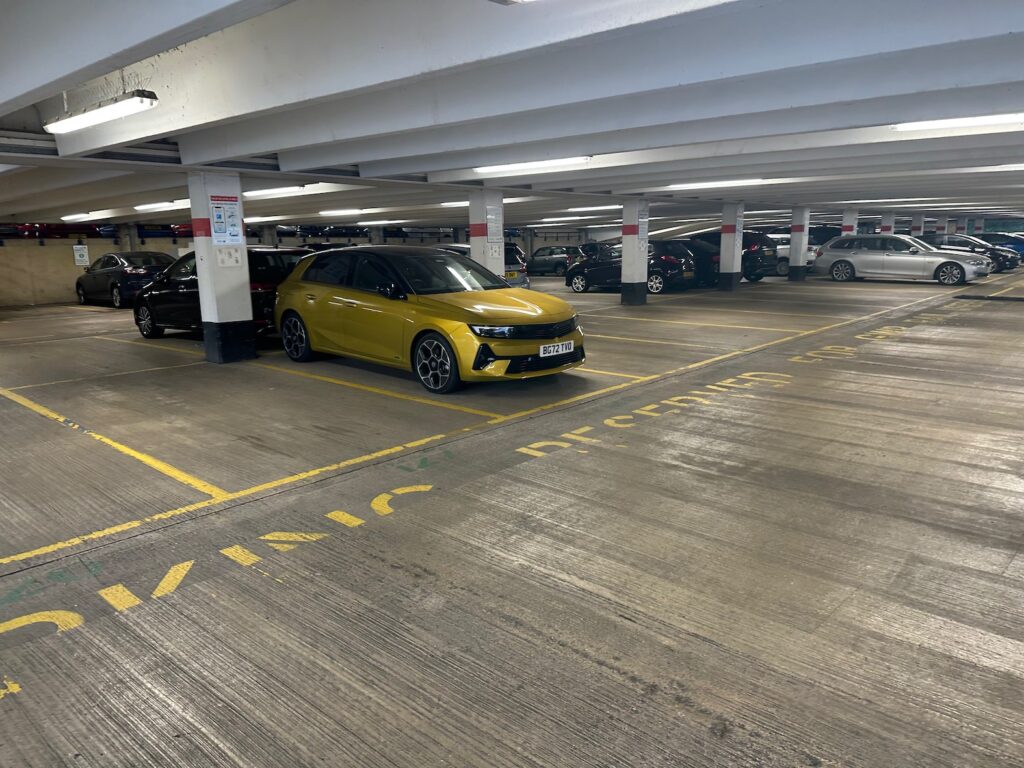 My Electric Yellow Vauxhall Astra Plug-In Hybrid has made a welcome return with me after a two week absence – trapped air to blame for its odd thirst for coolant.
But my brief time with a 1.2-litre petrol – and the novelty of manually changing gear once more – bought into sharp focus the differences with driving a traditional ICE car as opposed to a PHEV. I've been pretty impressed by the Astra PHEV's fuel economy until now, easily above 80mpg with regular charging and lots of short journeys.
At the same time, I have to admit that I wasn't relishing the idea of driving an ICE vehicle again, but even so, over our two weeks I averaged 48.6mpg which, including some long motorway journeys, I thought was pretty good. It's a reminder too that as good as PHEVs can be with regular charging, that modern petrols can be respectably frugal too.
The return of the golden PHEV has convinced us about its colour too. After an unpleasant road rage incident many years ago, where we realised the value of not standing out in traffic, we've been inclined to avoid cars in brighter colours, but we're coming round to the Electric Yellow – even if it is a £700 option. It certainly makes the Astra easy to spot in a car park, for which we're very grateful after the gunmetal grey ICE Astra.
In the meantime, we've got a number of longer motorway journeys planned for our Astra PHEV as we travel to walk Offa's Dyke in Wales in day stages, so hopefully those don't pull down our average mpg too much.
REPORT 2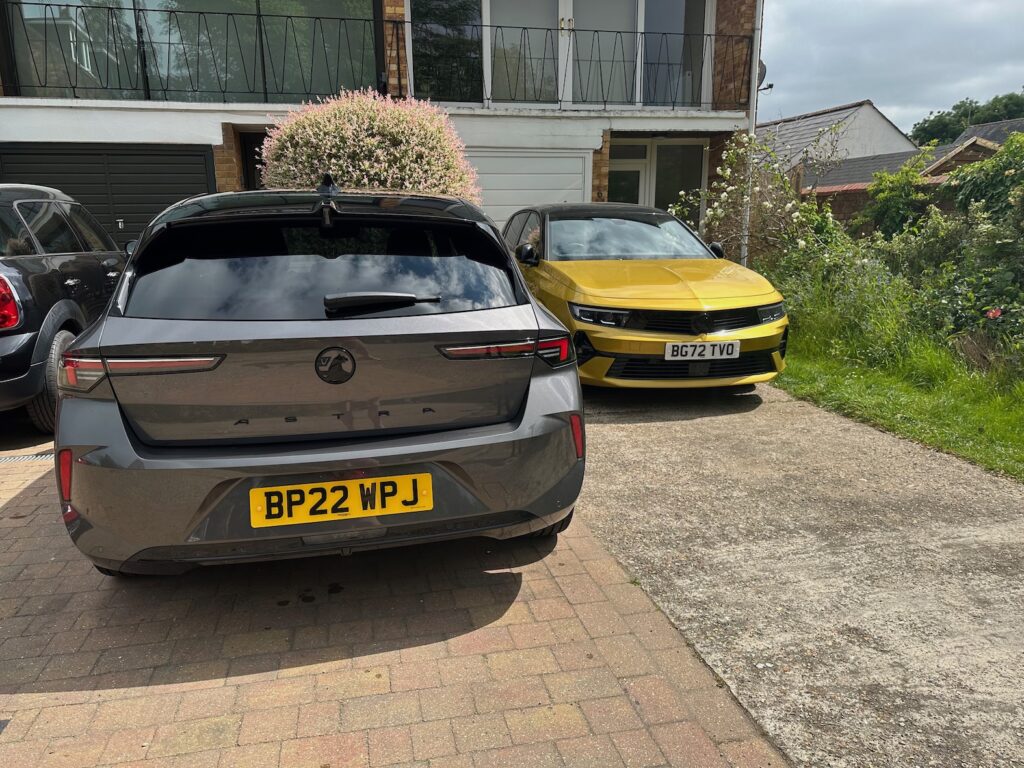 "Wow, you're hot." No, not the words of Jennifer Aniston in the passenger seat to me as I drove my long term Vauxhall Astra Plug-In Hybrid. In fact, it was me, talking alone to the Astra itself.
Three weeks into our time with the Astra, things have been going pretty positively. The Astra's previously disappointing EV range has been steadily climbing as the ambient temperature has improved and as it has learned my driving style. From the original 19, a full charge now typically reads in the low 30s and I've even seen 36 miles on a couple of occasions.
Judicious charging and a lack of long journeys though have meant that we've rarely drawn on the Astra's 1.6-litre turbo petrol engine for any length of time. Until that is a recent journey up the M1 saw the Astra suddenly bring up an engine temperature warning light shortly after having used up all of its battery power.
Pulling into some nearby services and lifting the bonnet showed that the coolant level in the header tank was below minimum, so after a short top up with some water in the car, we were back on our way again and thought nothing more of it.
Until that is, a quick check two days later showed it to have returned back down that minimum level. Thinking it must have been some air in the system, we carried out another top up and made a mental note to keep an eye on it. The car ensured that it didn't just stay in my memory though and another two days on, the warning light was back on and the coolant level back down to minimum once more.
With clearly something amiss, the Astra has gone back to Vauxhall for some investigation work. In the meantime I'm now in a 1.2-litre petrol Astra GS Line and remembering what a gearstick and clutch pedal are for, having driven EVs and PHEVs for so long. I certainly miss driving under electric power, but at 49.2mpg, this new petrol Astra is proving impressive.
REPORT 1
Not so many years ago, it would have been hard to over-estimate the significance of this new Vauxhall Astra Plug-In Hybrid to the new car market.
Like the Focus and Golf, the Astra was such a huge player in the car market that they would soon be commonplace on every street and car park. Except that I've been driving this new Astra long-termer for two weeks and have seen less than a handful of others on the road – something that would have been utterly inconceivable until the rise of crossovers to British roads.
And that, ironically, seems to me an even better reason to be driving one. Plus, I'm the perfect candidate having just stepped out of a Ford Kuga, the kind of family car that the Astra needs to convince drivers out from.
Certainly the numbers stack up. A 1.6-litre turbo petrol linked to a 12.4kWh battery giving it 180bhp, 24g/km emissions and, on paper at least, a 42 mile electric range – more on which in a moment.
Those stats are backed up with looks too and I love the look of the new Astra, especially in the optional metallic Electric Yellow of my test car – it certainly makes it easy to spot and find in busy car parks.
Except that my first impression wasn't positive. And the reason, ironically, had nothing to do with me or even the car, but clearly the previous incumbent who must have had a right foot like an anvil. The reason was that despite a fully charged battery, the electric range was showing as just 19 miles. That's not just not in the same postcode as the claimed 42 miles, that's not even in the same country.
While I'm not naïve enough to think that I'll be able to match that EAER 42 mile figure, I wasn't too impressed with a figure less than half that. A explanation from Vauxhall however said that the trip computer learned from the previous usage and it would soon correct itself to a higher number. And, lo and behold, they were right. With every new charge, the range has steadily grown and I'm currently (pardon the pun) at 31 miles. Let's hope it keeps growing.