Four or five years ago, you'd be hard pushed to see a MG model pottering along the British roads. Regarded as something of a 'niche' brand, the resurgence of MG looked a long way off. Now though, the game has changed.
A real value proposition, these cars have become irresistible to thousands of UK car buyers, and it has resulted in a 'hockey stick' sales trajectory that threatens the likes of Kia, Hyundai, Volkswagen, Toyota and others offering an ever-growing choice of EVs and plug-in hybrids.
The HS Plug-in Hybrid is set to play its part in the ongoing MG success story in the UK. Practical, spacious, with affordable running costs and a sensible, yet flexible powertrain puts the HS in the mix. If you factor in up-to-date tech, interior quality, generous equipment levels and, most importantly, a seriously competitive price, it could well tip the balance for those normally considering Kia Sportage or Hyundai Tuscon PHEVs, in particular.
MG HS PHEV – DESIGN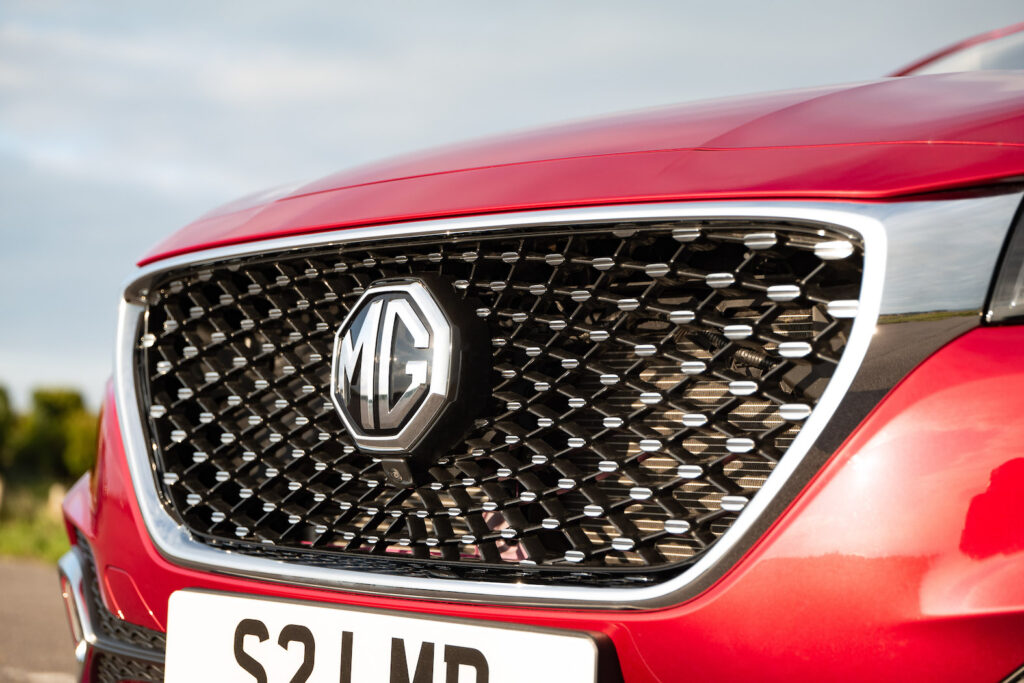 It's not earth-shattering in the design department but it does look fit for purpose and it's not going to offend on the school run. Arguably, the Sportage and Tuscon cut more of a dash with their angular lines and bulging rear wings, but the HS is smart and no-nonsense.
A high-riding SUV, sitting on standard 18-inch alloys, it's positively unobtrusive: the only thing prompting a second glance might well be the MG badge. It looks like many others in this class, but the pinhead grille is a nice design touch offering some much-needed flair to the overall look.
MG HS PHEV – POWER AND RANGE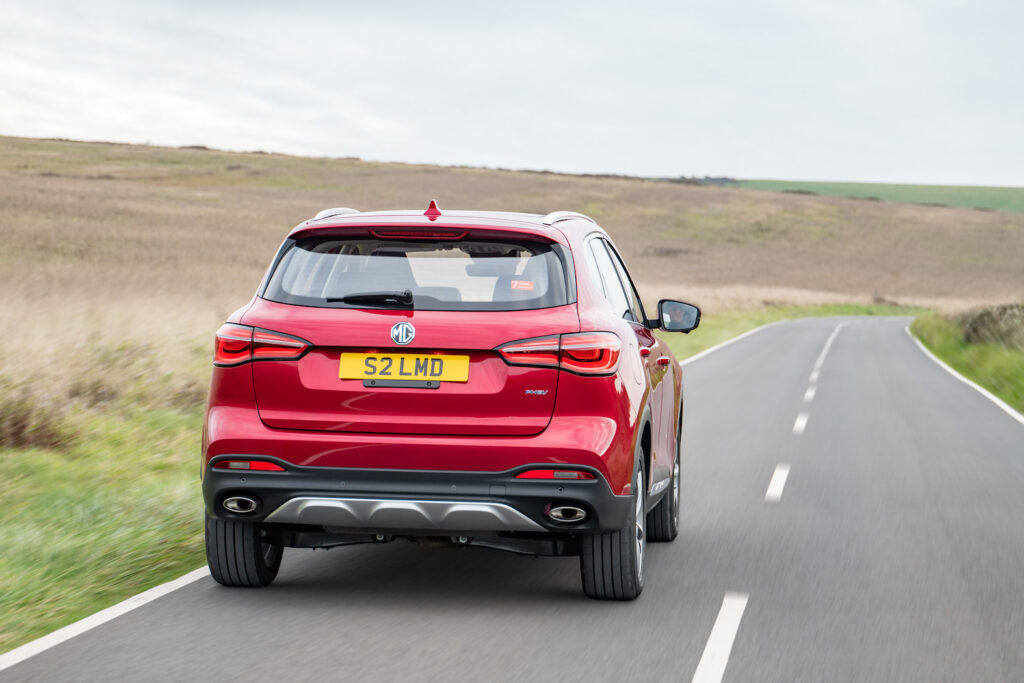 The MG HS PHEV uses a 1.5-litre turbo petrol engine with a 16.6kWh battery to amass a combined power output of 254bhp. The official MG numbers tell us the HS Plug-in Hybrid is capable of achieving 0 to 60mph in 6.9 seconds with a 118mph top speed, which means that for real-world drivers, there's more than enough power under the bonnet.
There is an EV button that activates electric-only mode, but often it reverts to petrol power without warning. In electric-only mode, you can potentially travel 32 miles, but you have to be light with the right foot in order to achieve that because the petrol engine will often kick in on sharp acceleration.
The powertrain combination emits 43g/km of CO2 putting it in the 12 per cent Benefit in Kind tax bracket for company car drivers. In this respect it is slightly on the back foot when compared to a Kia Sportage PHEV that has a 43-mile range and an 8 per cent Benefit-in-Kind rating.
The 155.8mpg fuel economy figure is something of a misnomer and, like all plug-in hybrids, these kinds of stats should be taken with a pinch of salt for everyday driving, particularly longer commutes that involve motorway driving.
We travelled a total of 504 miles for a weekend trip and the onboard computer told us we were averaging around 38mpg even with some intermittent electric-only driving. That said, we were heavy with the accelerator, so we could well have eked out 4-5mpg more if we had taken a more relaxed approach. Like all PHEVs though, unless every trip is electric-only with little need for the petrol drivetrain, potential buyers will need to arm themselves with a reality check and do a bit of number-crunching to predict exactly what their fuel consumption is likely to be.
The MG HS PHEV should take around three hours for a full charge using a 7kW home charger to get that 32 miles of electric-only range.
MG HS PHEV – ON THE ROAD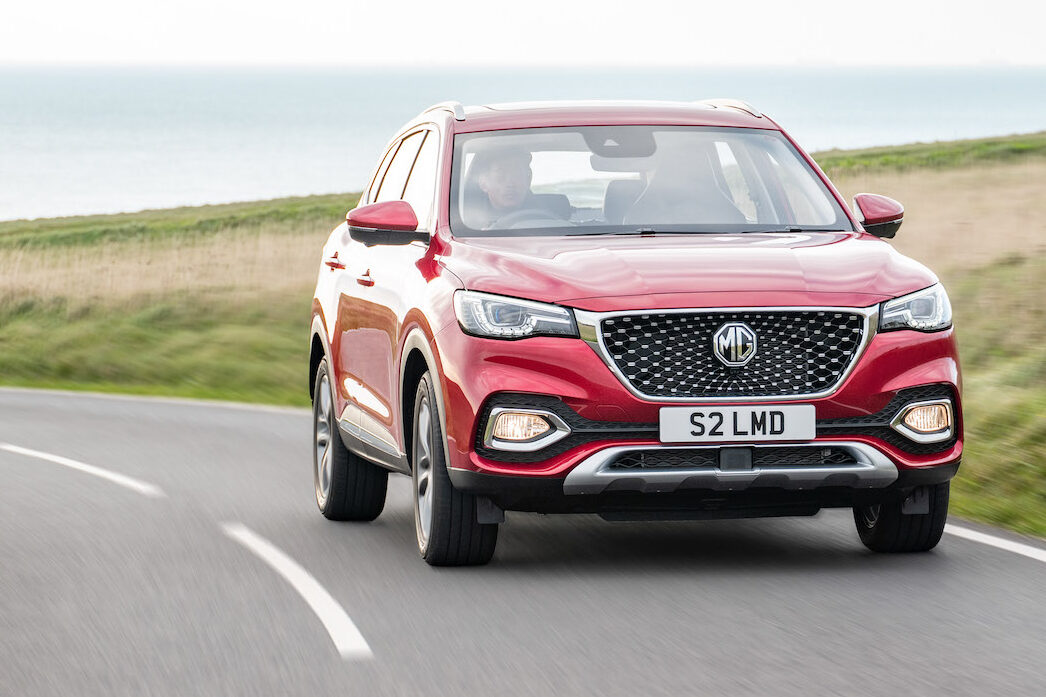 For the everyday driver the MG HS PHEV offers more than enough power in all situations. The electric motor delivers satisfying pick-up when you are around town, while on the motorway or B-road, you'll not be nervous when overtaking because it'll deliver the necessary punch when you need it to.
The 10-speed automatic transmission is smooth and seamless as it goes through the gears, but you do get a tiny bit of lag. Out on motorways and on the open road it is in its element: the fact that you don't even notice the gearchanges, is a positive.
The HS is not a driver's car, however. The ride is excellent but if you do corner with too much enthusiasm, it'll serve up a fair amount of body lean. On more undulating roads, it can also get a little bouncy, but at that point it's just a case of lowering the speed.
The MG HS Plug-in Hybrid, with its refined powertrain, well-designed seats and a lofty, yet flexible driving position is right up there in the comfort stakes. A dash to the shops or a 200-mile road trip delivers the same result. In either event you emerge feeling fresh and relaxed.
MG HS PHEV – INTERIOR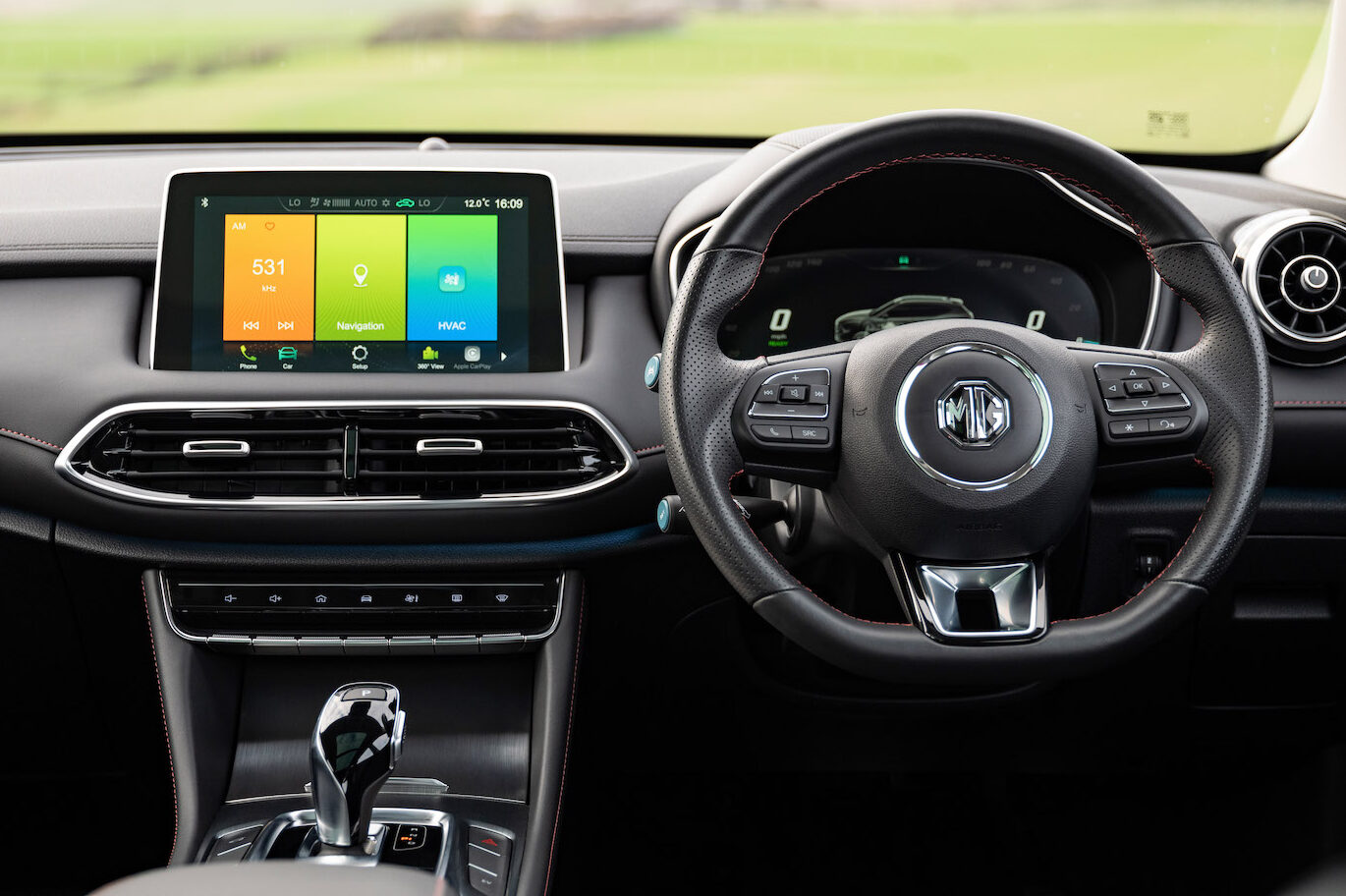 There's little to complain about with the HS's interior. The seats are nicely shaped to accommodate those both large and small, and the sculpted design points to a quality offering. The interior is awash with soft-touch plastics and the metal detailing on the 'piano key' short-cut buttons are all very reassuring.
At the centre of the dashboard sits a prominent 10.1-inch colour touchscreen that operates the infotainment system and sat nav. It's mostly intuitive once you have had the inevitable play around, but a single bank of handy shortcut buttons arranged beneath the screen provides a sensible start point if you get into a tizz with the system.
There's two model variants in the HS Plug-in Hybrid range. The entry level Excite version comes with 18-inch alloys, electrically adjustable heated front seats, auto headlamps and wipers, keyless entry, dual zone climate control, Android AutoTM and Apple CarPlayTM capability, a 360-degree parking camera and silver roof rails. Shell out around £2500 more for the Exclusive model and the list of upgrades includes a power-operated tailgate, panoramic sky roof, full leather upholstery, metal sports pedals, an electrically adjustable passenger seat and LED bi-function headlights with sequential LED turn signals.
There's an array of USB ports placed in the right places, a decent sized central storage box, a slot to hold your phone, and a nice little compartment right of the steering wheel for other bits and bobs.
Where the MG HS Plug-in Hybrid really scores is interior passenger space. Headroom in the front and rear is excellent – even with the panoramic roof in the Exclusive model – and the amount of rear legroom is extraordinary for this type of car.
Boot space though, is merely adequate with 448 litres on offer, which extends to 1375 litres when you fold the rear seats down to give a totally flat boot floor. Rivals offer more in the boot department: the Kia Sportage PHEV, for example, delivers 540 litres with seats up and 1715 litres with them down. The luggage area in the MG HS Plug-in Hybrid does pass the test for accommodating a full set of golf clubs, but you do have to position them at an angle to fit the largest club in.
MG HS PHEV – SUMMARY
There's some nitpicky stuff that might put some off the MG HS PHEV, such as the benign driving dynamics, the average-sized boot, and an infotainment system that isn't quite as accomplished as those in other brands, but when you consider the price, it's right up there.
Put simply, you get a lot for your money, and there are few compromises to be made by choosing the MG HS Plug-in Hybrid. A quality interior, refined powertrain, generous equipment levels, decent ride quality and roominess are all part and parcel of what should be a smart buy.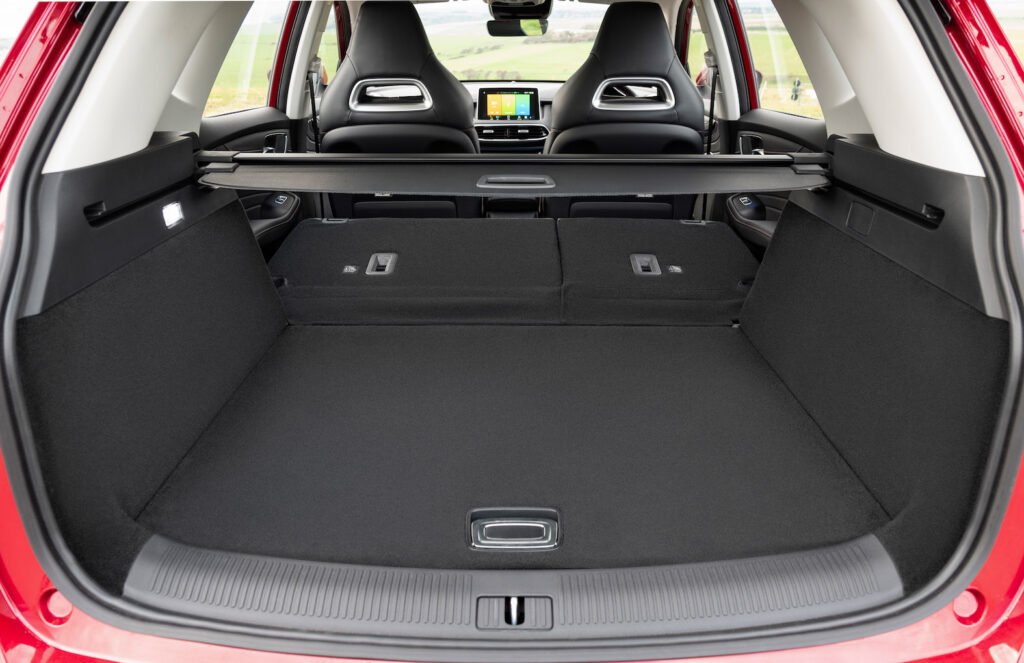 FACT BOX
Model: MG HS Plug-In Hybrid
Price: from £31,095
Power: Petrol – 1.5-litre turbo; Battery 16.6kWh
Electric range: 32 miles
Average fuel consumption: 155.8mpg
CO2 emissions: 43g/km
Rating: 8/10