With its enormous success with the Prius, of all the car companies that you'd expect to have stolen a march on the transition to electric vehicles, you'd imagine Toyota to have been at the forefront.
Except that this new oddly-named bZ4X is Toyota's first proper, all-electric production model (discounting the old RAV4), a model produced in conjunction with Subaru (its version is called the Solterra). Available with two or four-wheel drive and a single battery choice, the bZ4X might be late to the EV party, but can it draw on Toyota's vast experience of electric power with its hybrids to pack a punch? Especially when it's a contender for 2023's World Car of the Year awards?
It's the start of Toyota's new naming strategy too with bZ standing for Beyond Zero (it's a mystery why the b is in lower case), the X standing for crossover and the four denoting the car's size, so don't be surprised to see a bZ3X and bZ5X in the future. This bZ4X hasn't had the best of starts however, with an immediate recall for faulty wheel hub bolts and also an issue with its airbags that were improperly fitted at the factory.
TOYOTA BZ4X – DESIGN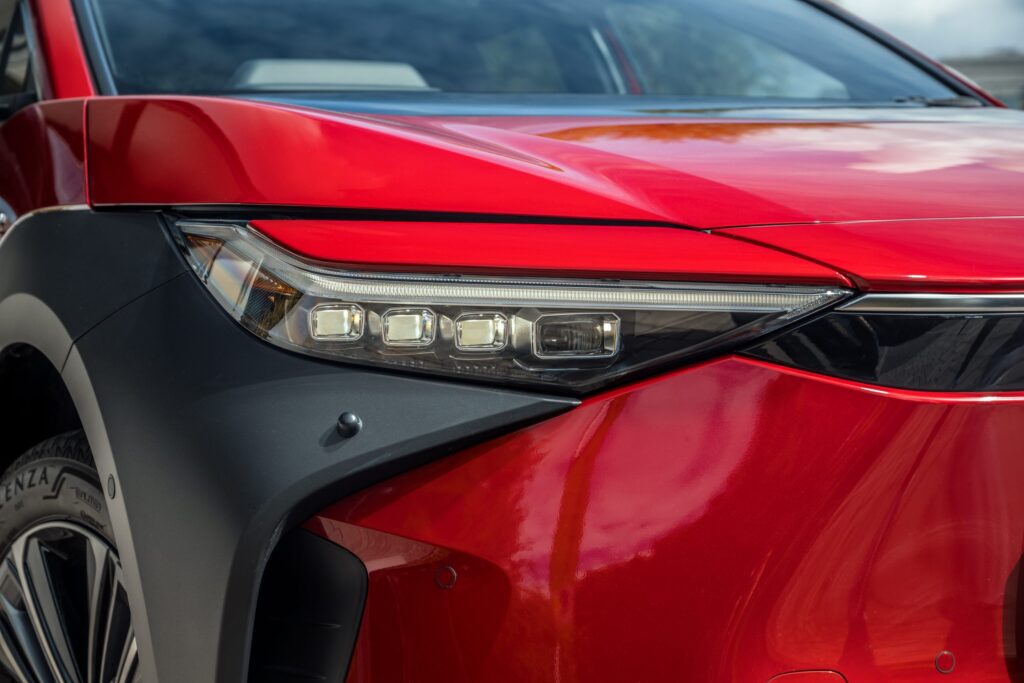 Toyota's design department has been left rather wanting of late. Depending on your view, this bZ4X doesn't really change that either. It's not that it's exactly ugly, it just feels rather incoherent.
A mix of straight lines and over-sized grey plastic wheelarches is largely par for the course for a modern SUV, but there are some oddities such as the section just above the narrow headlights where the clamshell bonnet meets the front wing. It leaves an unsightly space that's too wide to be a panel gap and yet too narrow to be a design feature and your eye is immediately drawn to it as a result.
Overall, as we said earlier, aside from that, it's not hugely offensive, but it's certainly not a shape that you're going to fall in love with any time soon. The charging port is on the front nearside wing with an ungainly 'Electric' badge on the side (also mirrored on the other wing), which seems a bit of overkill to us. There's also no rear windscreen wiper which, given the shallow rake of windscreen, makes visibility difficult in rain.
TOYOTA BZ4X – POWER AND RANGE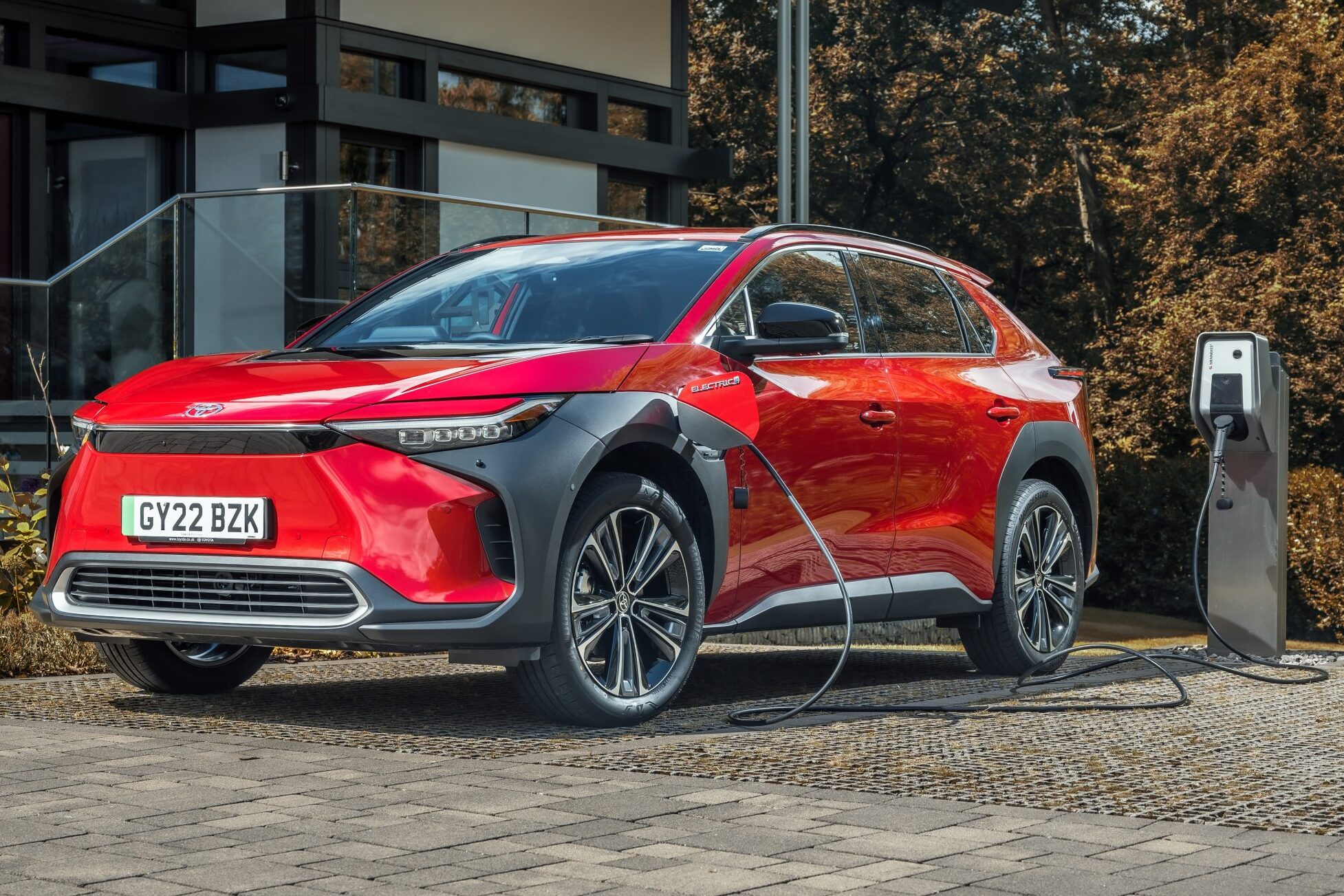 There's two stories here, so we'll give the official one first. All bZ4X models, whether two or four-wheel drive get a 71.kWh battery. The official fully-charged range is 317 miles for the two-wheel drive and 286 miles for the four-wheel drive model with respective efficiency ratings of 4.4 and 4.0mls/kWh for each.
However, what's odd is just how much of that range varies between models. So with the two-wheel drive that 317 miles is only possible with the entry-level Pure model, while the Vision sees it drop to 277 miles. The all-wheel drive Premiere Edition sees that 286 miles drop to 257. We're used to seeing mileages drop between different versions of the same car, but a 40 mile change seems a bit steep to us.
As for charging, all models get a 6.6kW on-board charger, while cars that have been built from the end of 2022 see an upgrade to a 11kW faster unit. At a 150kW fast-charger, an 80 per cent charge can be had in just 30 minutes, while a charge on a home wallbox will take around nine and a half hours.
However, we said that there were two stories here and the second, real-world, one is rather different. First, a caveat that we did drive the bZ4X in quite cold conditions, but our experience of driving the bZ4X was unlike any other EV we've driven due to our efficiency when driving. Even when driving gently and as smoothly as possible, the best average efficiency we ever saw was 2.5mls/kWh and most of the time it hovered between 2.2 and 2.4mls/kWh. For a car of this size and type, that's simply not good enough and we'd expect it to be above 3.0mls/kWh as a minimum.
The second was the fully-charged range. For our Vision test car, it was meant to be 277 miles, but the most we ever saw was 160 miles. We're used to the range dropping in EVs in cold weather and also when you turn the heating on, but simply turning the fan on for ventilation inside the Toyota, saw our range drop by 50 miles. And no, that's not a typo. A 50 mile drop simply for circulating the air inside the cabin. Turn it off though to get the range back and the windows steam up.
It may sound petty, but combined with that lack of efficiency, it's a serious dent in the appeal of the bZ4X and we really expect better from Toyota. For a company that's renowned for its engineering prowess, the efficiency of the motor and some of the on-board systems is clearly incredibly poor. There is also an Eco mode, but this doesn't seem to have any effect on the range.
TOYOTA BZ4X – ON THE ROAD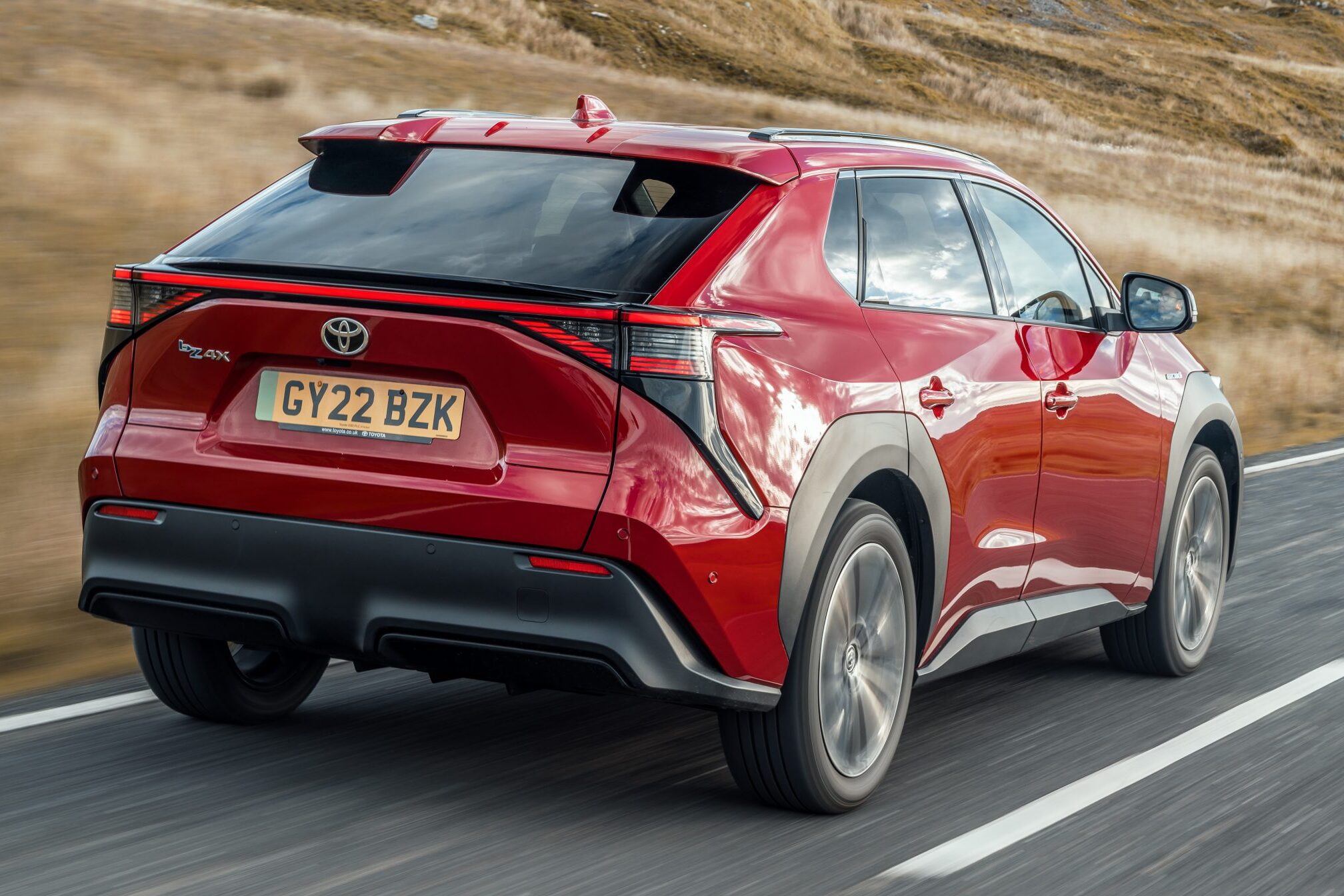 Given Toyota's history with the Prius, you could be forgiven for not expecting the bZ4X to be the last word in driving enjoyment and it isn't.
To be fair though, it's not all bad. You certainly feel its weight on the road and there's little feel about what the car is doing beneath you. We'd like more feel through the steering wheel and the seat, but overall it's largely inoffensive. The raised driving position gives a good view of the road ahead and the 0 to 60mph time of 7.5 seconds is pretty respectable for what is not a small car.
However, the 20in wheels standard on the Vision model and above give it quite a skittish ride at times especially on broken roads and we'd like to try out a lesser version with the 18in wheels to see how that fared. There's just the one setting for regenerative braking that isn't quite one-pedal driving, but gives a reasonably firm level of regen that's easy to drive with on urban roads. Without it, the car still gives a small level of regen but in reality is more of a coasting mode for faster roads. Again, we'd expect more levels for a full EV.
Also worthy of a mention are the headlights which we felt could be more powerful. We did a lot of our bZ4X test driving on country roads at night and didn't feel that they cut through the dark as well as others. The auto main beam setting didn't seem keen to switch on and off either.
TOYOTA BZ4X – INTERIOR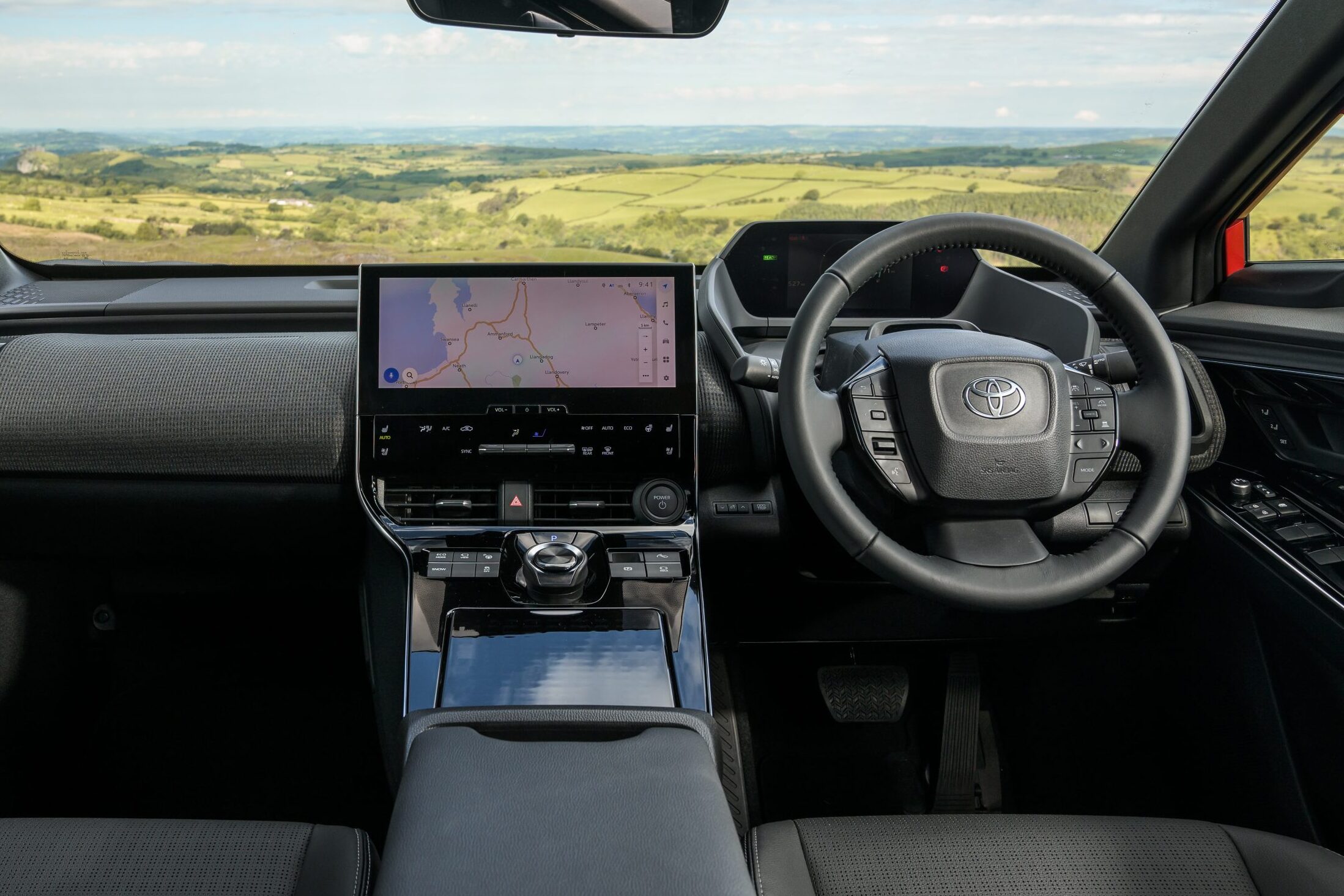 There's one word for bZ4X's interior and that's busy. A low set steering wheel has a small driver display ahead of it with some rather odd 'wings' along the side which just look odd. However, despite looking large, the actual display within it is quite small and we'd prefer it to be larger.
The centre of the dash is dominated by a big landscape-style screen and, thankfully, below that are real buttons and rocker switches for the ventilation controls, heated seats and so on. Below that again is the gear selector (more on this in a moment) along with buttons for the handbrake and regenerative braking. The main part of the dash in front of the front seat passenger however is covered in an odd carpet-type material like the Nissan 300ZX of the 1980s and there's no glove box, despite there being space for one.
There's a good amount of space in both the front and rear seats, a decent 452-litre boot with the rear seats up and USB A and USB C charging ports throughout.
So far so good, but why do we refer to it as 'busy'? The reason is some of the basic design which feels plain odd. There are 19 switches and controls on the steering wheel alone plus another small screen just above it. While you think that's for warning lights or something similar, it's actually for the driver monitoring systems which, frustratingly, chime at you constantly. Even the parking sensor warning sounds like a car horn outside the car which is off-putting.
Then there's the gear selector itself. While it looks like a rotary knob with a push button in the centre for Neutral, you only twist and press the outer collar section, not the whole thing, with a separate button for putting it into Park. Regular drivers will undoubtedly get used to it, but we found it really confusing and not remotely intuitive.
There's also some seemingly unnecessarily busy controls too – the heated steering wheel has three different settings while the heated seat has four as they both include an auto setting. It may sound minor, but it means multiple more presses each time you're driving and therefore more time with your eyes off the road.
SUMMARY
In summary, it's hard to recommend the bZ4X. Put simply, we'd really expect better from Toyota in numerous areas of the car which, in our view, simply aren't good enough.
Yes, the bZ4X drives well enough, but the over-riding factor for us seems to be the inefficiency of the motor and its systems overall. We have been driving EVs in numerous shapes and forms for decades and have never experienced a ventilation fan that had such a negative effect on a car's range. On its own, that might be (just about) forgiveable, but combined with the car's overall low driving efficiency – lower even than electric performance cars we've driven – then you'd choose even mediocre rivals over this.
As we said at the start, Toyota has been late to the all-electric party which, given that it led the way with the Prius back in 1997, has been a surprise. The fact that it has now arrived to the market with a car that simply isn't competitive with rivals on almost any level, for us, that's just not good enough.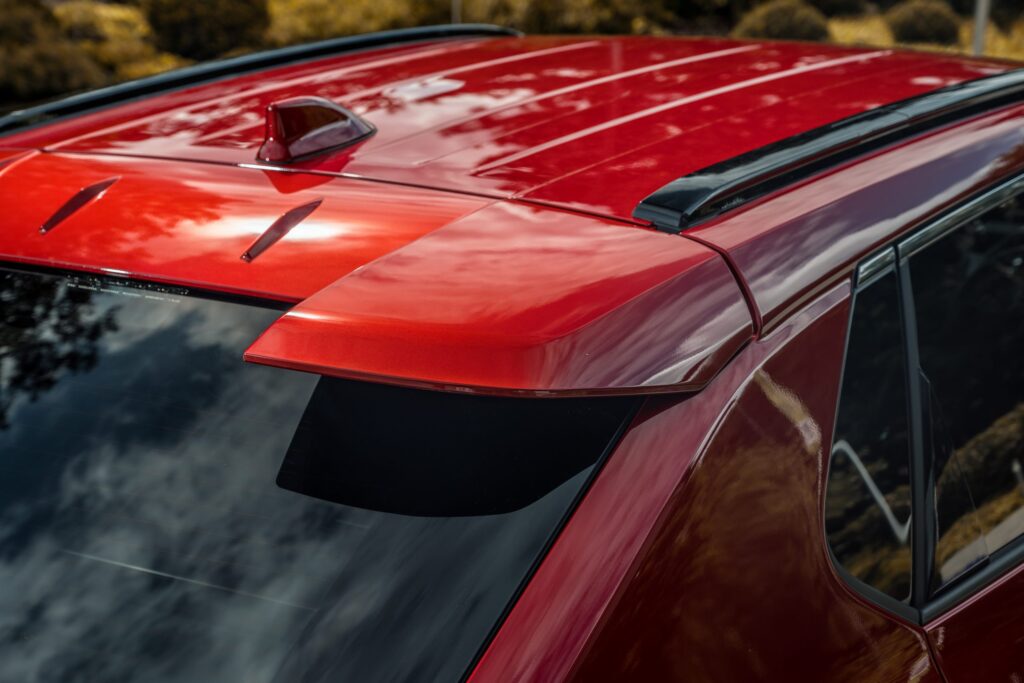 FACT BOX
Model: Toyota bZ4X
Price: from £41,950
Power: Battery – 71.4kWh
Range: 286-317 miles
Average efficiency: 4.0-4.4mls/kWh
Average charge time on a domestic wallbox: 9.5hrs
CO2 emissions: 0g/km
Rating: 6/10