Nissan needs no introduction when it comes to EVs. With the Leaf and the all-electric NV200 van, Nissan has been at the forefront of wider EV take up among UK drivers. The latest is this Ariya, a large SUV with super-smooth looks, a choice of two battery sizes and two or four-wheel drive. So how will it fare?
NISSAN ARIYA – DESIGN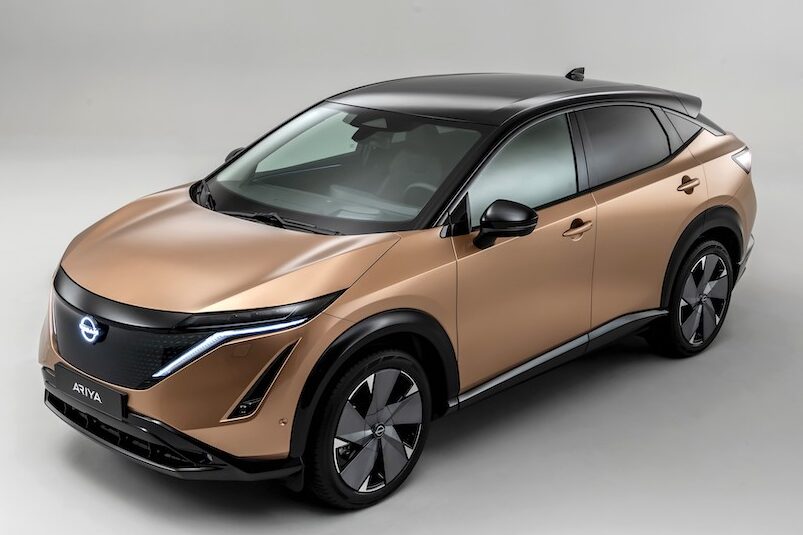 In a world where many SUVs are looking so similar, there's no risk of you mistaking the Nissan Ariya for anything else. With little texture difference aside from the black grille, the front can look a little bluff-fronted from certain angles although the boomerang-shaped LEDs help to break things up.
The two-tone roof also helps, although the narrow rear lights again leave a lot of exposed, flat bodywork area beneath them. It's definitely a car that looks better in the metal than it does in pictures, but it still takes some getting used to – even in the eye-catching Akatsuki Copper paintwork.
NISSAN ARIYA – POWER AND RANGE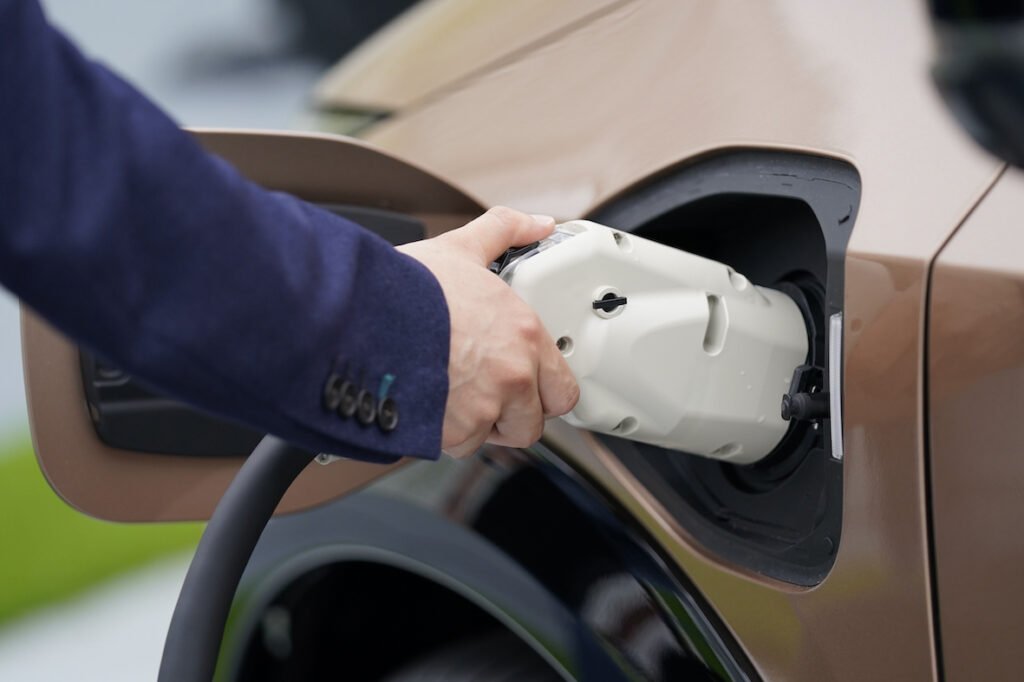 What may set the Ariya aside from its rivals is the option for two battery sizes, 63kWh or 87kWh with a 250 mile or 329 mile range respectively. The 87kWh version will also offer the option of two wheel drive or four-wheel drive which Nissan calls e-4orce.
While e-4orce improves the performance considerably (0 to 60mph in 5.7 seconds versus 7.6 seconds for the 2WD), it does harm range a little being capable of 310 miles. There's a considerable weight range in the line-up too from 1.8 tonnes up to 2.3 tonnes.
With a DC charging capability of up to 130kW, Nissan claims that the 63kWh battery model can get from 20 to 80 per cent in just 30 minutes – enough for 165 miles of range. Though the 87kWh model has a standard 22kW on board charger, so the same charge would give you 217 miles of range in that version. On a domestic charger, a full charge takes ten hours.
Nissan claims a 3.51ml/kWh average, which isn't bad given the Ariya's size and weight. We easily matched that during our time with the car and actually even bettered that considerably – closer to 4mls/kWh – during urban driving. The only downside is that colder weather did dent our range though, with the 63kWh model showing 181 miles for a full charge – some way off the official 250 miles. Either way though, it's worth remembering that this is not a small car for a 63kWh battery.
NISSAN ARIYA – ON THE ROAD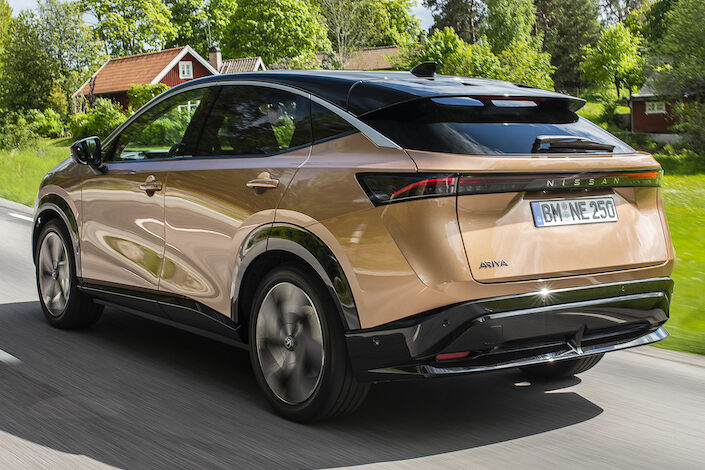 Larger than a Nissan Qashqai, at more than 4.5-metres, the Ariya looks and feels like a large car. That bluff-fronted styling doesn't exactly help that impression on the eye either.
That feeling is echoed on the road, where the Ariya feels slightly heavy-footed and not a car that you'd want to throw around through corners or drive with any kind of enthusiasm. It's not that it doesn't drive well – it does – but there's definitely a tendency to a more relaxed driving experienced than a more involved one. The only downside is a ride that can feel a little firm even on the standard 19in wheels, so if you have a car with the optional 20in wheels on, it might be worth trying before you buy.
The Ariya has three drive modes – Sport, Standard and Eco – though it's a little limited in terms of the regenerative braking with a choice of either D or B or Nissan's ePedal system. Having previously driven the Leaf with the ePedal system and found it to be over-aggressive, the one in the Ariya is slightly dialled down and all the better for it.
Lifting off the throttle will still have a pretty firm braking effect but it's definitely not as strong as the Leaf. Interestingly, it also doesn't bring the Ariya to a full halt as in the Leaf, but will let the Ariya creep like a conventional automatic. Some more adjustment for the regenerative braking wouldn't go amiss though, to allow the driver to tailor it accordingly.
NISSAN ARIYA – INTERIOR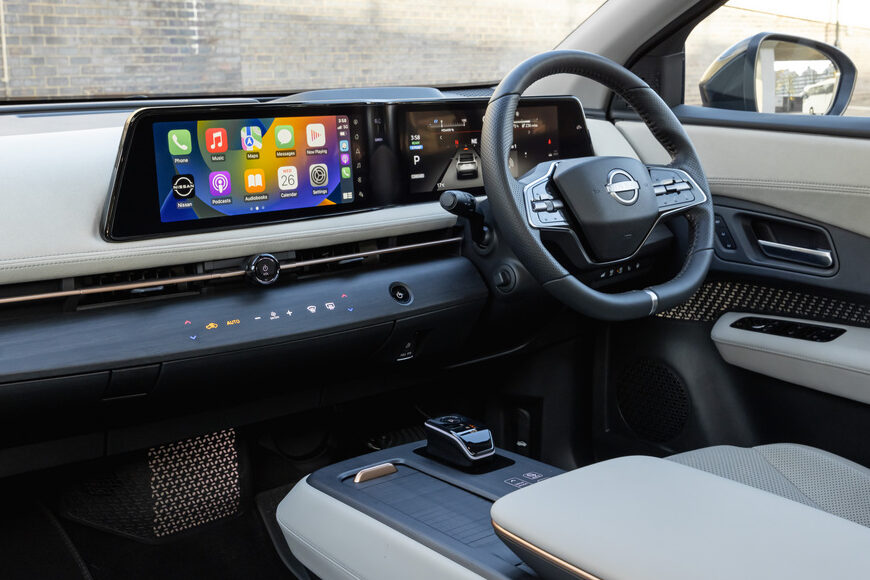 The interior is unquestionably the highlight of the Ariya. It's a real breath of fresh air with an open step-through front cabin and a panoramic roof letting in plenty of light which comes as standard on the Evolve trim.
The dashboard is a combination of a central touchscreen and digital dash along with illuminated touch-controls on a lower section of the dashboard. Along with the other materials used throughout the cabin, it's a really smart touch on what is one of the Ariya's strongest elements.
Adding to the design theme are backlit sections on the lower dash and doors as well as a large central armrest/ cubby although this doesn't open up to the large amount of storage that you'd imagine – just a phone slot. There's also USB A and C sockets at the front base of this unit, plus a heated steering wheel and heated front seats. A head-up display is standard with the flagship Evolve trim.
The driver's seat can feel a bit high even when its lowest position and the seats could do with slightly more support, but overall it's a comfortable and very pleasant place to be. It's a very practical place to be as well with a huge amount of legroom for rear passengers – arguably too much given the 466-litre boot that shrinks to just 408 litres for those versions with four-wheel drive.
There is a false floor with space underneath for the cables, but given the large exterior, it's hard not to feel a little short-changed by the size of the boot.
NISSAN ARIYA – SUMMARY
There is little question that the Nissan Ariya is very good car. We like the styling, the interior is superb and the driving experience is ok if not outstanding.
We also applaud that it seems to represent something a little different in an increasingly similar market and the choice of two different battery choices gives customers greater choice too. It's certainly a worthy contender for the World Car of the Year.
Having said that though, the 63kWh model does feel a little limited when there's a 180-mile range showing for a full charge albeit in cooler temperatures and with good efficiency. The 87kWh model is probably the car to go for if you can afford the £6000-odd price difference.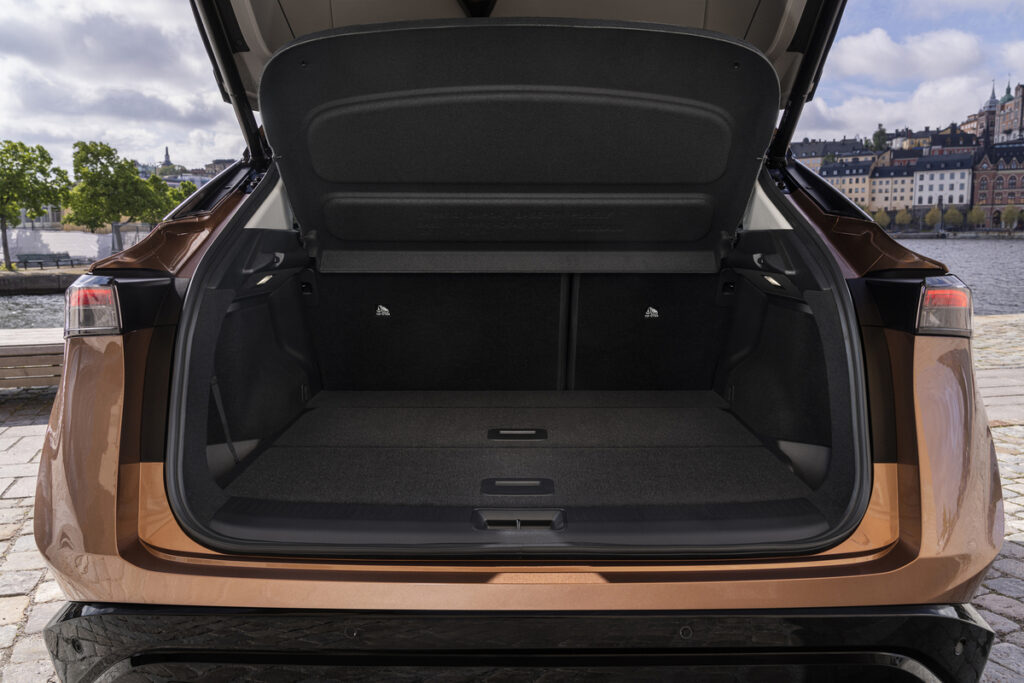 FACT BOX
Model: Nissan Ariya
Price: from £43,845
Power: Battery – 63kWh or 87kWh
Range: 250-329 miles
Average efficiency: 3.51mls/kWh
Average charge time on a domestic wallbox: est. 10hrs
CO2 emissions: 0g/km
Rating: 8/10