FACT BOX
Model: Citroen e-C4
Price: from £29,995
Power: Electric – 50kWh
Range: 217 miles
CO2 emissions: 0g/km
Report 6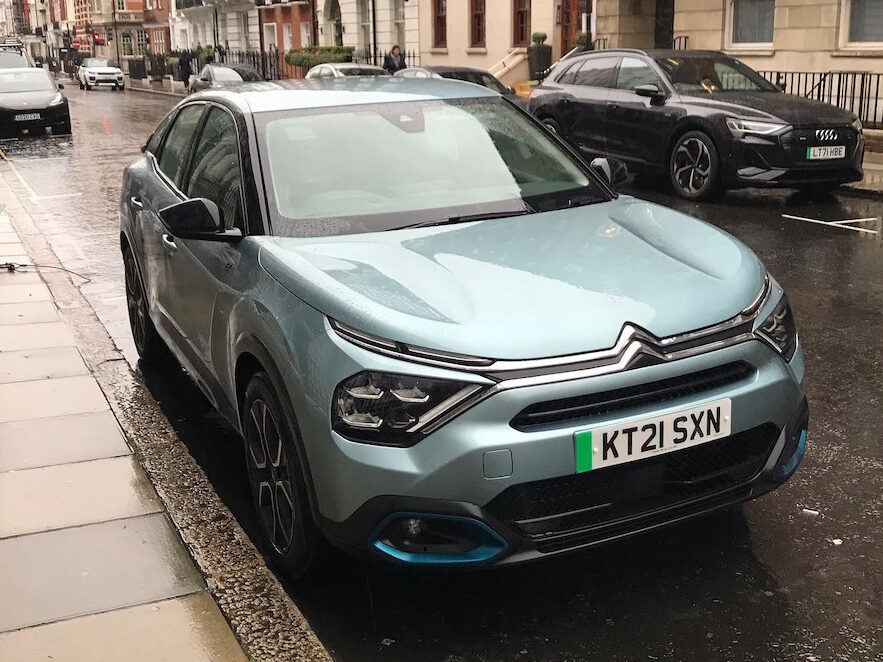 Forget the urban myth about goldfish only having a three-second memory, I reckon mine is fading after just two years. That's how long it's now been since we moved out of London and my knowledge of the Congestion Charge is fading.
Actually, to be fair to me, that knowledge was never really that extensive anyway. I rarely drove through the zone when it was active and we'd left London by the time it switched to seven days a week. Even so, electric cars and the London Congestion Charge, that's an easy one right? After all, everyone knows that EVs like the Citroen e-C4 are exempt.
Except, it turns out, they're not. We had an appointment in London on a Saturday morning. It was only a very flying visit which meant it was easier to drive. No problem, I thought, the Citroen e-C4 is fully electric so it's exempt.
Except it's not. Apparently it's only exempt if it's registered with TfL, despite their systems recognising it as an EV. Oh, and you need the V5 handy and the call centre doesn't work at weekends. So we had to pay.
Later investigation showed that registering is an annual £10 cost (presumably in case one day you decide to slot a V12 into your Renault Zoe for a laugh…). So if you only rarely drive into London – and even more rarely into the CC zone – you either need to be prepared to register it beforehand or stomach the cost even though you shouldn't really have to pay.
Come on Sadiq Khan, sort it out. Except of course he won't as the current system makes him money which he shouldn't theoretically, get.
Report 5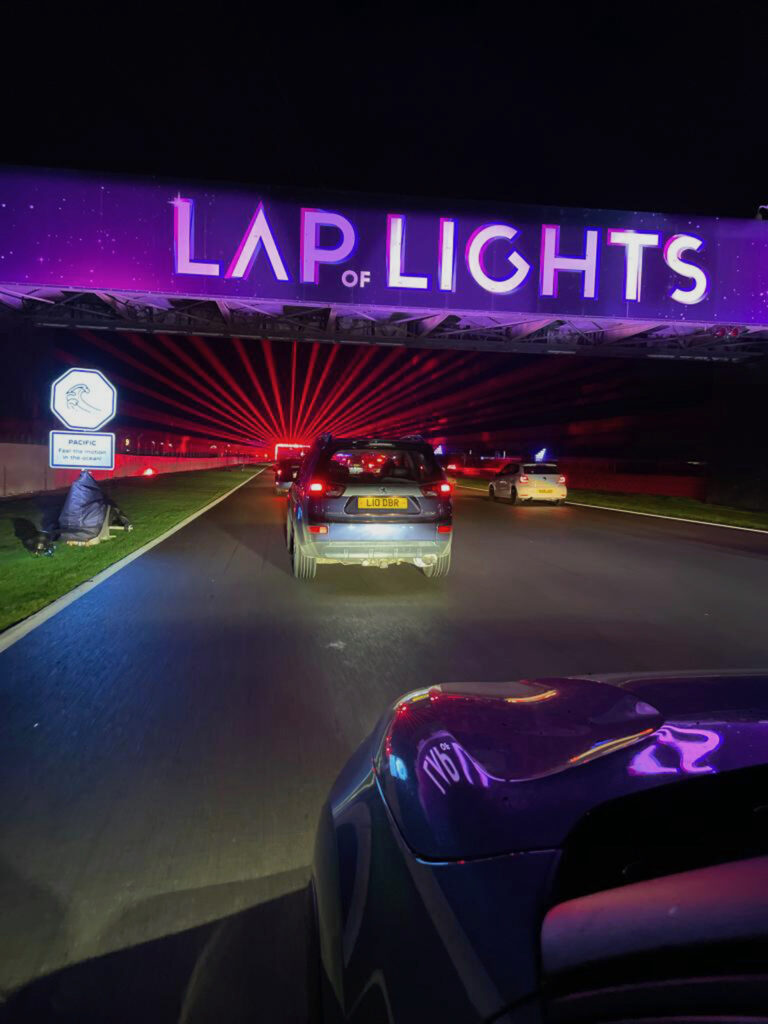 Another fortnight and I've been busy in the Citroen e-C4 with a number of motorway trips for both work and pleasure.
As outlined in my previous report, there's no question that motorway journeys are the weak point for the electric Citroen as outlined by one particular journey round the M25 to meet a friend for a post-Christmas dog walk. The quieter road conditions meant I could drop my speed to 65mph in an attempt not to require a quick visit to a rapid charger for a top up before returning.
Walk done and I checked the nearby rapid charger on Zap Map only to find that it was faulty as of that morning, so that wasn't an option. A quick look at my remaining range and the distance home meant it was just about manageable, with the back up of the chargers at Cobham services if needed.
But then, a pile-up on the M25 saw Waze avoid the motorway entirely. However, this turned out to be a help rather than a hindrance. Yes, the pile-up meant my journey time was almost 50 per cent longer, but the distance wasn't all that different and the drop in my average speed meant my mls/kwh efficiency went up as a result and any range anxiety rapidly disappeared.
I hate to keep coming back to range but it does underline an issue with the e-C4's relatively small 50kW battery. A quick festive family trip up to Silverstone to do the Lap of Lights and some pit lane ice-skating (the latter not caught on camera – thankfully) again saw slower motorway progress pay dividends, but I don't feel a 60 mile one-way trip should be a cause for concern for the return trip, when it unfortunately is.
Report 4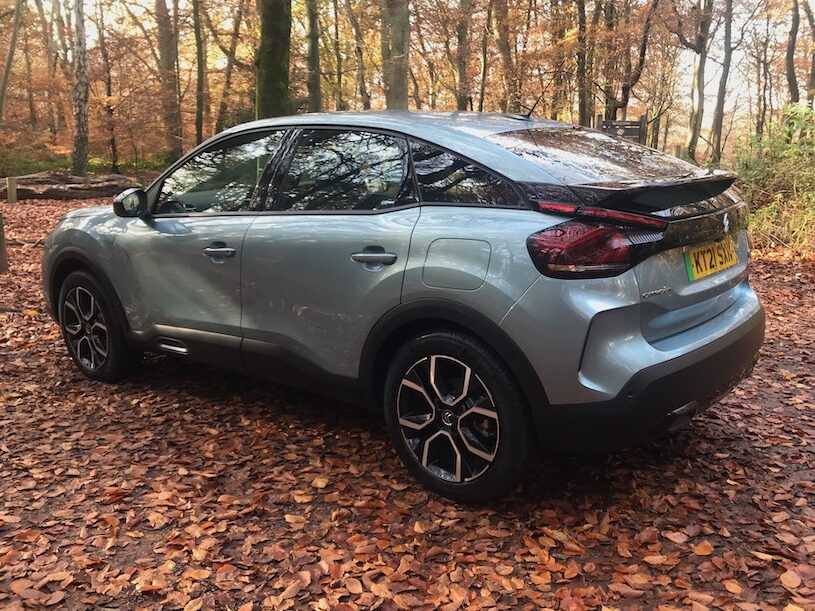 I'm all too aware that my last report on the Citroen e-C4 may have been a little, well, negative. The effect of the cold temperatures on the e-C4's range was rather dramatic, so it's no surprise that I'm now watching the weather forecast with a keener eye than before before any planned long journeys.
But, in the interests of fairness and balance and to borrow the words of Bing Crosby during the festive season of over-eating, for this report I'm going to accentuate the positive – or at least try to anyway.
While I've been quite critical of the e-C4's range, a small EV tip from another EV-driving friend has proved very handy. Dropping your speed to 65mph helps, though isn't always possible unless you want an HGV imprinted on your rear bumper. However, in quieter traffic conditions, his tip of using the cruise control definitely helps. Whether it's the constant speed or the predictability we don't know, but the e-C4's range and immediate miles/kwh efficiency definitely prefers it to standard manual driving.
Then there's the styling. I know not everyone is a fan and I pointed out those bonnet divots in the first report, but actually I'm coming round to its looks. Sitting slightly higher than a normal hatch but lower than a full crossover, gives the Citroen an unusual stance at the roadside, but not an unwelcome one, especially with its LED light signature.
I'm in two minds about the e-C4's rear though. I like the look of it and I don't mind the split rear windscreen, but in practical terms I'm very thankful for the rear camera. There's no wiper on the main section and as the lower section is vertical, it gets dirty very quickly, so either way rearward vision can be restricted. At least the likes of the Honda CR-Z with a similar split rear screen had a rear wiper.
Report 3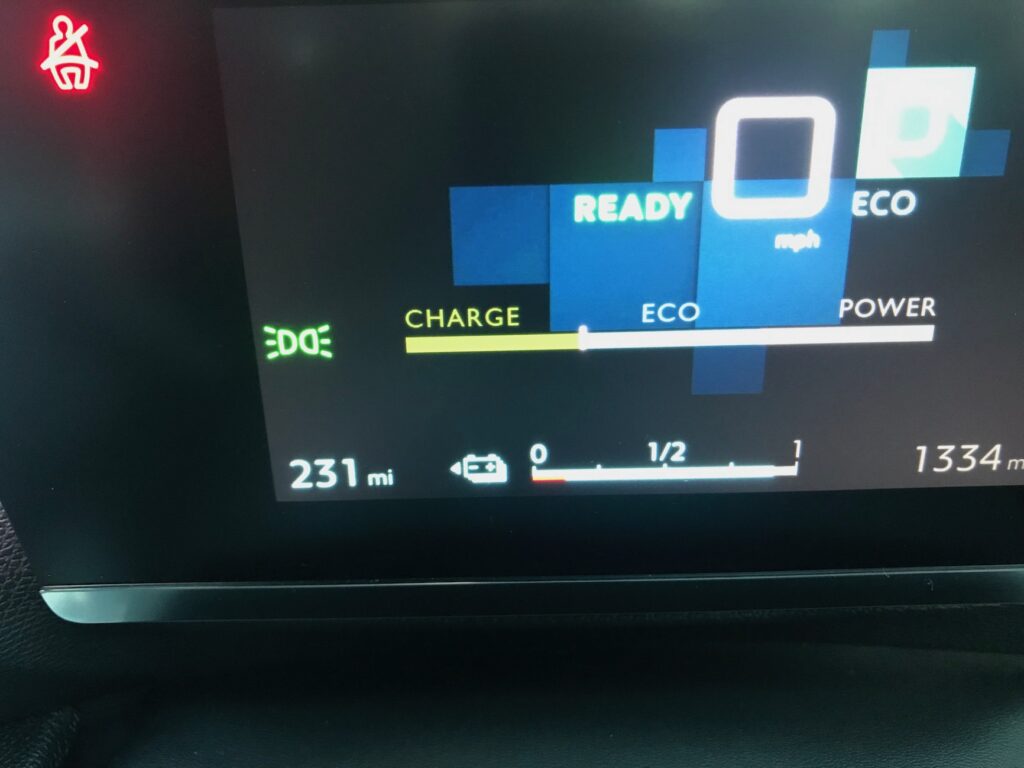 What a difference a week with an EV makes. I ended the last report having just returned from an airport run with the Citroen e-C4. I had been quite impressed with it showing 218 miles on a full charge, but then not so much after the range dropped to 28 miles after that 140-mile round airport round trip.
The days following that were similarly roller-coaster-like. First was when I charged it after that motorway run and the range now showed a whopping 231 miles. Wowzers. Except of course, again, that dropped like a stone the second I started driving. I appreciate that the car has only done 1500 miles and there's an element of 'learning' that the trip computer needs to do, but a little more predictability might be nice.
And then the UK got that sudden cold snap in late November and I had to repeat that same airport run, this time for the pick-up. Despite doing exactly the same journey and distance, although this time done entirely in Eco mode, left us with a buttock-clenching eight miles of range left. Plus, as it was done in Eco mode, there was no heater with an outside temperature of just two degrees, so me and my passengers were freezing. As Mrs B rightly pointed out: "how can this possibly be seen as progress?".
Yes, I could have charged the car at Gatwick airport or Cobham services on the return journey, but in all honesty I didn't realise that I would need to. Call me naïve but I expect a mid-size hatchback to be able to do 140 miles on a full charge in relative comfort.
There was more fun to come too. Despite having charged the e-C4 with no problems prior to this, suddenly the pre-heat and also the deferred charge settings kicked in. So the heater was trying to heat up the cabin when we didn't need it to and the Citroen would only charge while unlocked.
I hadn't yet been able to up the car with the My Citroen app and searching through the online-only manual for a fix was all the help you might expect on a mobile phone screen while sitting in a car at night in freezing cold temperatures. I realise the removal of manuals saves money, but in terms of the customer experience, they do manufacturers no good whatsoever.
Even when the e-C4 was fully charged with the cold weather the e-C4 showed a range of just 128 miles – so a 103 mile swing in eight days (that's a 45 per cent drop). In no other EV, have we ever known a battery pack be so temperature-sensitive. Thankfully though, Stellantis clearly knows this and has just introduced the e-C4 with a new heat pump and other changes bringing an estimated extra 22 miles at zero degrees.
That's too late for me though obviously, so in the meantime I'm praying for a mild winter.
Report 2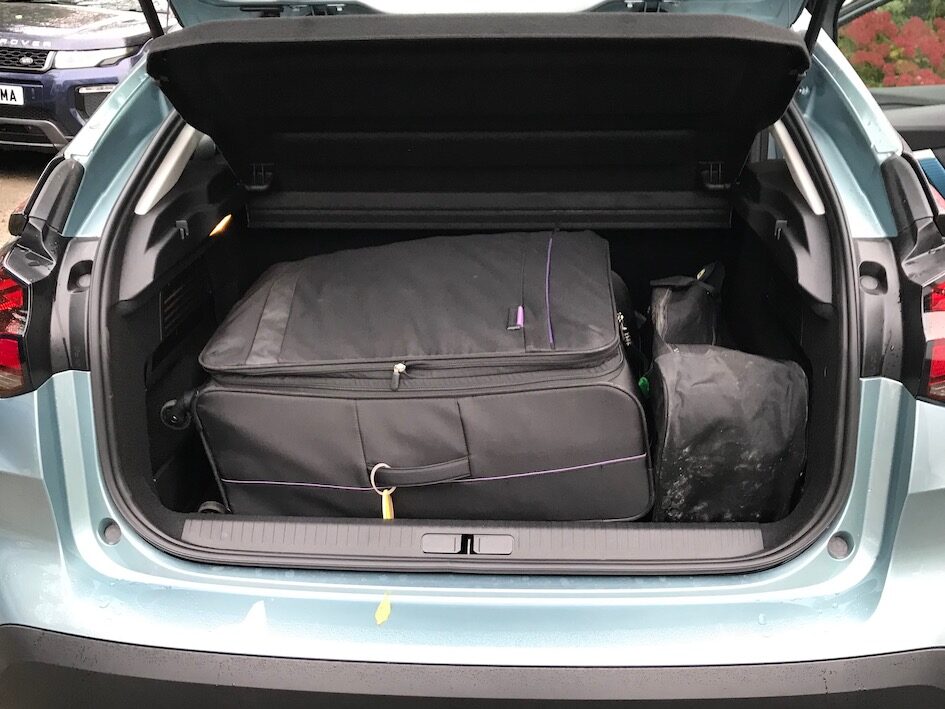 Quite understandably, range is everything when it comes to electric vehicles. If you don't have an EV, you might feel it's a crucial part of an electric car's package. If you do already drive an EV, you may be more used to regularly driving on battery power, but range is still important on one level or another.
I don't mind admitting that I was rather nervous taking delivery of the Citroen e-C4. After all, a fully-charged range of 217 miles is all well and good, if that's matched in the real world, but past experience has suggested anything but.
Things started well though, I fully charged it for an airport run the day after it arrived and the car showed an impressive 218 mile range – plenty for a 140 mile round-trip. Except that, of course, with three passengers at motorway speeds, that 218 mile prediction dropped like an anvil tossed off a cliff. The range wasn't so limiting that it was a problem and we got home with 28 miles of range still left, but it was a lesson learned – especially when I've got a couple of 160-mile motorway trips coming up in December…
Report 1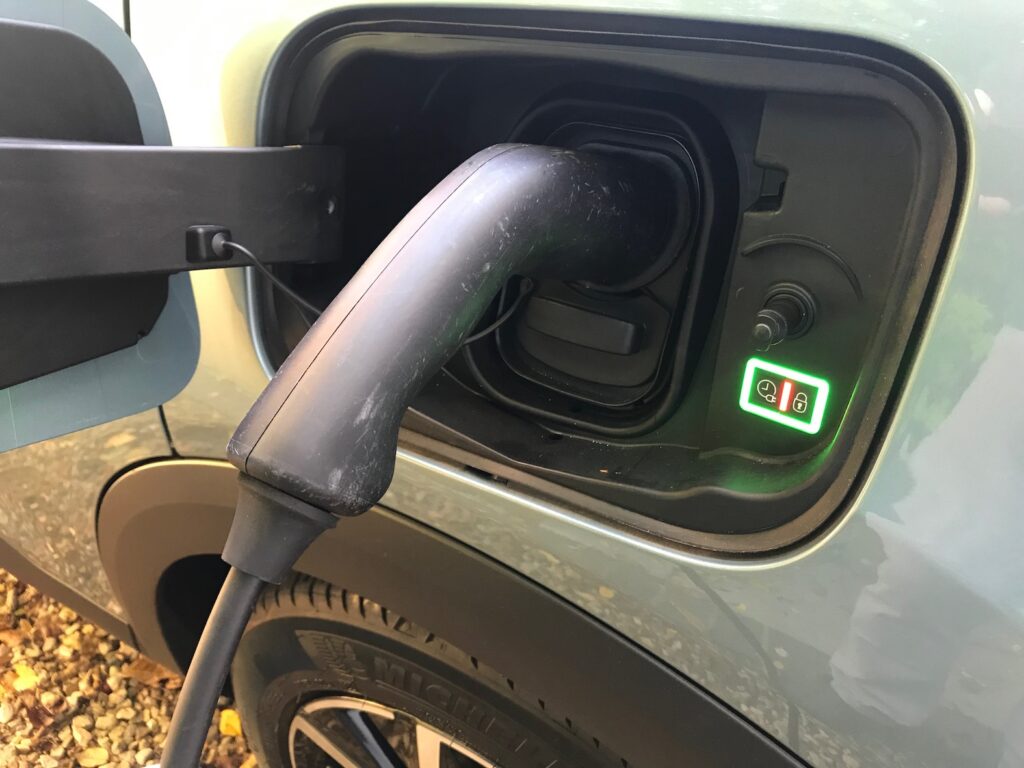 According to recent research by insurance firm Willis Towers Watson, just 35 per cent of UK companies now give their staff the option to drive an electric or hybrid vehicle.
The good news is that that is nearly double the same figure for 2020, but when 2030 is rapidly approaching, I have to admit that I was surprised it wasn't higher. And now it's my turn with this Citroen e-C4.
Like many of the other all-electric models under the Stellantis umbrella, Citroen's C4 is unusual in being offered in petrol, diesel or electric forms in the same bodystyle. The good news of that is that it offers company car drivers a direct comparison between fuels, while the bad is that arguably it compromises the EV version in terms of packaging.
The 50kWh battery in this e-C4 can't quote boast the same range of power options as VW's ID3 range, but, given that the fully-electric versions of the new Peugeot 308 and Vauxhall Astra won't arrive until 2023 at the earliest, it does have a substantial lead on its rivals.
Citroen claims a fully-charged 217 mile range for the e-C4 and, as I'm running it as a family car, long journeys are sure to be on the horizon to put that figure to the ultimate test. I've been regularly running plug-in hybrids for the past two years, so switching to a fully-electric car will be an added challenge. Doubly-so in fact as while we do have off-street parking, we don't have a wall charger. Citroen has included the optional three-pin charging lead and I'm accepting that charging times at home will be longer than usual – more on which in later reports.
In the meantime though, we're looking forward to getting behind the wheel, especially as Citroen has tuned the e-C4 for comfort rather than handling – which should make those longer journeys more relaxing.