How easy is it to charge your electric car? It's a question that's going to be increasingly asked as we get ever closer to 2030 and 2035.
The Government has just announced legislation for plans to force builders to fit electric car chargers into all new homes and offices in England to encourage take-up of EVs, but an estimated third of all existing households in the UK don't have access to off street parking. In future, that means they'll be reliant on the growing network of public chargers. For those living in cities, without off-street parking or the ability to necessarily park near their home, that problem is heightened still further.
And, while some local councils are fitting chargers to lampposts, in a busy urban area, that's still no guarantee that you can park alongside them. So if you don't want to sit around for an hour or more waiting for your car to charge at a rapid charger or leave it overnight at a fast charger, what do you do?
That's where Zumocharge comes in. Zumocharge is the brainchild of Jose Paris and Eric Roest and is, put simply, a concierge service to charge your electric car. With respective backgrounds in the automotive and financial services industries, they saw a gap in the urban EV market.
"In London alone, there's around a million cars parked on the streets every night without easy or immediate access to a charging point, so we think there there's an opportunity to help make EVs accessible to everyone," explains Eric Roest. "In urban areas, there's limited parking as it is and you often have to hope that you can park close to a charger that's working – there's a range of issues for owners to deal with. And that's before they have to invest that extra time each week in either charging or at least planning to charge their car."
Zumocharge's typical scenario isn't hard to imagine. Imagine you own an EV and it's low on range but you need to go on a long journey the next morning. You book it in via the Zumocharge app and a fully-insured driver will turn up to your door at an agreed time that evening, take the car away and bring it back the next morning charged to a guaranteed 80 per cent but they usually aim for 90 per cent or higher.
The driver can either knock on your door, again at an agreed time, or they can park the car near to your home (you can find and check your car's location via the app at all times) and then post the keys through your letterbox in a faraday pouch.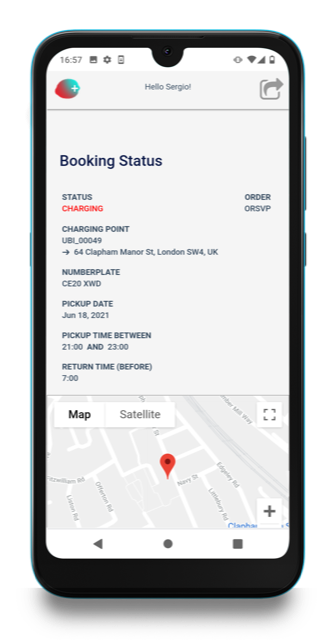 "Even though the charging network is expanding, you're still looking at sizeable numbers of EVs for each charger, so we think there's a real appetite for a charging service like ours," continues Roest. "People can be quite protective about their cars, but they let others drive it for a service or when being valet parked at an expensive hotel, so we see this as an extension of that. We're also committed to moving the car as little as possible, so it's rarely likely to be more than two miles from your home."
There's a lot to like about Zumocharge's service but perhaps the most appealing is that the cost of the service is just £5.00 plus the cost of the charge itself – so roughly the cost of two cups of coffee for someone to remove the pain of charging your EV. There's also the potential in the future for users to subscribe to a more regular service in return for a reduced rate.
Initially Zumocharge is launching in London but is already looking at other cities such as Bristol, Brighton and Manchester, but services like this could be just one potential answer to the problems of urban EV charging in the future.