With the proliferation of crossovers in the family car market, it's easy to dismiss the traditional estate car as being out of date and out of touch. However, in terms of size and sheer boot space, they can often represent a more practical option, especially when it comes to plug-in hybrid models.
That said, plug-in hybrid mid-sized estates like this Renault Megane are hardly commonplace, which we think is a shame. Good looks and interior space and a 30-mile EV range actually make it a more practical option than the Captur PHEV alongside it in the Renault showroom.
RENAULT MEGANE SPORT TOURER PHEV – DESIGN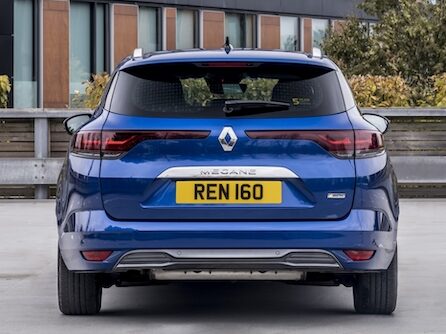 Ok, so it's not a crossover and some family buyers will automatically dismiss it for that. But as 2030 grows ever closer, we think that the plug-in hybrid estate car might enjoy a second wave of popularity.
We quite like the look of the Megane too, especially in RS Line trim. The chrome roof bars and larger 17in wheels, match up well with the deep-set lights, even if the over-sized Renault diamond on the front grille and the rear lights that narrow towards the centre aren't entirely to our liking. It's also a shape that seems to be very colour sensitive too, looking better is some hues than others.
RENAULT MEGANE SPORT TOURER PHEV – POWER AND RANGE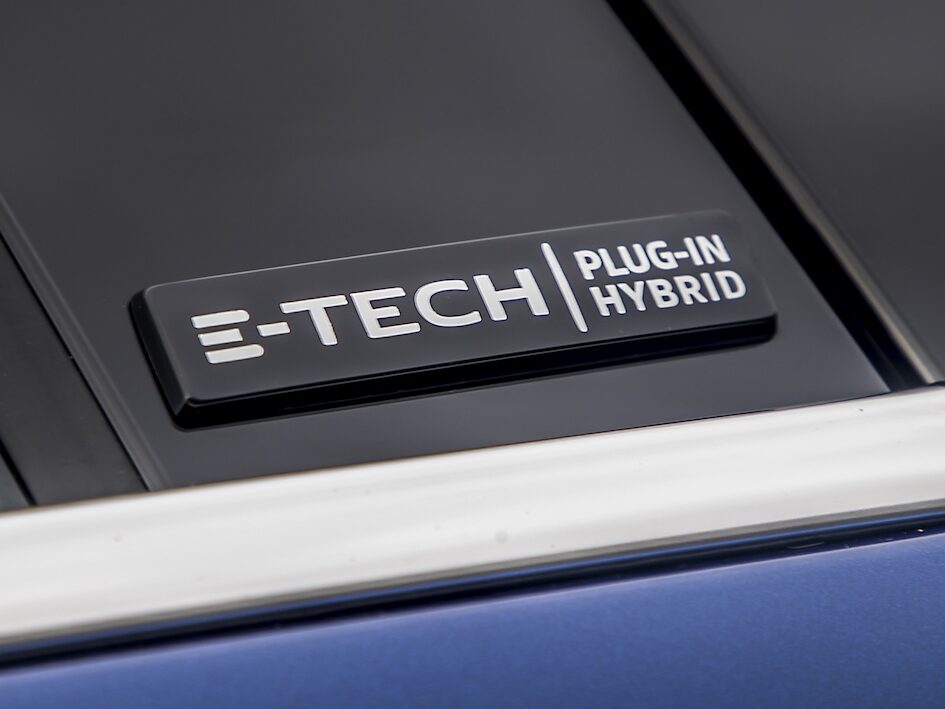 The Renault Megane Plug-In Hybrid Sports Tourer gets the same 1.6-litre petrol engine allied to a 9.8kWh battery as the Captur PHEV to give it 155bhp going through a six speed automatic gearbox. That's enough to give it a 9.8 second 0 to 60mph time and 111mph top speed with 30g/km emissions and an official all-electric range of 30 miles. In real-world driving though and dependent on the ambient temperature, that can be anything from 22 up to 34 miles.
Those official 30g/km emissions give the Megane a crucial Benefit-in-Kind tax threshold for company car drivers though with an 11 per cent rate for 21/22 and rising to 12 per cent for 22/23 and 23/24.
Renault claims a 217.3mpg average fuel economy, although over the course of our test drives with a mix of roads we found it was relatively easy to sustain an average of above 75mpg without much difficulty.
On a standard 7kW home wallbox, Renault quotes a recharging time to 100pc of three hours, with a time of four and a half hours when using a regular three-pin household plug socket.
RENAULT MEGANE SPORT TOURER PHEV – ON THE ROAD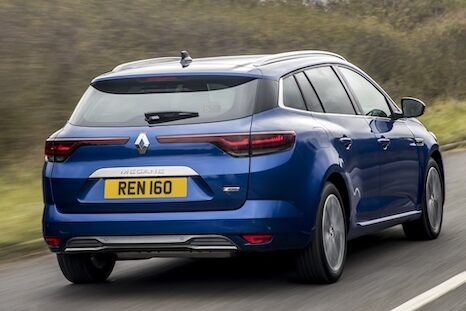 At just over 1.6 tonnes, the Megane is roughly a couple of large adults-worth over and above even the next heaviest model in the Sport Tourer range.
To be fair, this isn't a car that you're ever going to want to drive around corners enthusiastically. The engine and battery hybrid combination while normally very smooth doesn't react well to harder inputs from your right foot when the revs of the petrol engine can soar and become boomy inside the cabin.
The ride quality on the larger 17-inch alloy wheels of the RS Line model can be a little crashy on rougher urban roads too, though it does improve when faster cruising.
The Megane also seems to use its battery power in slightly different ways to other plug-in hybrids we've driven too. Many usually fire up the petrol engine in colder weather or if some of the ancillary items need power, but the Renault's 1.6-litre engine is never afraid to start in some odd circumstances, such as even a slight incline or when sitting stationary at traffic lights – even when there's plenty of battery power remaining. Anything beyond halfway on the power meter dial and, despite having plenty of charge, the petrol engine starts up.
However, once that battery power has been depleted, the Megane does continuously use any charge gained from regenerative braking, no matter how minimal, to drive the car. Normally we'd be critical of all this, but as the old saying goes, the proof is in the pudding, and the Megane's average economy of 75-plus mpg underlines that this doesn't appear to be an inefficient way of driving.
RENAULT MEGANE SPORT TOURER PHEV – INTERIOR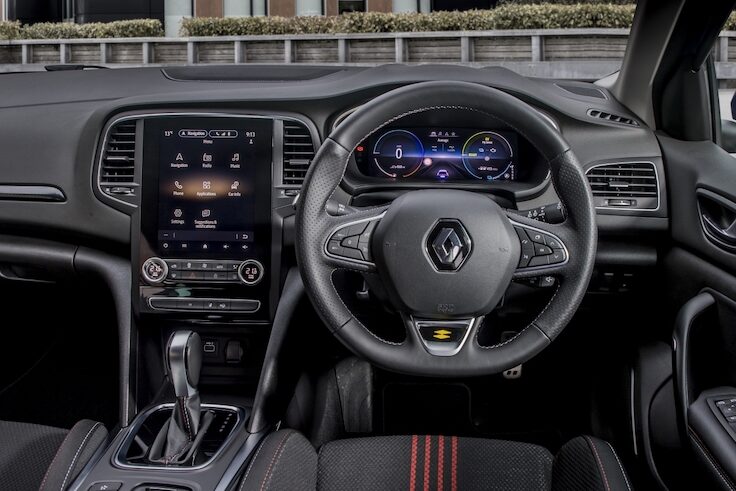 Let's deal with the reason for buying this Sport Tourer version of the Megane first – the boot. Compared to the standard petrol-powered Megane, the plug-in hybrid loses 116 litres of boot space with the rear seats up – 447 litres versus 563. With them lowered those figures are 1408 and 1543 litres respectively. By comparison, the similarly-priced Captur plug-in hybrid has just a 265 litre boot.
That 135 litre loss certainly isn't to be sniffed at, but in reality it's the shape of the Megane's boot and its everyday useability – along with a smart load cover that cleverly retracts with one tap on the leading edge – that's more important than outright size. There's also some under-floor space too.
Inside the car, the RS Line gets a slightly larger and more user-friendly central touch-screen than the standard Iconic, while there's also plenty of head and legroom in the rear seats too making it a pretty practical motor – exactly the reason most are likely to buy it. The RS Line also gets sportier, more supportive seats.
Overall though, it's a pretty comfortable place to be with which to pound through the miles on Britain's motorways – likely to be its natural home. There's a little frustration though that the petrol flap and charging port are in exactly the same place on opposite rear wings which can be a little confusing at first. Also, why should the fuel filler flap get a separate dash button to open it when the charging port opens on the central locking?
RENAULT MEGANE SPORT TOURER PHEV – SUMMARY
There are two ways to look at this Renault Megane Sport Tourer Plug-In Hybrid. The first is that you feel that estate cars are something that belong to a past generation are somewhat old hat (Vauxhall has dropped its Insignia estate after all).
Or the second is that this Megane provides more space and everyday practicality in a sleek shape and with better average fuel economy than the equivalent crossover. For us, it's this latter opinion that's the stronger of the two. It may not be the most rewarding estate car to drive on the market but the chief reasons for buying it – fuel economy and practicality – are such easily ticked boxes they can't be ignored.
The fact that it's a mid-sized estate car offering plug-in hybrid technology – which is hardly commonplace – is just a bonus.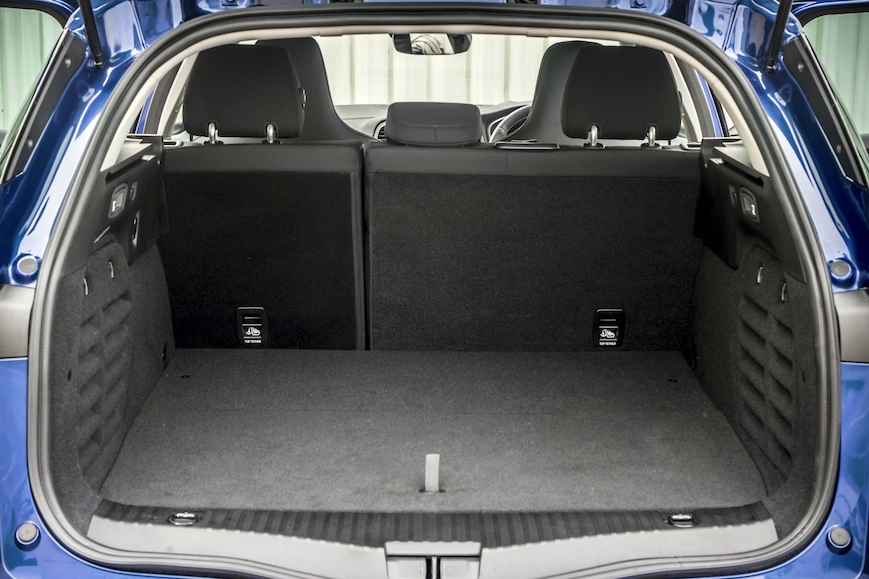 FACT BOX
Model: Renault Megane Sport Tourer Plug-In Hybrid RS Line
Price: from £32,295 
Power: Petrol – 1.6-litre; Battery – 9.8kWh
Electric range: 30 miles
Average fuel consumption: 217.3mpg
CO2 emissions: 30g/km
Rating: 8/10