The Peugeot 308 has always been the most successful family hatchback you've never heard of. While you've got big hitters like the VW Golf, Ford Focus and Vauxhall Astra, the 308 might not have enjoyed the highest profile, but it has been a success. With a 2014 Car of the Year award and 1.3 million of them sold across Europe, there's no question that the French hatch has been popular.
This latest generation doesn't look likely to end that run either. For the first time the 308 will be available with conventional petrol and diesel engines and also two plug-in hybrid models plus a fully-electric version due in 2023, all in the hatchback or SW estate bodystyles, something that none of its rivals can currently match.
PEUGEOT 308 PHEV – DESIGN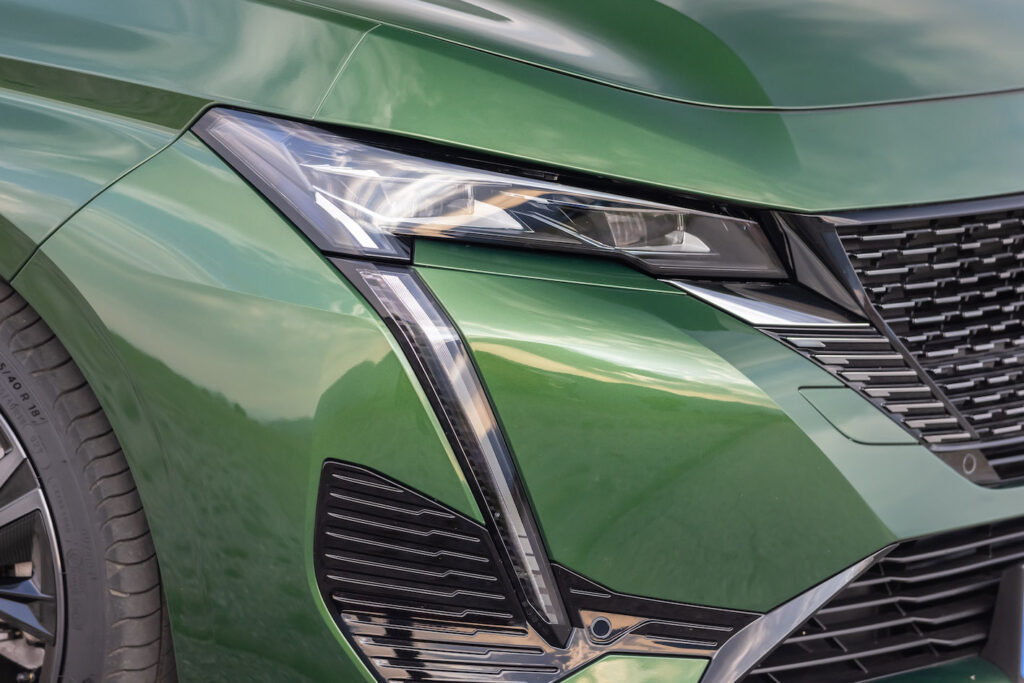 Adopting the same 'sabre-tooth' style front LED lights as the 208 and 508, the 308's styling might look a little conventional at first, but actually it looks far better in the metal. Longer and lower than its predecessor, the bulging rear wheel arches and narrow LED rear lights give it a smart alternative look compared to the likes of the Golf and Focus.
PEUGEOT 308 PHEV – POWER AND RANGE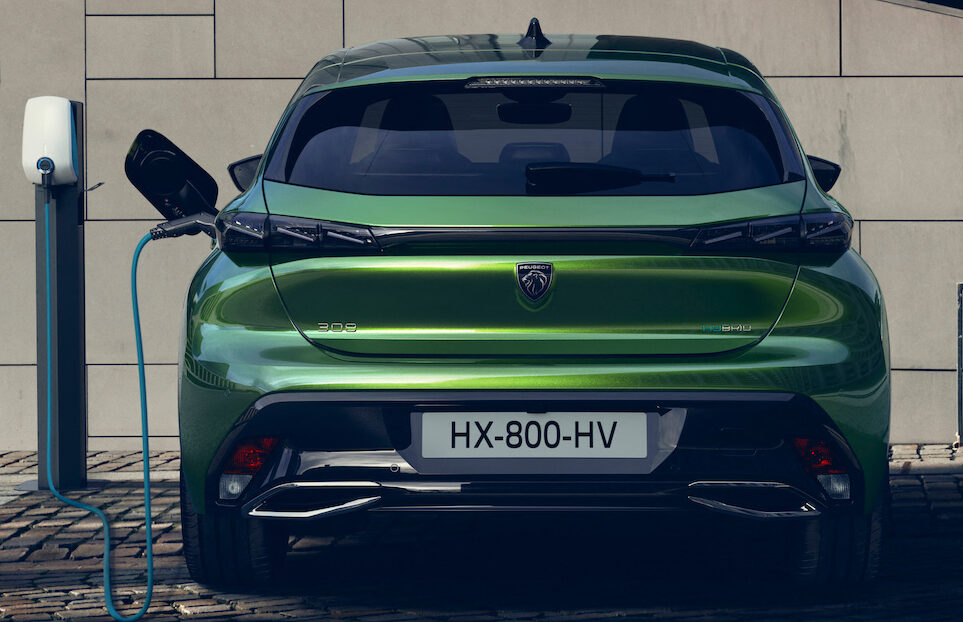 The fully-electric version of the 308 might not arrive until 2023, but in meantime there are not one, but two plug-in hybrid 308s to choose from. It's a clever move from Peugeot, enabling greater access and choice for drivers new to the PHEV technology.
The two new plug-in hybrid versions of the 308 use the same 1.6-litre engine in different states of tune combined with a 12.4kW battery to produce either 180bhp or 225bhp. The former boasts 25g/km emissions and has a 37 mile all-electric range and is expected to be the best seller. By comparison, the more powerful 225bhp model produces 27g/km emissions and a 36 mile electric range.
Both plug-in hybrid models get a 3.7kW on-board charger as standard giving it a recharge time of slightly over four hours on a domestic three-pin plug. However, with the optional 7.4kW fast-charger fitted, that time drops to just under two hours at a home wallbox. For business drivers who have accounted for 70 per cent of 308 sales in the past – both PHEV models boast an ultra-low Benefit-in-Kind tax rate of just 11 per cent.
Officially, Peugeot claims an average fuel economy of 281.1mpg for the 180bhp version and 266.2mpg for the 225bhp model, although as ever it depends on your driving. However with that relatively large 12.4kW battery, it is much easier to keep the Peugeot running in electric mode for longer than in some of its rivals.
PEUGEOT 308 PHEV – ON THE ROAD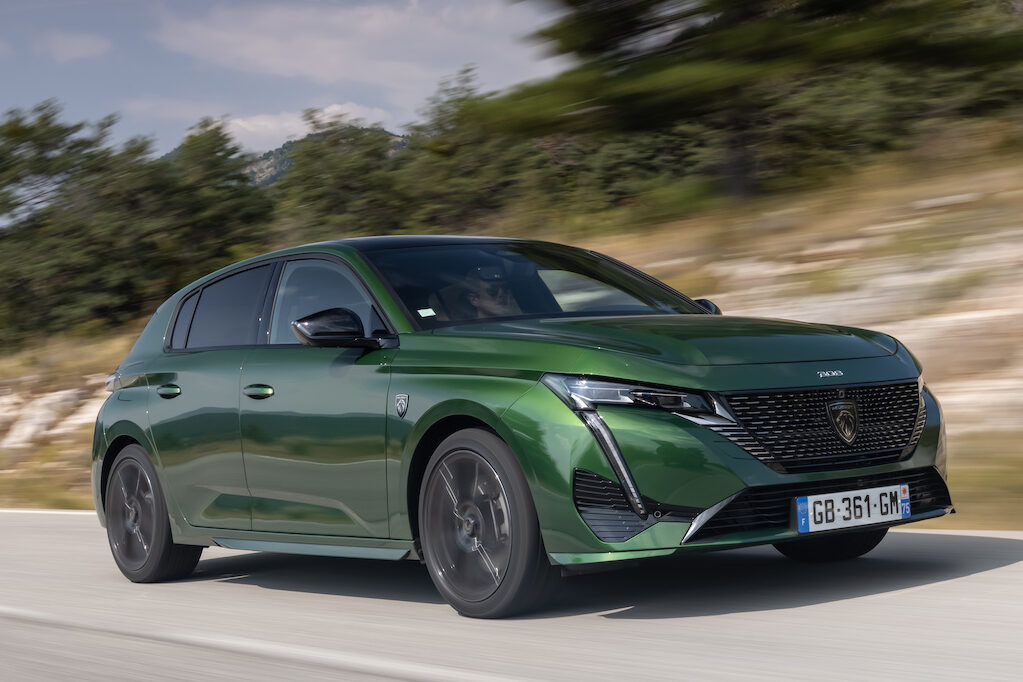 Before you even climb behind the wheel, the on-paper numbers underline that the 308 PHEV is no slouch. In the 225bhp version, it can get from 0 to 60mph in 7.6 seconds and onto a 146mph top speed.
In more real-world motoring however, the immediacy of that battery power means that it can pack a real mid-range punch when driving down a flowing twisty B road in Sport mode. With sharp, direct steering and a lack of body roll, it can be really hustled at a decent pace, even if could do with some more feel through the steering wheel.
The 180bhp model that will account for the majority of sales between the two PHEVs is understandably slower, but it's still an enjoyable and comfortable car to drive.
The transition between petrol and battery power works smoothly too with the driver able to choose between Sport, Hybrid and Electric driving modes. The ride quality is a little lumpy at low speed, particularly on the larger 18-inch wheels of the GT, but it improves noticeably on faster roads.
PEUGEOT 308 PHEV – INTERIOR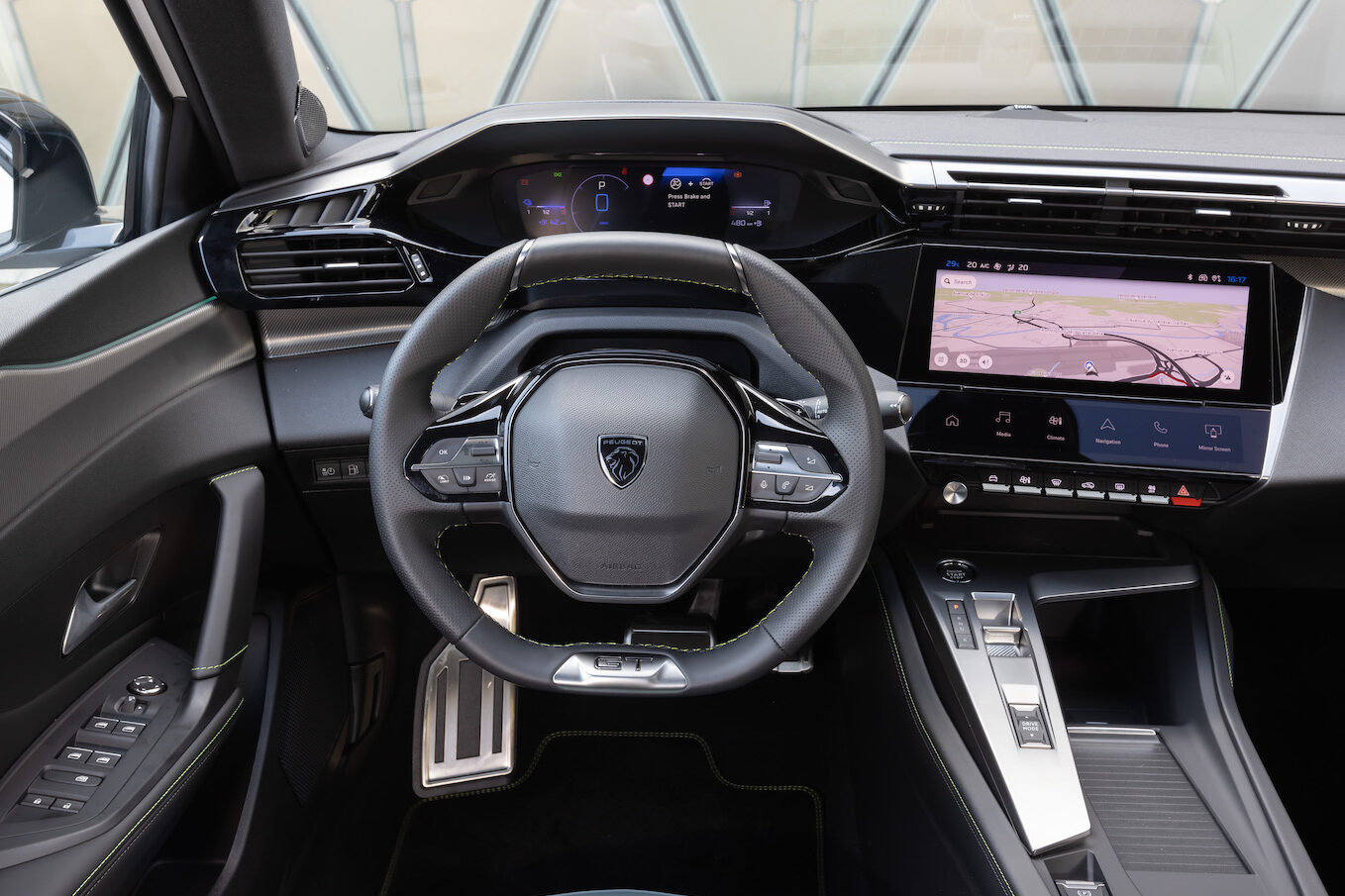 The interior is undoubtedly where the new Peugeot 308 will win or lose buyers. It gets the latest iteration of Peugeot i-cockpit interior with a 3D digital display in front of the driver and a larger 10in screen central in the dashboard with both real and virtual button controls. It can look a little busy, but in practice it works well and, to our eyes anyway, looks superb.
However, part of that i-cockpit is that Peugeot continues with its under-sized steering wheel which may not be to everyone's liking. Having experienced it in several new Peugeots now, we've become accustomed to it, but it can feel a little odd and it can be awkward not to sometimes have at least some of your view of the driver's display blocked by the steering wheel.
The good news is that there's plenty of space on board with good head and legroom for those in the back and Peugeot claiming 34 litres of storage around the cabin. On the SW estate, the boot is slightly hindered compared to the standard version, but it still has a 548 litre boot with the rear seats up and substantial 1574 litres with them lowered. It's a good useable space though and there's an electric tailgate on the GT Premium too.
PEUGEOT 308 PHEV – SUMMARY
We can only applaud what Peugeot has done with the latest 308 hatchback and SW estate. Like the smaller 208, it will offer buyers a genuine straight choice of exactly the same car with a conventional petrol or diesel engine, a plug-in hybrid or, eventually, a fully-electric battery.
Not only is that something that very few other manufacturers are doing, but Peugeot is also helping that switch with the offer of two plug-in hybrid models at different power levels with 180bhp or 225bhp.
With that, plus good looks inside and out, excellent technology and decent practicality, it's hard not to imagine this latest Peugeot 308 continuing its historical success story for some time to come.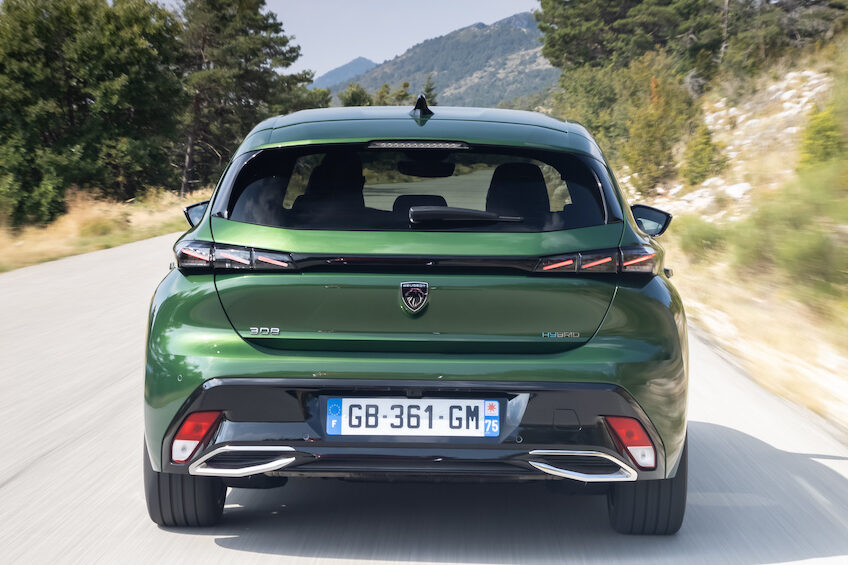 FACT BOX
Model: Peugeot 308 PHEV 180bhp / 225bhp
Price: from £33,000
Power: Petrol – 1.6-litre; Battery – 12.4kWh
Electric range: up to 37 miles
Average fuel consumption: 281.1mpg
CO2 emissions: 25-27g/km
Rating: 9/10