Ask any EV driver today that regularly uses public EV chargers, how problematic the charging network can be and the answer is usually the same – very. Yes, vast improvements have been made in recent years, both in terms of quality and quantity, but there's still a long way to go before legislation arrives for all new cars to be EVs in 2035.
Thankfully, the EVs themselves are ever-improving too. Leaving aside certain anomalies such as the Honda-e and Mazda MX30, generally speaking most newly-launched EVs have better efficiency and longer ranges than their forebears.
So with all of that in mind today, think back to 2018, the state of the charging infrastructure and the choices of cars and their ranges. Then imagine attempting a tour of the edge of England by electric car or, more precisely, a first-generation Nissan Leaf. Well that's exactly what Clive Wilkinson and his wife did as recounted in his new book, Charging Around, on sale in April published by Eye Books.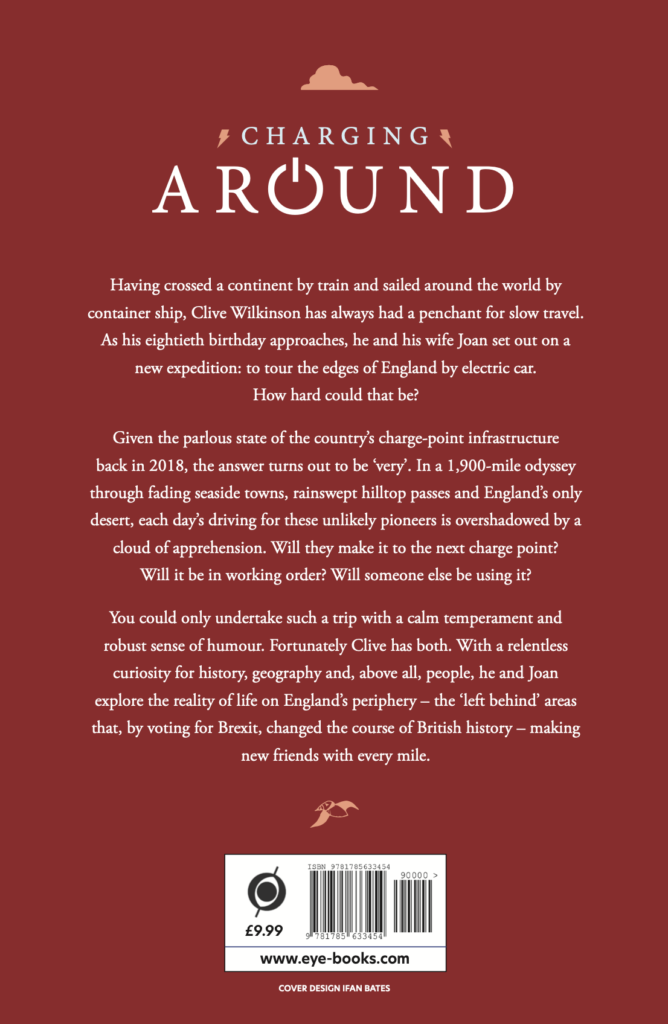 For EV drivers today, it's a look back at a (very) recent history of this still-growing technology, but in reality this is a travel book for anyone. The Leaf is the backdrop to a travelogue taking in English history, geography and, most poignantly at times, a window into human nature, both the good and the bad.
A 1900-mile journey with all of the familiar EV charger concerns about whether the points will be working, already taken or simply blocked by an inconsiderate ICE car, those moments are nicely threaded between factual nuggets alongside the still-fresh Brexit-vote and its consequences. Wilkinson describes these as the 'left-behind' areas, those who feel they have been ignored by those in London and Westminster for too long, it often being the reason for their high 'leave' percentage voting rates.
What really comes across though is the pioneering spirit of both Clive and his long-suffering wife Joan as early adopters of the technology, although it could just as well be a book on English tearooms for all the time they have to wait charging.
If there's one issue with the book, it's that the story and the problems of Wilkinson's tour is almost too recent. Those aforementioned changes to the charging network have been so dramatic that it's almost like reading about problems with an MP3 player. The problems that the pair encounter have been so largely superseded already that the book could be an irrelevance, but by the same degree it's not long enough ago to be nostalgic. Instead it finds itself in an awkward middle ground.
That said, there's still enough alternative and entertaining non-EV content to make it an excellent read and the-then lack of widespread knowledge about EVs is all too obvious whether it's places they stay or even local authorities – sometimes with amusing results. And often those same charging points have been left unused, unloved and largely ignored, ironically suffering the very same experience felt by those nearby Brexit voters.
However, perhaps the biggest compliment for Clive Wilkinson, Joan and Charging Around comes with the ending. While it could be seen as something of an anti-climax (we won't give it away here), the reality is that it adheres to the oldest trick in the book by leaving you wanting more and to continue the journey with them. A great read.
Charging Around by Clive Wilkinson, £9.99, ISBN: 9781785633454 Pub: Eye Books