Mustang. Just the word alone conjures up images of American muscle cars with roaring V8s leaving tyre-shredding wheelspin marks in their wake.
What it doesn't do of course is conjure up images of an electric car, like this Mustang Mach-E. Yes, Ford still builds the petrol-powered Mustang, but the message is clear – this Mach-E is the version that represents the future, whether car enthusiasts and traditionalists like it or not.
This GT model is the flagship of the range with even more power and performance and slightly more extreme looks to boot. But can it really bring the same Mustang appeal to the next generation under electric power?
FORD MUSTANG MACH-E GT – DESIGN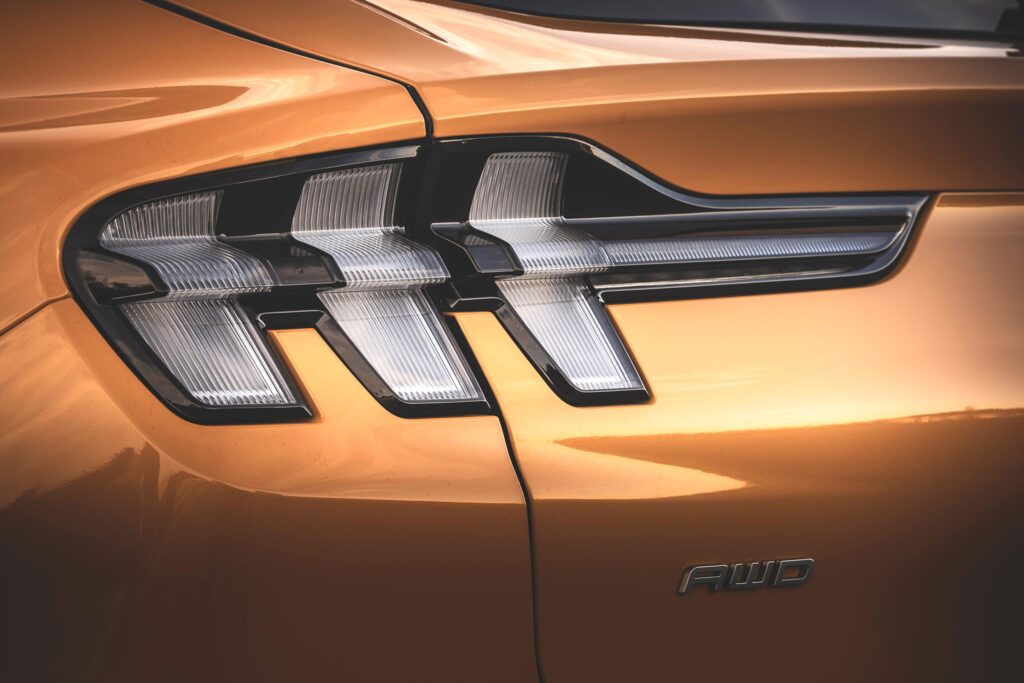 Forget the low-slung, wide-stanced coupes that wore that pony badge in the past. The name might be the same, but to all intents and purposes, this is a crossover. Yes, it's a good-looking and low-roofed crossover, but it's still a crossover all the same.
Having said that, we love the power bulges in the bonnet, the lattice-patterned alloy wheels and the high-pinched rear tailgate with the three-strake rear lights echoing its petrol sister. What we're not so convinced about though is the door handle – a small upright flap hidden in the B-pillar between the front and rear doors. Rather confusingly too, this is merely actually a hand-hold and you need to push the button on the B-pillar to open the door. It just looks and feels like it's been over-thought.
FORD MUSTANG MACH-E GT – POWER AND RANGE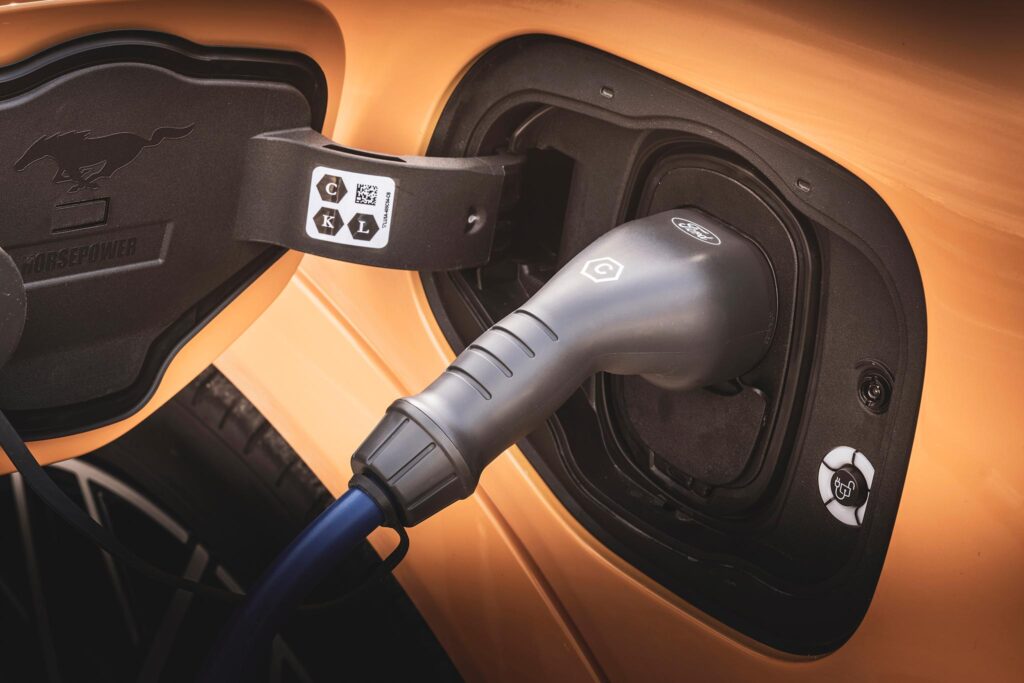 With an 88kW battery, the Mach-E GT has a 310 mile range although it's clear that this is an EV that is built for performance rather than economy – as the 3.7 second 0 to 60mph time attests.
It will take a 150kW charge taking just 45 minutes for a 10 to 80 per cent charge. At a domestic 7kW charger, a full charge takes around 11 hours. Ford claims an average efficiency of 3.1mls/kWh but we averaged just 2.5mls/kWh during our time with the car.
FORD MUSTANG MACH-E GT – ON THE ROAD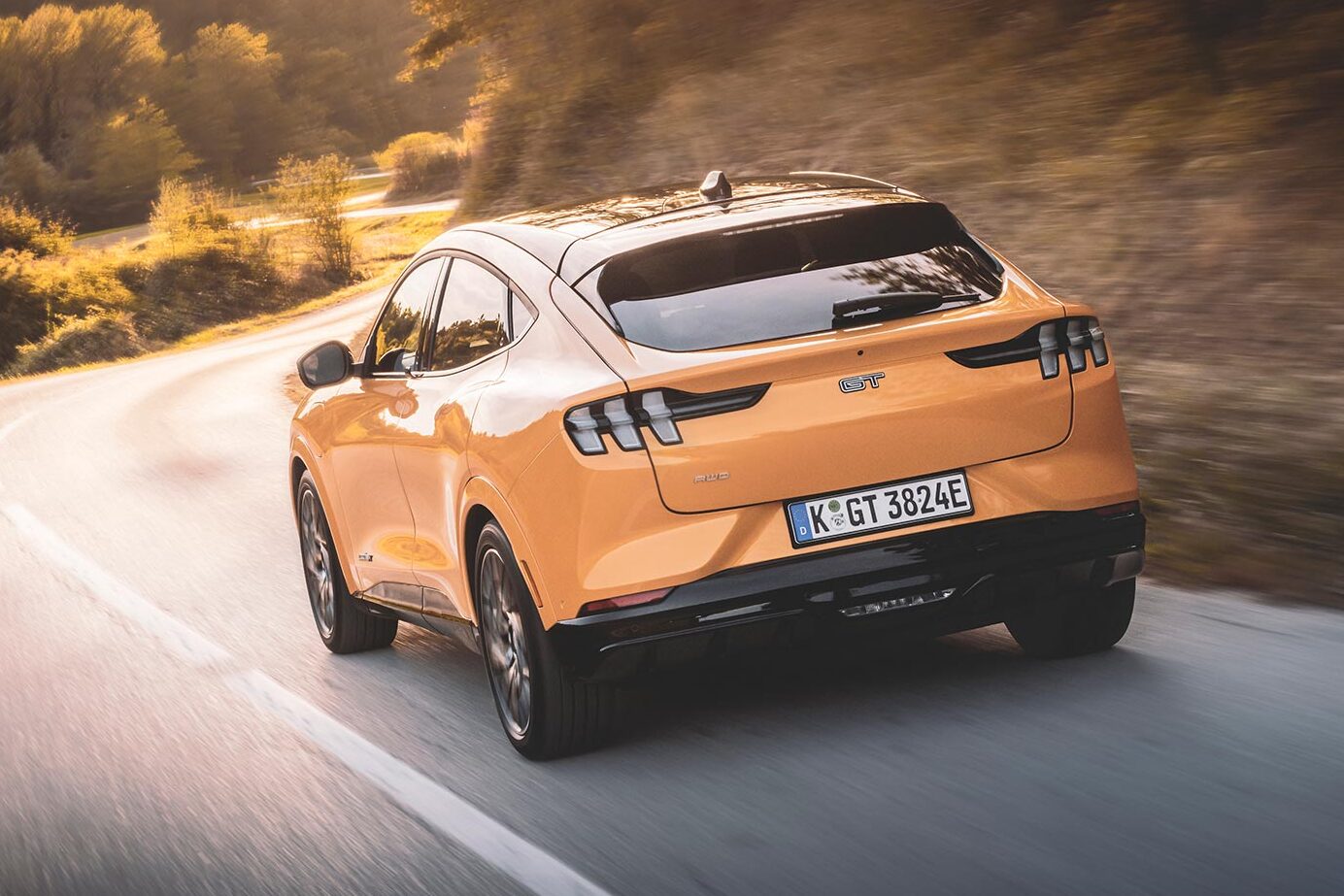 As you'd expect for any car wearing that Pony badge, the Mustang Mach-E GT is a very rapid car. And with all the power going to all four wheels, it's remarkably sure-footed with lots of grip, initially giving the driver plenty of confidence although this turns out to be something of a false dawn – more of which later. There are three driving modes – Whisper, Active and Untamed – while there's a button for propulsion noise which in turn gets louder according to those driving modes.
It's a shame that the brake regeneration is simply only on or off for a one-pedal drive mode and without it on the Ford is in more of a coasting mode rather than offering any regen at all. We're not convinced about the digital speedo which has 'ground speed' in script below it which, to our eyes, feels a bit childish for a car that sits the wrong side of 70 grand.
The two biggest issues however are that ultimately, for all of its pace and grip, the Mustang simply isn't that involving to drive and is simply more of a sporting crossover than a real sports car. For EV drivers that might be fine, but those traditional Mustang drivers might feel a bit short-changed as far as driver involvement is concerned.
Lastly, we can't not mention the ride quality – or simply the lack of it. With 20-inch wheels at each corner, it is firm enough to be uncomfortable on less than totally smooth roads and unbearable on those that are broken up. In short, you have to be pretty keen to be able to put up with it every day.
FORD MUSTANG MACH-E GT – INTERIOR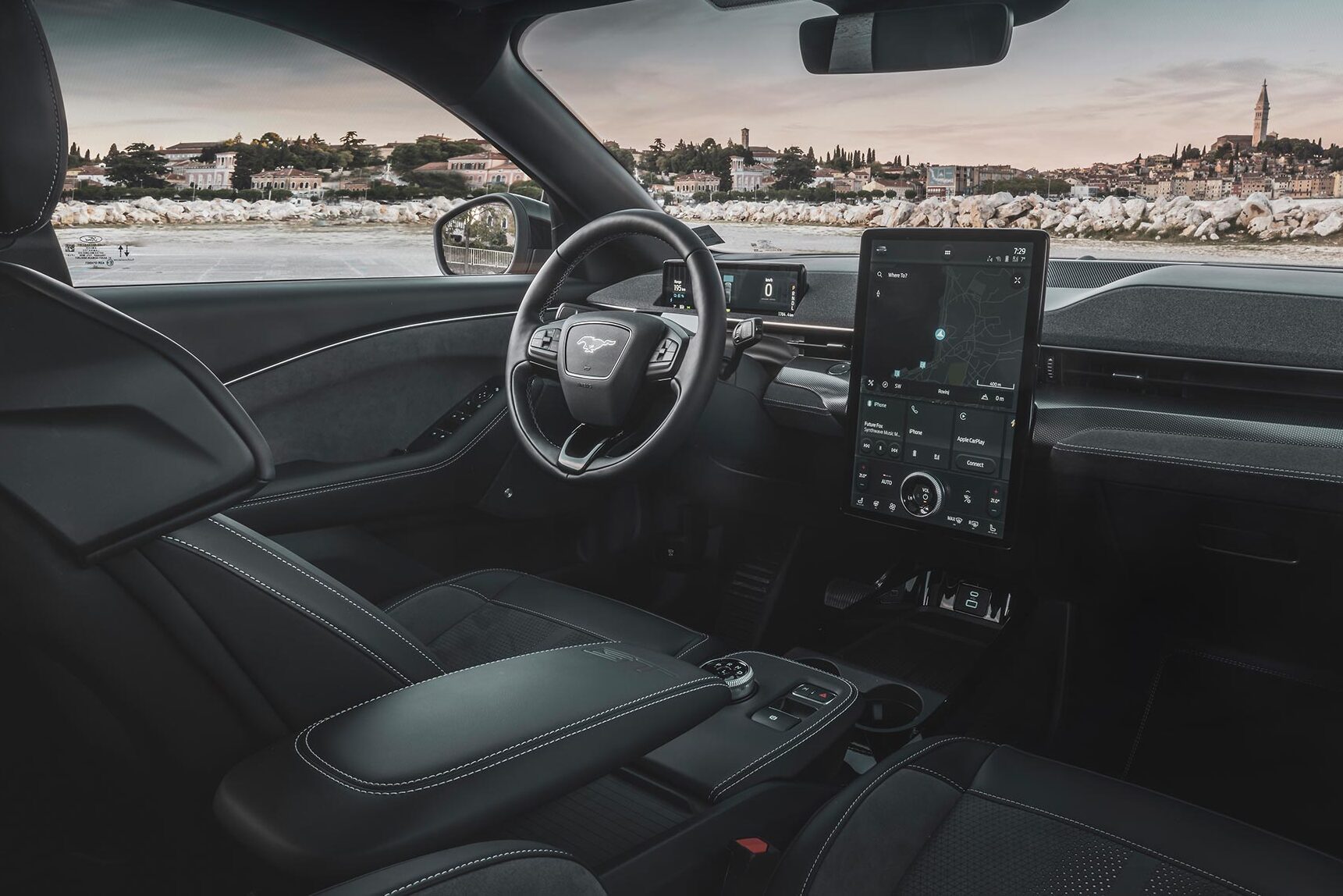 What's your view of Ford as a company? Depending on how you answer that question might colour your view of how you view the Mustang's interior. The interior is smart with a large Tesla-style portrait-shaped touch-screen in the centre of the dash. Rather oddly though, there's a rotary knob to control the volume and some other functions toward the lower section.
However, while there are some nice materials on the dashboard with use of alcantara and a Bang and Olufsen stereo, there are also some cheap plastics on frequently used items such as the steering column stalks and even the key fob itself which is the same as you'd get on a Fiesta. Again, not what you'd expect for the hefty price tag.
There's a good amount of storage space with room in the rear ok, although a little claustrophobic with the size of the front seats. There's also not much foot space if the front seats are in the lowest position (which they'll need to be as it's a high driving position. We'd also like more supportive seats too. For a company that used to regularly fit limpet-like Recaros in its sportier models, these ones just aren't good enough.
SUMMARY
And ultimately, that's our overall take-away on the Mustang Mach-E GT. If you really want an electric Mustang, then the standard Mach-E may well be enough for you and save you £20,000 at the same time. For our tastes, this GT feels like a step too far in numerous directions and therefore struggles to justify that price tag as a result.
FACT BOX
Model: Ford Mustang Mach-E GT
Price: from £74,540
Power: Battery – 88kWh
EV range: Up to 310 miles
Average fuel economy: 3.1mls/kWh
Average charge time on a domestic wallbox: 11hrs
CO2 emissions: 0g/km
Rating: 7/10